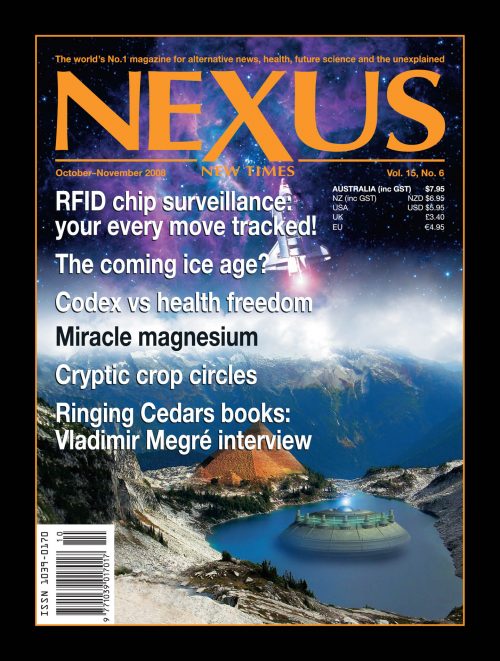 Volume 15, Number 6 – downloadable
$6.60
Volume 15, Number 6 – downloadable
Description
LETTERS TO THE EDITOR
Readers discuss retired astronaut Edgar Mitchell's UFO revelations, the spin effect in the universe, Rife machine capabilities, and much more.
GLOBAL NEWS
We report on the Knights Templar heirs' legal battle with the Pope, cancer and death risks from low LDL cholesterol, Chinese success in growing giant vegetables from seeds sent into space, and more.
RFID CHIPS AND THE SURVEILLANCE SOCIETY
By Tom Burghardt. Governments and agencies in America and China are touting radio-frequency ID chips to track and profile citizens for "national security" and population control purposes.
COMBATTING THE CODEX ALIMENTARIUS
By Gregory Damato, PhD. Billions will suffer from degenerative diseases because of poor nutrition and limited access to health supplements if the global corporations "harmonise" the world.
MAGNESIUM CHLORIDE FOR HEALTH
By Barbara Bourke with Walter Last. A mineral compound sourced from sea water, magnesium chloride promotes health and vitality, treats many diseases, aids rejuvenation and fights infection.
THE SERPENT AT THE END OF PRECESSION
By Michael W. Weir. Decades of scientific studies suggest that the Earth is heading for a reversal in polarity and spin, a change in its angle of axis and the beginning of the next ice age.
ANASTASIA, WISE RECLUSE OF THE TAIGA
Interview with Vladimir Megré by Regina Jensen, PhD. Author of The Ringing Cedars books, Megré gives insights into the wisdom of Anastasia, recluse of the Siberian taiga, and his own spiritual development since he met her in 1995.
SCIENCE NEWS
We feature Stefan Nyström's WaveReaper™ technology that promises to produce kilowatts of energy cheaply and easily from wave action.
PROPHECIES AND THE GREAT PYRAMID—Part 2
By Tony Bushby. The gods and goddesses of Egypt left a legacy of prophecies and myths that foretell of cosmic cataclysms to affect Earth in the future.
GIFTS IN THE FIELDS: CROP CIRCLES OF 2008
By Andy Thomas. With many beautiful formations appearing in the fields of England and other countries this year, the crop circle phenomenon remains mysterious and continues to enchant.
THE TWILIGHT ZONE
We highlight Philip Coppens's update on the inscribed stone discs of the Dropa, former astronaut Ed Mitchell's UFO revelations, and NASA spacecraft officer Clark C. McClelland's admission on the tall alien he saw via Kennedy Space Center monitors.
REVIEWS—BOOKS
"The Essence of Woman" by Annie Meredith
"Conscious Gardening" by Michael J. Roads
"Coming Back to Life" by P. M. H. Atwater
"The Dead Are Talking" by Ross Hemsworth
"Too Many Secrets" by Kathleen McErlain
"The Kingdom of Agarttha" by A. Saint-Yves d'Alveydre
"2012 and the Galactic Center" by Christine R. Page, MD
"The Rise & Fall of Atlantis" by J. S. Gordon
"Forbidden Science" edited by J. Douglas Kenyon
"Otto Rahn & The Quest for The Holy Grail" by N. Graddon
"Silent Fields" by Donna Fisher
"The Cosmic Pulse of Life" by Trevor James Constable
"The End of Food" by Paul Roberts
"The Ultimate Conspiracy" by James McCumiskey
REVIEWS—DVDS
"Food Matters" by Permacology Productions
"Skull & Bones" by Anthony J. Hilder
"The Alchemical Dream" with Terence McKenna
REVIEWS—MUSIC
"Extraordinary Rendition" by Rupa & The April Fishes
"The Mandé Variations" by Toumani Diabaté
"Introducing Perunika Trio" by Perunika Trio
"Brazil" by Los Angeles Guitar Quartet