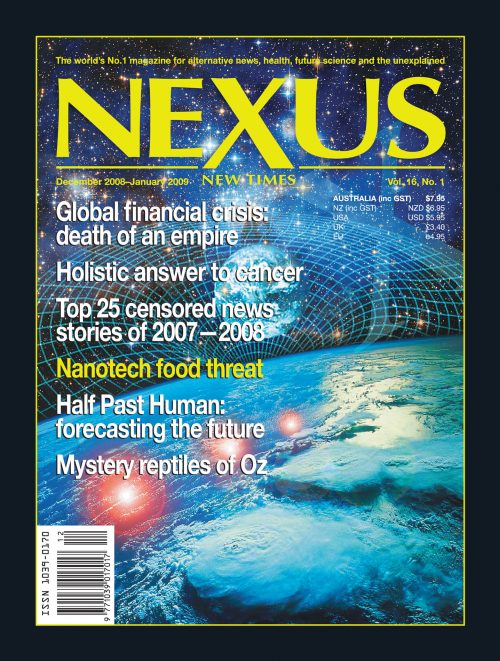 Volume 16, Number 1 – downloadable
$6.60
Volume 16, Number 1 (December 2008-January 2009) complete issue downloadable pdf file.
Description
LETTERS TO THE EDITOR
Readers discuss the risk to our water supplies from fluoridation and recycling, the link between alien abductions and Rh-negative blood, the benefits of magnesium, and gravitational time mechanics.
GLOBAL NEWS
We report on Georgia's aggression in the South Ossetia war, the Manchurian microchip in our computers, the shrinking of the Sun's protective "bubble", and moves to censor the Internet.
PROJECT CENSORED'S TOP 25 NEWS STORIES
By Dr Peter Phillips and the Project Censored team. The US corporate media continue to ignore or underreport on inconvenient but important national and global news stories. Here is a summary of Project Censored's top 25 selection for 2007–08.
DEATH OF THE AMERICAN EMPIRE & ECONOMY
By Tanya Cariina Hsu. "Creative financing" with credit default swaps and derivatives trading has brought the United States and much of the world to the brink of economic collapse.
THE HOLISTIC SOLUTION TO OVERCOMING CANCER
By Walter Last. The holistic treatment of cancer combines antimicrobial and immunity-stimulating therapies with methods to regenerate oxidative metabolism, cleanse toxins and heal emotions.
NANOTECHNOLOGY: THE NEW THREAT TO FOOD
By Georgia Miller and Scott Kinnear. Hundreds of foods on the supermarket shelves now contain unlabelled nanotech-modified ingredients that have not been safety-tested for human consumption. Lobby your food authorities and choose organics!
SCIENCE NEWS
We reprint a report compiled probably in the late 1940s for the British Intelligence Objectives Sub-Committee on German inventor Hans Coler's "Magnetstromapparat" and "Stromerzeuger" devices for producing power efficiently.
LANGUAGE, EMOTION AND FORECASTING THE FUTURE
Interview with Clif High by Kerry Cassidy and Bill Ryan of Project Camelot. Sampling language and data-sets over the Internet using software "spiders" has allowed the collective psyche and emotions to be tapped and key future events to be forecast.
UNEARTHING THE WORLD'S OLDEST PYRAMID COMPLEX
By Philip Coppens. New research into the so-called pyramids in Bosnia suggests they were reshaped from existing hills by an Old European civilisation to form a sacred landscape.
THE TWILIGHT ZONE
We feature an extract from Rex and Heather Gilroy's book Out of the Dreamtime, focusing on little-known folklore and recent eyewitness reports about dinosaur-type reptiles in remote parts of Australia.
REVIEWS—BOOKS
"Green is Good" by Jeff Angel
"Through the Eyes of Love" by Michael J. Roads
"Charles Fort…the Supernatural" by Jim Steinmeyer
"Breaking through…Untouchable Diseases" by Gerald Green
"Your Immune Revolution" by Toru Abo, MD, and "Healing Your Healing Power" by Kazuko T. Hillyer, PhD
"Vaccine Safety Manual" by Neil Z. Miller
"The Secret History of the War on Cancer" by Devra Davis
"Cancer: The…Recovery Guide" by Jonathan Chamberlain
"Breakthrough Power" by Jeane Manning and Joel Garbon
"Gravitational Manipulation of Domed Craft" by Paul Potter
"The Axis of the World" by Igor Witkowski
"Australian Cryptozoology" by Gary Opit
"Hitler's Suppressed…Weapons…" by Henry Stevens
"The Hidden Evil" by Mark M. Rich
REVIEWS— DVDs
"Alien Outback Encounters" by Attitude Productions/Films
"Ancient Roots, Modern Shoots" by Dr Leonid Sharashkin
"Reconnecting to Nature…" by Dr Leonid Sharashkin
REVIEWS— MUSIC
"Live!" by various artists "CéU" by CéU
"Introducing Spam Allstars" by Spam Allstars
"Son of a Lion" by various artists