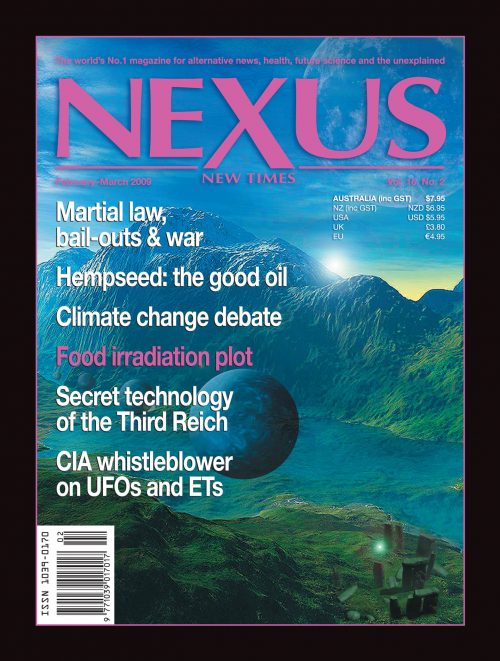 Volume 16, Number 2 – downloadable
$6.60
Volume 16, Number 2 (February-March 2009) complete issue downloadable pdf file.
Description
LETTERS TO THE EDITOR
Readers discuss the cancer fungus, fluoride filtering, the Morgellons disease link with GM food, Earth'sdecreasing magnetic field related to the worldwide rise in aggression, free-energy devices and more.
GLOBAL NEWS
We report on FDA corruption, the cluster bombs treaty that the superpowers won't sign, bacterial detergents as rainfall stimulants, irradiated pet food implicated in cat deaths, the war in Gaza and more.
MARTIAL LAW, FINANCIAL BAIL-OUT AND WAR
By Dr Peter Dale Scott. If any civil unrest results from America's current financial crisis, the US military has the power to intervene on the domestic front while still waging its foreign campaigns.
THE CLIMATE CHANGE DEBATE GOES ON
By Marc Morano. Many scientists around the world are reviewing the data on global warming and distancing themselves from the UN IPCC consensus view that human activity is to blame.
HEMP, THE WORLD'S MIRACLE CROP
By Susanna Wilkerson. Not only does hemp provide valuable materials for practical uses, it produces seeds and oil rich in vitamins and minerals as well as EFAs that we can only obtain from natural foods.
THE USDA's FOOD IRRADIATION PLOT
By Mike Adams. In the USA especially, food and health authorities are in league with corporations to irradiate the fresh food supply, thus destroying essential nutrients and promoting a sick society.
SECRET TECHNOLOGY OF THE THIRD REICH
By Igor Witkowski. The Nazi SS oversaw unprecedented sci-tech advances, but many of their technologies were impractical to deploy against the Allies before the end of World War II.
SCIENCE NEWS
By Anton Bernhardt. Utilising vortex implosion technology researched by Viktor Schauberger, the Aerodynamic Air Turbine Engine has an important role to play in the coming new-energy revolution.
THE SUPPRESSION OF ANCIENT HARMONIC SCIENCE
By Richard Merrick. Knowledge of harmonics has been hidden from the masses by the Church and modern science, but a new era is dawning that will allow us to connect with our "inner archetype".
TOP-SECRET US ARMY/CIA INVESTIGATIONS OF UFOS
Interview by Linda Moulton Howe. A US Army/CIA operative in the late 1950s, "Stein" has revealed secret details about early German flying discs and what the US government then knew about UFOs.
THE TWILIGHT ZONE
We feature a summary of Air Marshal Sir Peter Horsley's writings about his 1954 meeting in London with an extraterrestrial, and Geoff Falla's report on UFO sightings by astronomers and the prospect of intelligent interplanetary life.
REVIEWS—Books
"The Origin…and Failings of HIV/AIDS Theory" by H. Bauer
"Zapped!" by Wenonah Hauter and Mark Worth
"Exempt from Disclosure" by Robert M. Collins
"Blue Star: Fulfilling Prophecy" by Miriam Delicado
"Mysterious Orbs" by Michelle Brennan
"The Incredible Light Beings…" by Antonia Scott-Clark
"The Stone Angle" by Jack Wun
"The Egypt Code" by Robert Bauval
"Babylonian Star-Lore" by Gavin White
"Secrets of the Pyramid Revealed" by V. Kanjski & H. Zujic
"The Secret History of the World" by Jonathan Black
"Nazi International" by Joseph P. Farrell
"The Oil Card" by James R. Norman
"Above Top Secret" by Jim Marrs
REVIEWS—DVDs
"2012: Science or Superstition" by Gary Baddeley
"Spiritworld – Vol. 2: The Alien Kabbalah" by Chris Everard
"NEXUS Conference 2008" produced by E&E Productions
REVIEWS—Music
"Seven Serenades" by Matthew Montfort
"African Classics" by Fallou Dieng
"Didgeridoo Fantasy" by various artists
"What About Me?" by Duncan Bridgeman and Jamie Catto