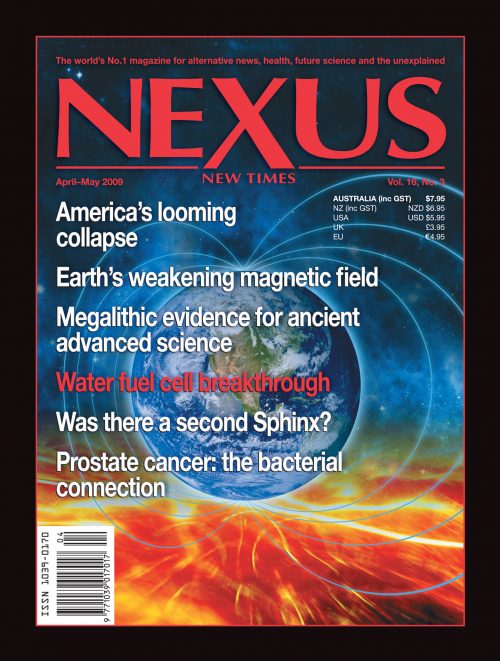 Volume 16, Number 3 – downloadable
$6.60
Volume 16, Number 3 (April-May 2009) complete issue downloadable pdf file.
Description
LETTERS TO THE EDITOR
Readers discuss the global economic crisis, a Nazi UFO sighting in Australia, megaliths and static electricity, CIA secret technology and the climate change controversy.
GLOBAL NEWS
We report on the US court ruling allowing patients to sue drug companies, claims of fraud in the original HIV=AIDS papers, curbs on banking secrecy, and a review of the Pine Gap agreement between Australia and the USA.
AMERICA'S FISCAL AND SOCIAL COLLAPSE
By Professor Michel Chossudovsky. The budgetary measures designed to rescue the US economy will only serve the interests of Wall Street bankers at the expense of the public good and cause massive social collapse.
THE PROSTATE CANCER LINK TO BACTERIA
By Dr Alan Cantwell. Recent research suggests that prostate cancer is caused by a rampant bacterial infection. The findings have the potential to overturn current treatment methods which utilise radiation.
THE CORDYCEPS MEDICINAL MUSHROOM
By Richard Alan Miller. Modern scientific studies have confirmed and expanded upon the findings of traditional Chinese medicine, that the Cordyceps sinensis fungus has myriad health benefits.
SOLAR CYCLES AND EARTH'S MAGNETIC FIELD
By Alex Ansary. Solar Cycle 24 combined with a weakening of the Earth's magnetic field may have severe consequences for our planet's climate and electricity grid systems as well as human behaviour.
PERSPECTIVE ON ARCHAEOLOGICAL ENIGMAS
By R. Cedric Leonard. Numerous megalithic sites around the world bear witness to an advanced civilisation that flourished before a great cataclysm ended the Pleistocene era around 12,000 years ago.
SCIENCE NEWS
We feature the theory and practical application of independent researcher Stephen Jones's water fuel cell, a development of the so-called "Joe Cell".
EXPLORING THE ORBS PHENOMENON
By John Pickering. The luminous spheres that are increasingly being photographed with digital cameras have similarities with plasma balls and have been shown to interact with human consciousness.
THE STARCHILD SKULL TEN YEARS ON
By Lloyd Pye. Having been subjected to various genetic tests over the last decade, the Starchild skull will soon have its genome mapped to determine conclusively whether it has alien heritage or not.
THE TWILIGHT ZONE
We present evidence that western Victoria's Aborigines mastered eel farming at least 8,000 years ago, and that a second Sphinx was in place on Egypt's Giza Plateau until at least the 11th century AD.
REVIEWS—Books
"Chemical Free Kids" by Dr Sarah Lantz, PhD
"Communication with All Life" by Joan Ranquet
"Medicine, Miracles, & Manifestations" by Dr J. L. Turner
"The Holographic Canvas" by Sonia Barrett
"Secrets of the Light" by Dannion Brinkley with Kathryn Brinkley
"Vision of Albion" by Barry Dunford
"A World of UFOs" by Chris A. Rutkowski
"Strange & Mysterious Anomalies" by Ian Ross Vayro
"The Philosophers' Stone" by Joseph P. Farrell
"The 9/11 Mystery Plane…" by Mark H. Gaffney
"Behind Closed Doors" by Michael Streeter
"Politics and the Occult" by Gary Lachman
"The House of Wisdom" by Jonathan Lyons
"The Sphinx Mystery" by Robert Temple with Olivia Temple
REVIEWS—DVDs
"Ancient Technology in Egypt" by D. Childress and C. Dunn
"Ancient Technology in Peru & Bolivia" by Childress and Dunn
"Phoenix Rising: An Endless Journey" by Jonathan Quintin
REVIEWS—Music
"Laya Project" by EarthSync
"Nine Heavens" by Niyaz
"Introducing Dozan" by Dozan
"Siyotanka" by Michael Brant DeMaria