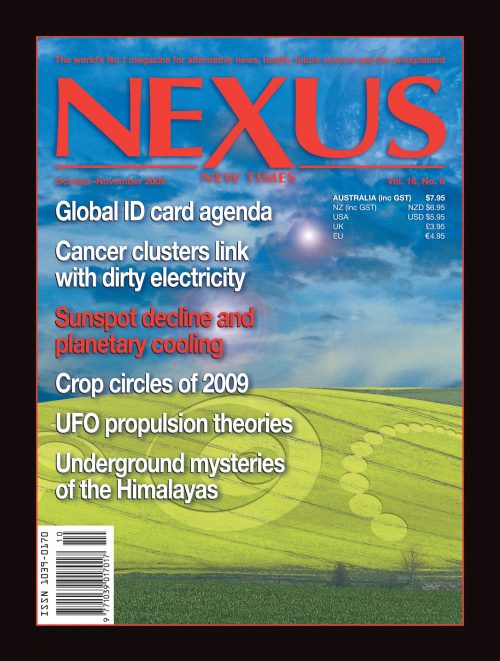 Volume 16, Number 6 – downloadable
$6.60
Volume 16, Number 6 (October-November 2009) complete issue downloadable pdf file.
Description
LETTERS TO THE EDITOR
Readers write about diverse subjects including HAARP transmissions, the power of the New York bankers' club, reincarnation, compulsory vaccinations, aerotoxic syndrome, Great Pyramid mysteries and more.
GLOBAL NEWS
We report on a cave complex beneath the Giza Plateau, the new breast cancer risk from tamoxifen, a European ruling on products using fluoridated water, an exposé on the death of bioweapons expert Dr David Kelly and more.
IDENTITY CARDS: A GLOBAL PERSPECTIVE
By Nathan Allonby. A coordinated agenda is being implemented worldwide to force every nation to adopt high-tech ID card systems and mega-databases to track their citizens' behaviours and movements.
DIRTY ELECTRICITY AND THE LINK TO CANCER
By Donna Fisher. The scientific and medical evidence is growing that electromagnetic fields and "transients" from wiring and appliances are causing a rise in cancer rates and cancer clusters in workplaces and schools.
LITTLE-KNOWN FACTS ABOUT POLIOMYELITIS VACCINATIONS—Part 2
By Dr Viera Scheibner. Mass vaccinations against poliovirus, also in conjunction with vaccines given against a range of diseases, resulted in significant levels of paralysis especially among young children.
JOHN F. KENNEDY AND THE UFO CONNECTION—Part 1
By Dr Michael E. Salla. During his term as US President, John F. Kennedy tried to bring classified information on UFOs under executive control, but his attempts were thwarted by the CIA and the top-secret MJ-12 Group.
PROPULSION OF ET AND HIGH-FREQUENCY VEHICLES
By Dr J. J. Hurtak and Dr Desiree Hurtak. Advances in electromagnetics, plasma dynamics and quantum mechanics are paving the way for the development of "free-energy" devices and faster-than-light spacecraft.
SCIENCE NEWS
This edition, we reprint NASA's media release on the Sun's declining magnetism and disappearing sunspots. If these trends continue, the Earth may be plunged into another Little Ice Age—a time when few sunspots were observed.
SHAMBHALA: VALLEY OF THE IMMORTALS—Part 2
By Tony Bushby. Unusual events and strange discoveries in northern Tibet, recorded by villagers and visitors alike, add intrigue to the already mysterious legends of the hidden Himalayan kingdom of Shambhala.
STRANGENESS AND WONDER: CROP CIRCLES OF 2009
By Andy Thomas. Spectacular crop formations appeared again in the English fields this season, some with life-form designs and bizarre codes and others with intricate stem-weaving. The phenomenon continues to be puzzling.
THE TWILIGHT ZONE
Michael Brine presents the extraordinary prophecy given by Bulgarian spiritual adept Peter Duenov in 1944, just before his death. In a trance state, the prophet spoke of our troubled times and the dawning of a new Golden Age.
REVIEWS—Books
"Crop Circles: The Bones of God" by Michael Glickman
"The New Circlemakers" by Andrew Collins
"Healing Young Brains" by Robert W. Hill, PhD, and Eduardo Castro, MD
"Healing Our Hormones, Healing Our Lives" by Linda Crockett
"The Bone Readers" by C. Tuniz, R. Gillespie and C. Jones
"Massacres to Mining" by Jan Roberts
"Sky Knowledge" by Ian James
"Lost Cities & Ancient Mysteries of the Southwest", by David Hatcher Childress
"When Jesus Lived in India" by Alan Jacobs
"Invisible History: Afghanistan's Untold Story" by Paul Fitzgerald and Elizabeth Gould
"Diana Inquest: The Untold Story – Parts 1 & 2" by John Morgan
"The Truth Agenda" by Andy Thomas
"Worldwide Evil and Misery" by Robin de Ruiter
"Full Spectrum Dominance" by F. William Engdahl
REVIEWS—DVDs
"Capturing the Light: Dorothy Izatt" by Frank Longo
"What on Earth?" by Mighty Companions
"Superpower" by Superpower Productions
REVIEWS—Music
"Bloodwood" by Alan Dargin with Michael Atherton
"Song of Love for the Animals" by Lia Scallion
"Invisible Cities" by Nomo
"The Rough Guide to Merengue Dance" by various artists