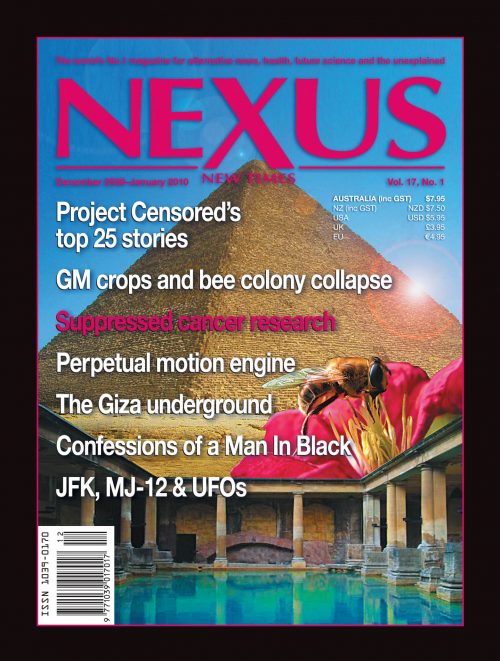 Volume 17, Number 1 – downloadable
$6.60
Volume 17, Number 1 (December 2009-January 2010) complete issue downloadable pdf file.
Description
LETTERS TO THE EDITOR
Readers comment on diverse subjects including the link between electromagnetic fields and breast cancer, freedom from paying tax, mysterious phenomena, community currencies and a new ice age in our lifetime.
GLOBAL NEWS
We report on a US court ruling against compulsory vaccinations, a UK plan to monitor private electronic communications, a UN IPCC scientist's about-face on global warming, the EU's "Orwellian" tactic to monitor behaviour, the CIA's Predator drone program and more.
THE TOP 25 MOST CENSORED NEWS STORIES
By Project Censored.  The research team at Sonoma State University, California, has compiled its annual list of the 25 most important news stories of the last 18 months that received little attention by the US corporate media.
GENETIC MANIPULATIONS:  A DISASTER?
By Charu Bahri.  The application of GM technologies in agriculture is proceeding with scant regard for impacts on our health and the environment, and may even be implicated in the global collapse of honey bee colonies.
HOW SCIENTIFIC IS SCIENTIFIC MEDICINE?
By Dr Len Saputo with Byron Belitsos.  Modern medicine is not living up to its claim of being evidence-based and seems to be at war with nature.  An integral approach that focuses on strengthening immunity needs to be adopted by medical practitioners as a top priority.
THE UNTOLD TRUTH ABOUT CANCER—Part 1
By Dr Lawrence Broxmeyer.  The US medical orthodoxy accepted a microbial cause of cancer until the early 20th century when it reversed its position and refused to accept findings that proved the cancer germ to be real.
SCIENCE NEWS
This edition we feature Jerry Decker's update on Richard Clem's "perpetual motion" engine, now reborn as the Cavitation-Ignition Bubble Combustion engine with great potential as a clean, green, energy technology.
DOWN INTO THE GIZA UNDERGROUND
By Philip Coppens.  A vast network of caves and tunnels is believed to exist beneath the pyramids within the Giza Plateau, but the Egyptian authorities are refusing to give credence to the idea or conduct scientific explorations.
JFK AND THE UFO CONNECTION—Part 2
By Dr Michael E. Salla.  In September 1963, US President John F. Kennedy announced that America and the Soviet Union would share UFO information.  Did the CIA and MJ-12 Group use this as a pretext to implement a cryptic "assassination directive" drafted two years earlier?
SPECIAL BRIEFING FOR PRESIDENT OBAMA
By Dr Steven M. Greer.  US President Obama has been sent a briefing document that urges the adoption of advanced clean-energy technologies and the end of secrecy over extraterrestrial visits to our planet.
THE TWILIGHT ZONE
We publish a letter sent to us several years ago by an anonymous source who claims to have worked for a US government agency as a "Man in Black", interviewing UFO witnesses and photographing sites of interest.
REVIEWS—Books
"Raising Intuitive Children" by Caron B. Goode & Tara Paterson
"The Indigo Children:  Ten Years Later" by Lee Carroll & Jan Tober
"Cellular Awakening" by Barbara Wren
"More Silent Fields…the Dirty Electricity Plague" by Donna Fisher
"The Sacred Center" by John Michell
"Before the Pyramids" by Christopher Knight and Alan Butler
"Masters of Deception" by Guy Patton
"Stalking the Tricksters" by Christopher O'Brien
"Cosmological Ice Ages…" by Henry Kroll with Brad Guth
"Climate Change:  Explained by Magnetism?" by Thomas Watson
"Pyramids of Destiny" by Rex and Heather Gilroy
"Beneath the Pyramids" by Andrew Collins
"Contact:  Countdown to Transformation" by Steven Greer, MD
"Exposing US Government Policies on ET Life" by M. E. Salla, PhD
REVIEWS—DVDs
"Symbols of an Alien Sky" by The Thunderbolts Project
"What We Know Is A Drop" by Grander Technology
"This Sacred Earth:  The 2012 Phenomenon" by Wild Pure Heart
REVIEWS—Music
"Maškaradă" by Taraf de Haïdouks
"Jacques Loussier Plays Bach" by Jacques Loussier
"Time Stands Still" by Mike Howe
"Didgeridoo Drum Dance" by various artists