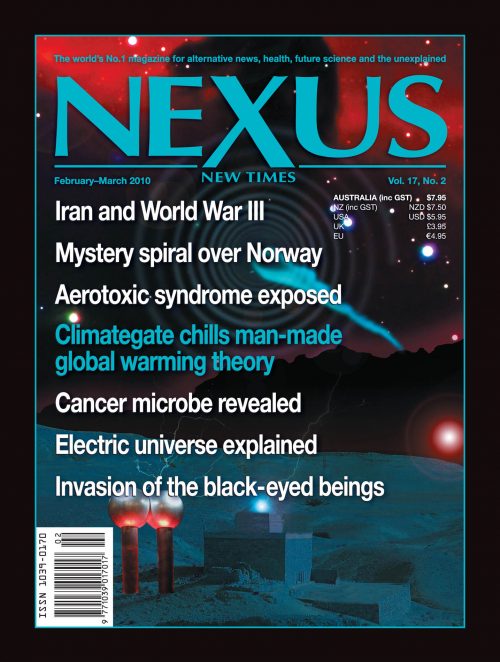 Volume 17, Number 2 – downloadable
$6.60
Volume 17, Number 2 (February-March 2010) complete issue downloadable pdf file.
Description
LETTERS TO THE EDITOR
Readers comment on such diverse subjects as ET interest in the Apollo Moon program, contaminated vaccines, natural disease prevention, the link between chemtrails and disappearing bees, and the energy of sacred sites.
GLOBAL NEWS
We report on a forged document on Iran's nuclear plans, an overlooked HIV cure, the shifting north magnetic pole, a simple treatment for MS, research linking breast cancer with mammogram tests, a European inquiry into WHO's swine flu "pandemic" scandal, and more.
CLIMATEGATE:  THE GLOBAL WARMING HOAX
By Philip Coppens.  Emails by leading climate scientists, hacked and released in the lead-up to the December 2009 climate change summit, are suggestive of a conspiracy to manipulate temperature data and promote the consensus on man-made global warming despite contrary evidence.
AEROTOXIC SYNDROME EXPOSED
By Captain John Hoyte.  The aviation industry must adopt technical solutions to the common problem of toxic oil fumes leaking into aircraft cabins before even more aircrew and passengers become seriously ill.
EXPLORING THE NORWAY SPIRAL MYSTERY
By David Wilcock.  The white spiral with the blue ray that was seen over northern Norway last December was not the result of a Russian missile test gone wrong but more likely of a HAARP-like ionospheric heating experiment.
NEW WORLD WAR FOR A NEW WORLD ORDER
By Andrew G. Marshall.  American and British powers succeeded in orchestrating a coup in Iran in 1953, but failed in their attempt to effect a regime change during the July 2009 election and its violent aftermath.
THE UNTOLD TRUTH ABOUT CANCER—Part 2
By Dr Lawrence Broxmeyer.  Discoveries of an infectious cancer-causing microbe emerged increasingly through the 20th century but were routinely rejected by the medical establishment, as were the women behind them.
SCIENCE NEWS
This edition we run generator designer Bryan Strohm's paper in which he debunks gravitational models of the universe, discusses "over-unity" and "reactionless" events, and explains the fundamentals of the electric universe.
THE POWER OF LIGHTNING STRIKES
By Louis Proud.  Survivors of lightning strikes can be cursed by disturbing physical and emotional side-effects and even experience weird paranormal phenomena, but sometimes they are blessed with spiritual insights.
INVASION OF THE BLACK-EYED CHILDREN
By Jason Offutt.  Over the last decade, many people have come forward to report on their perplexing encounters with strange black-eyed children who made insistent demands of them and scared them out of their wits.
THE TWILIGHT ZONE
We feature journalist Linda Moulton Howe's notes of an interview with a retired US AFOSI agent who describes an overwhelming face-to-face contact with a Grey alien and gives details of US military-intelligence knowledge of ETs.
REVIEWS—Books
"The Climate Caper" by Garth W. Paltridge
"2012 and the Shift of Ages" by Alexander Price
"The Elixir of Immortality" by Robert E. Cox
"The Spiritual Significance of Music" edited by Justin St Vincent
"ORMUS:  Modern Day Alchemy" by Chris Emmons, RPh
"The Invisible History of the Rosicrucians" by Tobias Churton
"Sensitive Permaculture" by Alanna Moore
"The Purposeful Universe" by Carl Johan Calleman, PhD
"Meeting Fairies" by R. Ogilvie Crombie
"Rocks & Rows" by Jay S. Wakefield and Reinoud M. De Jonge
"Béchamp or Pasteur?" by Ethel D. Hume, with R. B. Pearson
"Hormone Heresy" by Dr Sherrill Sellman, ND
"The Great Airship of 1897" by J. Allan Danelek
"The Secrets of Dellschau" by Dennis Crenshaw with P. G. Navarro
REVIEWS—DVDs
"3D Crop Circles" by Anthony James
"The School:  Humanity's New Future" by Maitrea
"Sex:  The Secret Gate to Eden" by Thelema Press
REVIEWS—Music
"O Shakuntala!" by Debashish Bhattacharya
"The Rough Guide to Afrobeat Revival" by various artists
"Eastern Meditation:  Music from Bali to Tibet" by Pravana
"Ghetto Blasters" by Mahala Rai Banda