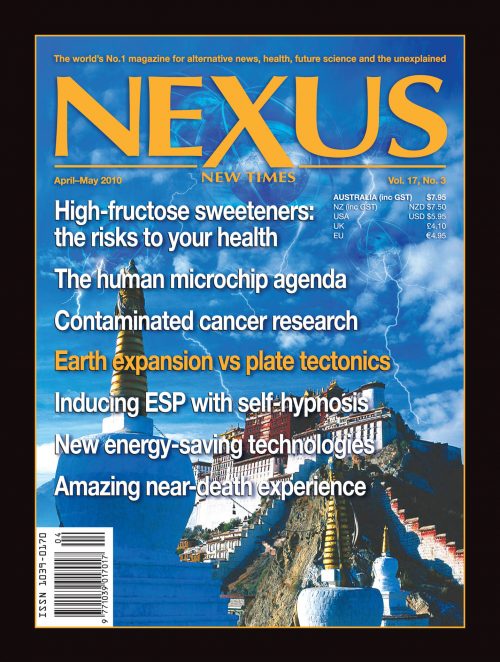 Volume 17, Number 3 – downloadable
$6.60
Volume 17, Number 3 (April-May 2010) complete issue downloadable pdf file.
Description
LETTERS TO THE EDITOR
Readers comment on such diverse subjects as the plight of imprisoned economist Martin Armstrong, the Freeman on the Land concept, the cover-up on vaccine risks, a Brown's Gas project, UFO reporting by iPhone, and more.
GLOBAL NEWS
We report on toxic effects of nanoparticles, a proposed asteroid defence system, weather modification in China, flawed DNA analysis, the CIA's LSD experiment in France in 1951, America's unmanned drone wars, and more.
RISKS FROM CORN AND AGAVE SWEETENERS
By Sally Fallon Morell & Ramiel Nagel.  Recent studies show that refined sweeteners like high-fructose corn syrup and agave "nectar" are neither safe nor natural and are more damaging to our health than is ordinary sugar.
THE HUMAN MICROCHIPPING AGENDA
By Gregory Nikolettos & Timothy Wiseman.  Big Brother corporations have already developed implantable microchips for humans and are conditioning the public to accept that being chipped is inevitable and desirable.
IMMORTAL HeLa CELLS AND VIRAL VOODOO
By Dr Alan Cantwell.  Cancer cells taken from Henrietta Lacks nearly 60 years ago have contaminated hundreds of human tissue cell culture lines and ruined decades of experimental research at enormous cost.
EARTH EXPANSION TECTONICS—Part 1
By Dr James Maxlow.  As shown in the magnetic striping and age-dating of oceanic bedrock, the Earth's radius has been growing throughout its geological history.  The theory of Plate Tectonics is overdue for review.
ESP INDUCTION THROUGH SELF-HYPNOSIS
By Richard Alan Miller.  The determined and patient student of paraphysics can draw on this theoretical model and practical, tried-and-tested self-hypnosis technique for inducing extrasensory perception.
SCIENCE NEWS
This edition we give an overview of Steorn Limited's over-unity demonstrations in Ireland, and Silicon Valley–based Bloom Energy Corporation's launch of an advanced, energy-saving fuel cell technology.
JOURNEY THROUGH THE LIGHT AND BACK
By Mellen-Thomas Benedict.  This account of a profound life-after-death-and-return experience inspires us to realise that we are all one with the universal Source and have the power to allow it to expand itself through us.
THE MARINE LIGHTWHEEL PHENOMENON
By Kris Sherwood.  In April 2009, a US Navy ship's crew witnessed an astonishing light show at sea, featuring bioluminescent organisms that responded to energy discharges appearing as spiralling vortices.
THE TWILIGHT ZONE
We reprint a summary of amazing coincidences from the 19th century to recent years, covering the simultaneous deaths of twins, Edgar Allan Poe's prophetic maritime novel, historical synchronicities and more.
REVIEWS—Books
"Dark Intrusions" by Louis Proud
"Sounding the Mind of God" by Lyz Cooper
"The Rife Handbook of Frequency Therapy" by Nenah Sylver, PhD
"Cancer is Not a Disease…" by Andreas Moritz
"Contactees:  A History…" by Nick Redfern
"Yetis, Sasquatch & Hairy Giants" by David Hatcher Childress
"The 8 Calendars of the Maya" by Hunbatz Men
"2012:  Science or Superstition" by Alexandra Bruce
"ESP Induction through…Self-Hypnosis" by Richard Alan Miller
"Patterns of Eternity" by Malcolm Stewart
"Shadow Masters" by Daniel Estulin
"Spontaneous Evolution" by Bruce Lipton, PhD, & Steve Bhaerman
"Global Warming False Alarm" by Ralph B. Alexander
"The Real Global Warming Disaster" by Christopher Booker
REVIEWS—DVDs
"Architects of Control" by Michael Tsarion and Blue Fire Film
"Crossing the Event Horizon" by Nassim Haramein
REVIEWS—Music
"Le Marigot Club Dakar" by Daby Balde
"Fela:  The Best of The Black President" by Fela Kuti
"Fanfare Ciocarlia Live" by Fanfare Ciocarlia
"Songhai Blues:  Homage to Ali Farka Touré", by Samba Touré