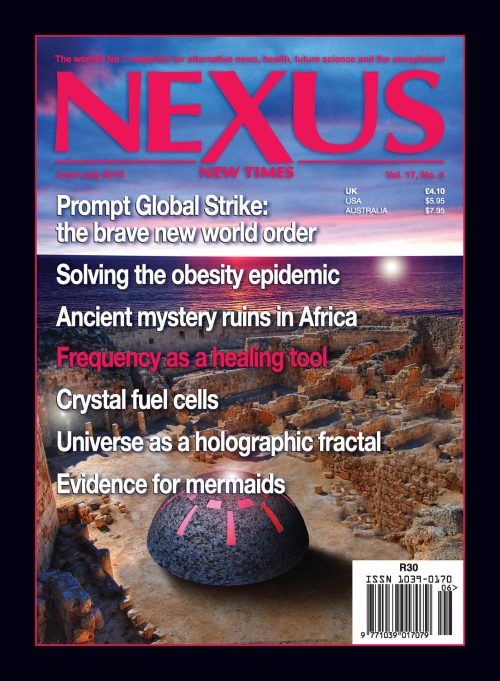 Volume 17, Number 4 – downloadable
$6.60
Volume 17, Number 4 (June-July 2010) complete issue downloadable pdf file.
Description
LETTERS TO THE EDITOR
Readers comment on such diverse subjects as the MMR vaccinations controversy, Australian fuel cells, ancient geo-engineering, cordless phone frequencies and more.
GLOBAL NEWS
We report on PR-driven newspaper stories, the failure of fluoridation, mammography linked with breast cancer, "smart dust", a high-level Scottish paedophile scandal,  Russian research on GM food dangers and more.
AMERICA'S PLANS FOR PROMPT GLOBAL STRIKE
By Rick Rozoff.  With its dominance in conventional warfare, the USA is downplaying the nuclear strike option and developing its Prompt Global Strike plans that include hypersonic aircraft and space-based weapons.
AN EFFECTIVE SOLUTION TO THE OBESITY EPIDEMIC
By Dr Sherrill Sellman.  A low-calorie dietary protocol that utilises human chorionic gonadotrophin (hCG) is having great success for overweight and obese people and offers a way out of the global health crisis.
HEALING WITH ELECTROMEDICINE AND SOUND THERAPIES—Part 1 of 2
By Dr Nenah Sylver.  To appreciate how therapeutic electromedical devices work, it is important to learn what the electromagnetic spectrum is and how it manifests in the energetics of living systems.
AN OVERVIEW OF EARTH EXPANSION TECTONICS—Part 2 of 2
By Dr James Maxlow.  Expansion Tectonics explains existing physical geologic data much better than does Plate Tectonics, and also goes further by accounting for the creation of new matter at the core–mantle interface.
TO INFINITY AND BEYOND:  TRANSCENDING OUR LIMITATIONS
By Nassim Haramein.  The Universe is at once infinitely large and infinitely small, is organised according to a holographic fractal scalar arrangement and may well consist of black holes at the subatomic level.
SCIENCE NEWS
This edition we feature Marcus Reid's paper on applied quantum mechanics as a solution for energy and pollution problems and his promising work with polycrystalline silicate cells that can tap energy from the vacuum.
IN SEARCH OF THE MYTHICAL MERMAID
By Gary Opit.  Numerous historical and modern-day sightings of sea mammals with human-like features and a double-finned tail suggest the existence of an aquatic species of hominin that could be the mermaid of folklore.
THE OLDEST MAN-MADE STRUCTURES ON EARTH?
By Michael Tellinger.  Ancient stone ruins and a megalithic clifftop calendar found in southern Africa could be at least 100,000 years old and are evidence that this region was home to the world's first civilisation.
THE TWILIGHT ZONE
We publish former Apollo technician Jim Oglesby's account of his UFO sightings as well as his telepathic communications with advanced extraterrestrials that commenced in 1967 and continue to the present.
REVIEWS—Books
"There is Life After Death" by Roy Abraham Varghese
"Stories from the Animal Whisperer" by Trisha McCagh
"Advanced Civilizations of Prehistoric America" by Frank Joseph
"Temples of the African Gods" by Michael Tellinger & Johan Heine
"Atlantis and 2012" by Frank Joseph
"The Secret Legacy of Jesus" by Jeffrey J. Bütz
"Hidden in Plain Sight" by Richard Sauder, PhD
"Roswell and the Reich:  The Nazi Connection" by Joseph P. Farrell
"UFO Case Files of Scotland" by Malcolm Robinson
"Messages" by Stan Romanek with J. Allan Danelek
"Grey Aliens and the Harvesting of Souls" by Nigel Kerner
"Perfectibilists" by Terry Melanson
"The Franklin Scandal" by Nick Bryant
"A Terrible Mistake" by H. P. Albarelli, Jr
REVIEWS—DVDs
"Crop Circles:  Reflections of a Season" by Crop Circle Connector
"Atlantis, Megaliths, Tesla & ET Archeology" by David H. Childress
"Jesus in India" by Paul Davids
REVIEWS—Music
"Ali and Toumani", by Ali Farka Touré and Toumani Diabaté
"The Rough Guide to Arabic Lounge" by various artists
"Radiant Sky" by Scott August
"Shoshan" by Shye Ben-Tzur