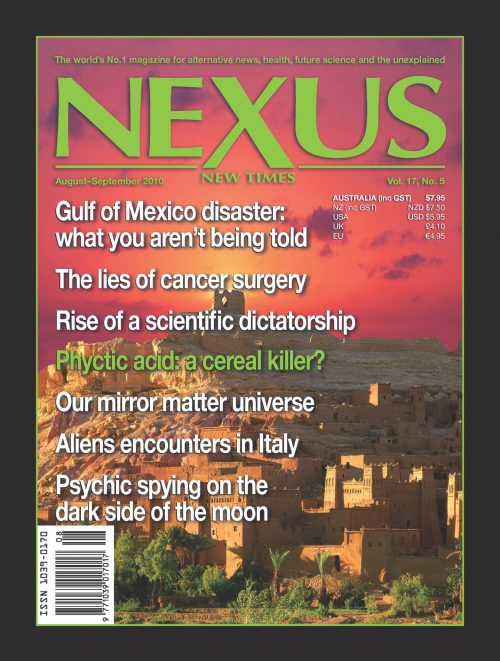 Volume 17, Number 5 – downloadable
$6.60
Volume 17, Number 5 (August-September 2010) complete issue downloadable pdf file.
Description
LETTERS TO THE EDITOR
Readers comment on such diverse subjects as out-of-body research, weaponised mycoplasma, fighting paedophilia, coded information in Hollywood films, and magnesium chloride as a powerful anti-infective agent.
GLOBAL NEWS
We report on the CIA's access to European Union citizens' financial data, US moves for a "cyber shield", another flaw in the Big Bang theory, the sound of the Sun, the launch of a secret US spaceship, revelations about US plans to give Israel a mega military handout, and more.
THE RISE OF THE GLOBAL SCIENTIFIC DICTATORSHIP
By Andrew Gavin Marshall.  The "brave new world" that Aldous Huxley envisioned is now a reality, as increasingly  we are at the mercy of elitist technocrats and social engineers hell-bent on controlling the world's populace.
PROOF THAT CANCER SURGERY INCREASES MORTALITY
By Walter Last.  Recent studies and decades-old research suggest that surgery and other medical interventions stimulate the growth and spread of tumours, while holistic anticancer therapies have an inhibitory effect.
MILITARY EMERGENCY IN THE GULF OF MEXICO
By "Opening Poster" via Godlike Productions.  As the Gulf of Mexico oil disaster unfolds, bizarre things have been happening since late June with intense submarine, ship and aircraft activity and the capture of a weird organism.
LIVING WITH PHYTIC ACID IN OUR DIETS
By Ramiel Nagel.  Phytic acid and phytates in grains, nuts, seeds and legumes deplete minerals and inhibit digestive enzymes.  We need to know how to prepare these foods so as to neutralise their harmful content.
HEALING WITH ELECTROMEDICINE AND SOUND THERAPIES—Part 2
By Dr Nenah Sylver.  Frequency therapies can increase cell energy, normalise membrane conductivity, lessen oxidative stress and enhance immune function, leading to tissue regeneration and disease resistance.
SCIENCE NEWS
This issue we run Rod Hamon's analysis linking galactic and atomic left-handedness, the 1908 Tunguska event, Pioneer spacecraft anomalies and findings from dark matter experiments with the theory of "mirror matter".
PENETRATION:  ET AND HUMAN TELEPATHY
By Ingo Swann.  This famous American psychic accepted a secret assignment in 1975 to remote-view the dark side of the Moon.  He was shocked to see physical evidence of an alien presence and to realise he had been observed.
AMICIZIA:  ALIEN ENCOUNTERS IN ITALY
By Warren Aston.  The recently disclosed reports of long-term contact by hundreds of Italians with aliens from the so-called Akrij Confederation significantly expand our view of the ET presence in the history of Earth.
THE TWILIGHT ZONE
We feature three items this issue:  the story of a Chinese man who lived to be 256; a report on a Siberian hunter who allegedly saved a Yeti from drowning; and news of a radio ghost mystery at a former RAF base in Scotland.
REVIEWS—Books
"Silenced Witnesses – Volume 2" edited by Martin J. Walker
"Sarah's Last Wish" by Eve Hillary
"Sudden Cold" by Rodney Chilton
"There Were Giants upon the Earth" by Zecharia Sitchin
"Lost Technologies of Ancient Egypt" by Christopher Dunn
"The Lost Age of High Knowledge" by Keith M. Hunter
"Signature of the Celestial Spheres" by Hartmut Warm
"It's All Light" by G. Prema
"Crash:  When UFOs Fall from the Sky" by Kevin D. Randle, PhD
"UFO Case Files of Russia" by Philip Mantle & Paul Stonehill
"Spies, Lies, and Polygraph Tape" by Gary S. Bekkum
"Babylon's Banksters" by Joseph P. Farrell
"The Invention of the Jewish People" by Shlomo Sand
"The Secret Society of Moses" by Flavio Barbiero
REVIEWS—DVDs
"The Power of the Purse – Volume 1"
"Orgasm Inc." by Liz Conner
"Westall '66:  A Suburban UFO Mystery"
REVIEWS—Music
"The Rough Guide to the Music of India" by various artists
"Many Moods" by Ben Woolman
"Rise & Shine" by Sierra Leone's Refugee All Stars
"Blue Dreaming" by Sunsaria