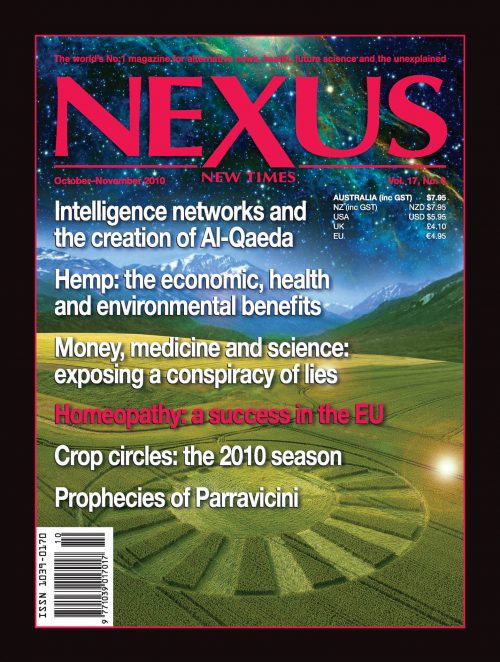 Volume 17, Number 6 – downloadable
$6.60
Volume 17, Number 6 (October-November 2010) complete issue downloadable pdf file.
Description
LETTERS TO THE EDITOR
Readers comment on such diverse subjects as mysterious deaths in England in late 1998, The Zeitgeist Movement, UFO sightings over Australia's Snowy Mountains, the rise of the scientific dictatorship, and more.
GLOBAL NEWS
We report on the Earth's past magnetic pole shifts, IMF standover tactics against Pakistan, the "Top Secret America" investigation, miscarriages linked to the H1N1 vaccine, the "Satellitegate" cover-up, and more.
THE IMPERIAL ANATOMY OF AL-QAEDA
By Andrew Gavin Marshall.  In response to the CIA's need for more discretion, the Safari Club international intelligence network was formed and went on to finance and organise a global conglomerate of terrorist groups.
HEMP:  OUR LIFELINE TO THE FUTURE
By Dr Andrew Katelaris.  The widespread legalisation of cannabis production for commercial and medical uses would have profound benefits for our economies and our health as well as our environment.
HOMEOPATHY'S SUCCESS IN EUROPE
By Dana Ullman.  Despite attempts to discredit it, homeopathy has widespread use and rising popularity in Europe.  Its increasing acceptance among medical practitioners and the public is proof that it works.
HEALING WITH ELECTROMEDICINE—Part 3
By Dr Nenah Sylver.  Devices utilising lasers and LEDs as well as far-infrared heat and sound can target living cells with the precise frequency needed to restore cellular balance and return the body to good health.
BIG LIES OF MONEY, MEDICINE AND SCIENCE
By Dr Denis G. Rancourt.  The established orthodoxy in economics, medicine and science is intended as a web of lies to maintain power structures, says this tenured Canadian physics professor who was fired for dissidence.
SCIENCE NEWS
This edition we include items on the Sun's role in changing the rate of decay of radioactive isotopes, and on electrically charged plasma bands that circle the Earth.
EARTH PRECESSION AND MICRO BLACK HOLES
By Olaf Thomas Raabe.  There is a link between a series of unexplained explosions, the Earth's precessional orbit and the inadvertent creation of micro black holes at the  Large Hadron Collider in Geneva, Switzerland.
CROP CIRCLES 2010:  TWENTY YEARS ON
By Andy Thomas.  This season's global tally of 110 crop glyphs featured artistic masterpieces including complex mandalas, optical illusions and binary codes.  The year  2010 marked two decades of pictograms in the fields.
THE TWILIGHT ZONE
This edition we present prophecies and drawings by the little-known Argentinian clairvoyant and artist Benjamín Solari Parravicini, covering contact with ETs, atomic era warnings, the new space age and major social changes.
REVIEWS—Books
"Twilight of the Gods" by Erich von Däniken
"Lost Knowledge of the Ancients" edited by Glenn Kreisberg
"Mass Contacts" by Stefano Breccia
"Beyond the Heavens" by Maurizio Cavallo (Jhlos)
"Have You Got the Guts to be Really Healthy?" by Don Chisholm
"Healthy Sun" by Casey Adams, PhD
"World Gnosis" by Mark Amaru Pinkham
"Approaching Chaos" by Lucy Wyatt
"Magnetic Reversals and Evolutionary Leaps" by Robert W. Felix
"Ancient Egypt 39,000 BCE" by Edward F. Malkowski
"The Cross of Bethlehem:  The Memoirs of a Refugee" by Ro'i Tov
"The Energy Solution Revolution" by Brian O'Leary, PhD
"The Untrained Environmentalist" by John Fenton
"The Self-Sufficiency Bible" by Simon Dawson
REVIEWS—DVDs
"The Friendship Case" from Studio3TV
"Science Art Foundations for Human Survival" with Robert Pope
"One Answer to Cancer" from Fair Go Productions
REVIEWS—Music
"Music of the Honey Gatherers" by Paban Das Baul
"Infinite Sky" by Wendy Grace
"Eternity" by Deuter
"A New Day" by Laya Project