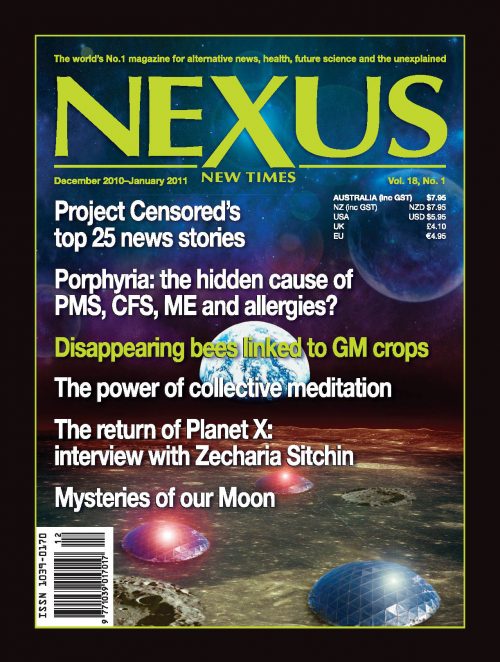 Volume 18, Number 1 – downloadable
$6.60
Volume 18, Number 1 (December 2010 – January 2011) complete issue downloadable pdf file.
Description
LETTERS TO THE EDITOR
Readers comment on such diverse subjects as radioactive decay, the lies of science and medicine, Australia's  National Immunisation Program Schedule, subliminals on television, hCG success in weight loss, contrails observed over North Yorkshire, UK, and more.
GLOBAL NEWS
We report on a claim that the Vatican ordered the attempt on Pope John Paul II's life, the mesothelioma link to nanotechnology, scientific confirmation that cancer is a modern man-made disease, the big banks' call for a global currency, accelerating groundwater depletion, and the last chance for the natural health industry in Europe.
PROJECT CENSORED'S TOP 25 NEWS STORIES
By Project Censored.   This selection of the 25 stories most underreported by the mainstream media in the last 18 months is headed by plans to replace the US dollar.  If the plans were to proceed, there would be huge ramifications for America's global economic and military domination.
COLONY COLLAPSE DISORDER AND GM CROPS
By Peter Olson.  The Bt Cry toxins in genetically modified crops are thought to be responsible, at least in part, for impairing the immune response, memory and navigation ability of worker bees and causing them to become lost and thus disappear from their beehives.
PORPHYRIA:  A CAUSE OF CHRONIC ILLNESSES
By Dr Steven Rochlitz.  Twenty per cent of people may have a genetic defect that is activated after toxic exposure, and can result in chronic degenerative diseases or allergy-like illnesses including Alzheimer's, chronic fatigue, hypoglycaemia and multiple chemical sensitivity.
HEALING THE WORLD BY COLLECTIVE MEDITATION
By Dr Roger Taylor.  Various initiatives around the world are linking millions of people in meditation for peace and healing, tapping into the zero-point field and achieving measurable effects that can be understood in terms of the new paradigm of quantum physics.
SCIENCE NEWS
This edition we feature Olaf Thomas Raabe's follow-up on the link between micro black holes created at CERN's Large Hadron Collider and the Earth's precessional orbit, focusing on the cause of sinkholes in Guatemala City.
WHO PARKED OUR MOON? An Off-World Mystery
By Jim Marrs.  Mysterious anomalies concerning the geology and position of our lunar satellite lend support to theories that our Moon was hollowed out by alien intelligences and transported into orbit around the Earth.
THE TWILIGHT ZONE
This edition, as a tribute, we present Paola Leopizzi Harris's 2003 interview with famed historian and author Zecharia Sitchin, who died in October 2010, covering ancient and modern wars and the Anunnaki's return.
REVIEWS—Books
"Healthy Home, Healthy Family" by Nicole Bijlsma, ND
"The Story of Water:  The Source of Life" by Alick Bartholomew
"Dowsing:  The Ultimate Guide…" by Elizabeth Brown
"Raising a Vaccine Free Child" by Wendy Lydall
"The Pot Book:  A Complete Guide…" edited by Julie Holland, MD
"Holistic Anatomy:  An Integrative Guide…" by Pip Waller
"Crop Circles:  The Evidence" by Janet Ossebaard
"Nostradamus, Bibliomancer" by Peter Lemesurier
"Soul Survivor" by Bruce and Andrea Leininger with Ken Gross
"German Flying Saucers" by Rudi Stiebritz and Allis Fairfax
"Common Wealth" by Freddy Silva
"Egyptian Dawn:  Exposing the Real Truth…" by Robert Temple
"The Murder of Reality" by Pierre Sabak
"Censored 2011" edited by Mickey Huff, Peter Phillips et al.
REVIEWS—DVDs
"The Hemp Solution" by Sol Ramana-Clarke
"Infinity:  The Ultimate Trip" by Jay Weidner
"The Day Before Disclosure" by Terje Toftenes
REVIEWS—Music
"Yoga" by various artists
"Tribal Rocks!" by various artists
"Pyramid Call" by Buedi Siebert
"The Rough Guide to Desert Blues" by various artists