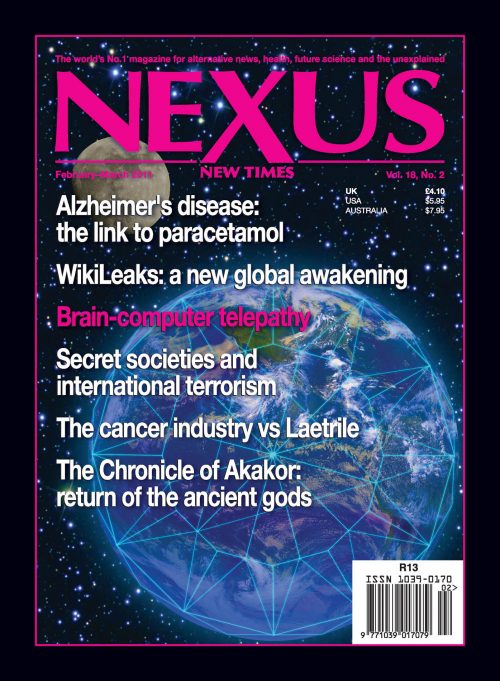 Volume 18, Number 2 – downloadable
$6.60
Volume 18, Number 2 (February – March 2011) complete issue downloadable pdf file.
Description
LETTERS TO THE EDITOR
Readers comment on such diverse subjects as the power of collective meditation, Climategate, homoeopathy vs cancer, secret plans to cope with a biblical-scale flood in Australia, and systemic problems in the health system.
GLOBAL NEWS
We report on ULF waves recorded over Haiti before the 2010 quake, Wi-Fi's deadly effects on trees, safety issues with flu vaccines, the strongest La Niña event on record, WikiLeaks revelations and revolutions, and more.
WIKILEAKS AND THE WORLDWIDE INFORMATION WAR
By Andrew Gavin Marshall. WikiLeaks' recent release of the first batch of 250,000 US diplomatic cables gives insights into government and media propaganda, the machinations of diplomats, and opportunities for positive social transformation amidst the new global awakening.
THE KNIGHTS OF THE EXTREME RIGHT
By Philip Coppens. Many secret societies, including those promising spiritual enlightenment, have been infiltrated by intelligence operatives for the purposes of grooming terrorists and fulfilling nefarious political agendas.
LAETRILE VS CANCER:  AN AUSTRALIAN STORY
By Rev. Dr Shé D'Montford. The medical/pharmaceutical establishment has a vested interest in ensuring that successful alternative cancer treatments are withheld from the public. Laetrile or vitamin B17 is one substance that threatens the stranglehold of "the cancer industry".
THE FUTURE OF THOUGHT COMMUNICATION
By Belinda Doyle. Brain-to-computer interface technology is increasingly helping people with profound disabilities but is also paving the way for new forms of communication with network-enabled telepathy.
IS ALZHEIMER'S CAUSED BY PARACETAMOL?
By Walter Last. Within two decades of the introduction of phenacetin and paracetamol analgesics in the 1880s, the first Alzheimer's cases were described, and thereafter the disease rate rose sharply. Natural medicine offers a solution to this increasingly prevalent illness.
SCIENCE NEWS
This edition, we feature Bruce Cathie and Rod Maupin's exploration of the updated Gridpoint Atlas® software which can be used to calculate World Grid harmonics and plot grid maps on Google Earth screenshots.
THE 21ST-CENTURY RENAISSANCE OF SCIENCE
By Professor Robert Pope. To ensure our survival into the future, the 20th-century scientific world-view, blinded by the flawed second law of thermodynamics, must be replaced by an ethical holographic life-science.
THE TWILIGHT ZONE
We feature an extract from Karl Brugger's rare book "The Chronicle of Akakor", which recounts an Amazonian Indian's story of his tribe's relationship with an alien master race over thousands of years and of great catastrophes that have befallen planet Earth.
REVIEWS—Books
"Porphyria" by Steven Rochlitz, PhD
"Energizing Water" by J. Schwuchow, J. Wilkes and I. Trousdell
"Beyond Belief" by James F. Coyle
"Earthing" by C. Ober, S. T. Sinatra, MD, and M. Zucker
"Homo Serpiens" by Aeolus Kephas
"What Lurks Beyond" by Jason Offutt
"The Art of Close Encounters" by Kim Carlsberg
"George Adamski: A Herald…" by Gerard Aartsen
"The Cosmic Conspiracy" by Stan Deyo
"The NASA Conspiracies" by Nick Redfern
"The Mystery of U-33" by Nigel Graddon
"The Forbidden Archeologist" by Michael A. Cremo
"The Origin of God" by Laurence Gardner
"Challenges of Change" by Stanley A. Fulham
REVIEWS—DVDs
"NEXUS Conference 2010" produced by E&E Productions
REVIEWS—Music
"Akave" by George Telek
"Tibet: Awakened Heart" by Tenzin Choegyal and Taro Terahara
"Shakuhachi Water Meditations" by Riley Lee
"This is the Story" by Miriam Lieberman