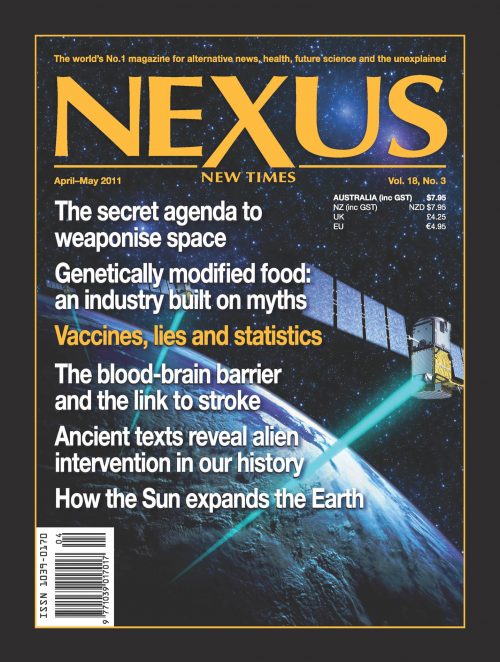 Volume 18, Number 3 – downloadable
$6.60
Volume 18, Number 3 (April – May 2011) complete issue downloadable pdf file.
Description
LETTERS TO THE EDITOR
Readers comment on such diverse subjects as the Laetrile conspiracy, porphyria diagnosis, recognition for Bruce Cathie and his World Grid research, cultivation of hemp foods in Australia, prophetic dreams, and more.
GLOBAL NEWS
We report on the Swiss vote for complementary medicine, surprises with the placebo effect, new evidence in weapons inspector Dr David Kelly's death, archaeological sites found via Google Earth, the WikiLeaks-exposed nuclear safety cover-up in Japan, and more.
AMERICA'S EMERGING SPACE WEAPONS ARSENAL—Part 1
By John Lasker.  US military contractors in league with "Space Hawks" and the Pentagon are using missile defence as a smokescreen for their space weapons plans, while avoiding signing international treaties that would  keep space for peaceful purposes.
GM PRODUCTS:  AN INDUSTRY BUILT ON MYTHS
By Friends of the Earth International.  Biotechnology corporations, backed by many governments, continue to press for the widespread introduction of genetically modified agriculture despite growing dissent worldwide.
FOOLING OURSELVES ON THE VALUE OF VACCINES
By Greg Beattie.  The death rates for major illnesses such as measles, diphtheria and whooping cough were in significant decline long before vaccines aimed at preventing these diseases were even introduced.
THE HOLE IN THE HEART AND THE BLOOD-BRAIN BARRIER
By Dr Steven Rochlitz.  The blood-brain barrier becomes permeable as a result of stress, toxins, heat, EMF, nutritional deficiencies and heart defects, causing many illnesses.  One hidden heart defect occurs in one in three people and is known to be a leading cause of stroke.
A NEW MECHANISM FOR MATTER INCREASE WITHIN THE EARTH
By John B. Eichler.  This plausible argument suggests that, based on known physical phenomena, solar particles may account for Earth expansion.  It resolves questions on the source of new matter and how it penetrates the Earth, lending support to Expansion Tectonics theory.
SCIENCE NEWS
This edition, new-energy blogger Brian Westenhaus explains Professor Claus W. Turtur's proposal for a zero-point energy converter capable of harvesting energy through the rotation of a permanent magnet.
WHO WROTE THE "REPTILIAN AGENDA"?
By John Lash.  The Nag Hammadi Codices and the Mesopotamian cuneiform tablets both tell of alien intervention with humanity, but the stories in the tablets may have been hoaxed to give divine mandate to tyrants.
THE TWILIGHT ZONE
We feature an extract from the forthcoming new edition of CoEvolution by Alec Newald, the New Zealander who claims to have been abducted in 1989 by benevolent aliens and taken on a tour of their home planet.
REVIEWS—Books
"The Archetypal Cosmos" by Keiron Le Grice
"Afterlife" by Barry Eaton
"Randi's Prize" by Robert McLuhan
"Life and Death on Mars" by John Brandenburg, PhD
"Atlantis and the Cycles of Time" by Joscelyn Godwin
"Time of the Quickening" by Susan B. Martinez, PhD
"Psychedelic Healing" by Neal M. Goldsmith, PhD
"The Art of Soaring" by Vladimir Dolokhov and Vadim Gurangov
"Autism:  Beyond Despair – CEASE Therapy" by Tinus Smits, MD
"My Experiences of Aliens…" by Dr J. S. Chiappalone
"LBJ and the Conspiracy to Kill Kennedy" by Joseph P. Farrell
"Final Warning…the New World Order" by David Allen Rivera
"Underground" by Suelette Dreyfus and Julian Assange
"Wall Street and the Rise of Hitler" by Antony C. Sutton
REVIEWS—DVDs
"Ancient Technology in Nazca & Central Peru" with D. H. Childress
"The Afterlife Investigations" by Tim Coleman, Survival Project
"What in the World are they Spraying?" by G. Edward Griffin et al.
REVIEWS—Music
"Desert Phase" by Kaya Project
"Out of the Blue" and "Into the Amazon" by Emily Burridge
"Bhakti Bazaar" by Jai Uttal
"Path of Compassion" by Karunesh