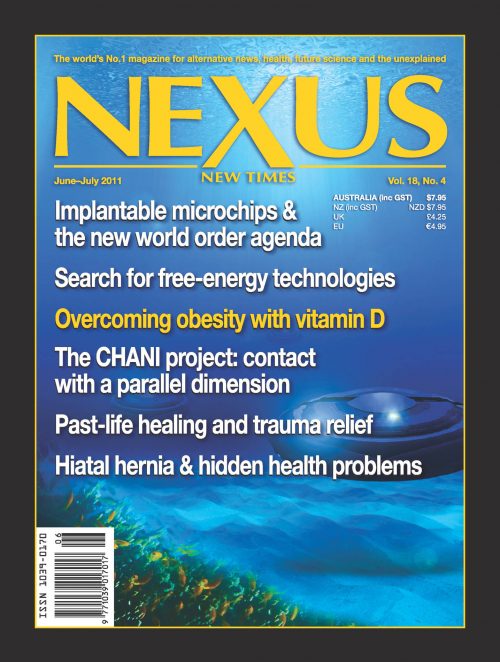 Volume 18, Number 4 – downloadable
$6.60
Volume 18, Number 4 (June-July 2011) complete issue downloadable pdf file.
Description
LETTERS TO THE EDITOR
Readers comment on such diverse subjects as blood–brain barrier integrity, magnesium efficacy, vaccination risks, Morgellons disease denial, the placebo effect, the rediscovered Irish kings chronology, and more.
GLOBAL NEWS
We report on the link between genetically modified food and organ disruption in animals, the powers supporting the Mexican Sinaloa drug cartel, the dangers of hydraulic fracturing (fracking), the CIA's FOIA release of JFK's UFO memos, activist Dr Helen Caldicott's perspective on the Fukushima nuclear disaster in Japan, and more.
AMERICA'S EMERGING SPACE WEAPONS ARSENAL—Part 2
By John Lasker.  The Obama administration has increased the missile defence budget to ensure that "dual use" land- and space-based weaponry will continue to be developed for the Pentagon by private defence contractors, despite the president's promise to ban weapons in space.
THE MISSING PIECES OF THE WEIGHT-LOSS PUZZLE
By Dr Sherrill Sellman.  Overweight and obesity have serious consequences for health and ageing.  The best advice for shedding kilograms includes keeping your brain in shape, maintaining optimal vitamin D levels, getting plenty of sleep and managing your intestinal flora.
HIATAL HERNIA SYNDROME WITH VAGUS NERVE IMBALANCE
By Dr Steven Rochlitz.  By middle age, over 50 per cent of people may have hidden hiatal hernia syndrome, together with vagus nerve imbalance, which at least in part can cause or exacerbate asthma, reflux, ulcer, sleep apnoea,  hypertension and various cardiac conditions.
MYSTERY OF THE MISSING IMPLANTABLE MICROCHIPS
Interview with (the late) William J. Pawelec by Dr Steven M. Greer.  A high-level American security systems designer reveals that in the late 1970s and early 1980s, unknown agents stole implantable microchip prototypes that were soon developed, built by the billions and deployed.
PAST-LIFE REGRESSION:  AN ANCIENT HEALING TOOL
By Charu Bahri.  Ancient knowledge about reincarnation has been rediscovered in the West, and techniques have been developed that allow individuals to explore and heal disorders or traumas resulting from past lives.
SCIENCE NEWS
This edition, we reprint an extract from an article written by artificial intelligence expert Lewey Gilstrap for Pure Energy Systems News, on promising new technologies including Morgado's MYT engine, Aviso's self-running electric car, Rossi and Focardi's nickel–hydrogen fusion device, and Turtur's zero-point energy model.
THE CHANI PROJECT: COMPUTER-INTERFACED COMMUNCIATION WITH OTHER REALMS
By "Acolyte".  From 1994 to 1999, researchers at a secret collider facility in Africa recorded their computer-interfaced question-and-answer sessions with an entity from a parallel universe, gleaning information and predictions about an anticipated "Fuse Year".
THE TWILIGHT ZONE
We feature ufologist Paul Stonehill's round-up of Soviet-era sightings of unidentified submarine and flying objects  and other strange phenomena in international waters.
REVIEWS—Books
"Life As Energy" by Alexis Mari Pietak
"World Wide Mind" by Michael Chorost
"The Myth of the Great Ending" by Joseph M. Felser, PhD
"Australian Big Cats" by Michael Williams and Rebecca Lang
"The Original Great Pyramid and Future Science" by Noel Huntley
"The Force:  Living Safely in…EM Pollution" by Lyn McLean
"Dirty Electricity and Electromagnetic Radiation" by Donna Fisher
"Sex, Lies and Pharmaceuticals" by Ray Moynihan & Dr B. Mintzes
"The Promise of hCG" by Sherrill Sellman, ND, and Frankie Boyer
"Visions of the Multiverse" by Dr Steven Manly
"FutureScience:  Forbidden Science…" by Maurice Cotterell
"Shakespeare's Secret Booke" by David Ovason
"Radical Peace:  People Refusing War" by William T. Hathaway
"The Triumph of Consciousness" by Christopher James Clark
DVDs
"GasLand" directed by Josh Fox
"Symbols of an Alien Sky – Episode Two" by Thunderbolts Project
"The Klaus Dona Chronicles – Secret World 1" by F. Jacob et al.
Music
"The Rough Guide to African Guitar Legends" with various artists
"The Veil of Whispers" by Thierry David
"Peace Within" by Samjjana
"Tande-La" by The Creole Choir of Cuba