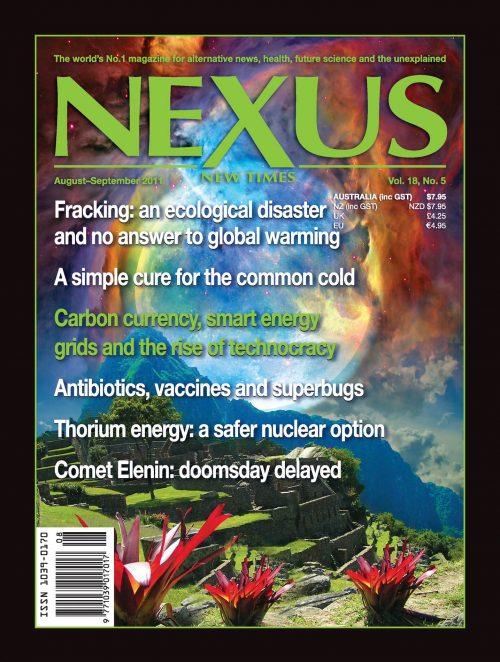 Volume 18, Number 5 – downloadable
$6.60
Volume 18, Number 5 (August-September 2011) complete issue downloadable pdf file.
Description
LETTERS TO THE EDITOR
Readers comment on carbon dioxide as a non-pollutant, Morgellons disease research, vaccine dangers, the CHANI messages, alien intervention with humanity, and more.
GLOBAL NEWS
We report on the limited lifespan of breast implants, the economic costs of hydraulic fracturing, Saturn's electric currents, the Fukushima disaster, GM madness, and more.
FRACKING:  AN ECOLOGICAL DISASTER
By Catherine Simons.  Hydraulic fracturing causes untold environmental and social damage, and the gas extracted from shale and coal seams has such a large greenhouse gas footprint that it cannot reduce global warming.
SACRED MUSHROOMS AND THE QUEST FOR MEANING
By Simon G. Powell.  An inspired New York banker dedicated much of his life to ethnomycology research, discovering the shamanic practices of ingesting fungi with psychedelic and spiritual properties and experiencing and reporting on his own mystical visions.
TECHNOCRACY, CARBON CURRENCY AND SMART GRIDS
By Patrick M. Wood.  An economic system based on energy production and consumption instead of price, and a global electrical network using interconnected smart technologies, may fulfil Technocracy's ideological plan to exert centralised control over the world's population.
INSTANT CURE OF THE COMMON COLD
By Walter Last.  Too much lactose in the diet promotes mucic acid formation, leading to mucus congestion which can cause a range of health problems starting with the common cold.  A simple technique using an inexpensive item from your kitchen cupboard can solve the problem.
BURSTING THE BUBBLE OF ANTIBIOTICS
By Dr Viera Scheibner.  The mass use of antibiotics, also in conjunction with vaccines, has led to widespread immune system compromise and disease susceptibility, as well as to the development of superbugs and superinfections that are resistant to orthodox treatment.
SCIENCE NEWS
This edition, we cover the promise of thorium power, the discovery of free-floating planets, a device that captures ambient electromagnetic energy, and comet Elenin's orbit.
POWER STRUGGLES AND MURDERS IN THE VATICAN
By Philip Coppens.  Evidence surrounding the 1998 killing of the new commander of the Swiss Guard overturns the Vatican's official version of events and raises questions about Opus Dei and masonic influences in the Curia and the activities of Eastern European spy networks.
MIKE MARCUM'S TIME MACHINE EXPERIMENTS
By Jason Offutt.  Electronics tinkerer Mike Marcum used guinea pigs to test his time machine before trying to teleport himself.  After jumping into the event horizon, he woke up to find he'd been teleported from Missouri to Ohio and had missed two years in the process.
THE TWILIGHT ZONE
We feature an extract from a book by Rebecca Lang and Michael Williams which investigates reports of big-cat sightings in Australia and suggests several theories as to how these out-of-place felids arrived in a foreign land.
REVIEWS—Books
"Dirty Electricity" by Samuel Milham, MD, MPH
"Disconnect" by Devra Davis, PhD, MPH
"Slaying the Sky Dragon" by Sky Dragon Slayers
"The Healing Code" by Alexander Loyd, PhD, & Ben Johnson, MD
"Tasting the Universe" by Maureen Seaberg
"The Déjà Vu Enigma" by Marie D. Jones and Larry Flaxman
"The Cosmological Origins of Myth and Symbol" by Laird Scranton
"Planetary Influences" by Buryl Payne, PhD
"Black Genesis" by Robert Bauval and Thomas Brophy, PhD
"Scattered Skeletons in Our Closet" by Karen Mutton
"Sex, Bombs and Burgers" by Peter Nowak
"America's Nazi Secret" by John Loftus
"Beyond Einstein's Unified Field" by John Brandenburg, PhD
"UFOs and the Extraterrestrial Message" by Richard Lawrence
REVIEWS—DVDs
"Food, Inc." by Robert Kenner
"UFOs and Close Encounters" from Reality Films
"Kubrick's Odyssey – Part 1:  Kubrick and Apollo" by Jay Weidner
REVIEWS—Music
"Whale Whispers, Lion Roars" by Madeleine Walker
"Laru Beya" by Aurelio
"Revolve" by La Cherga
"Prana Groove" by Stevin McNamara