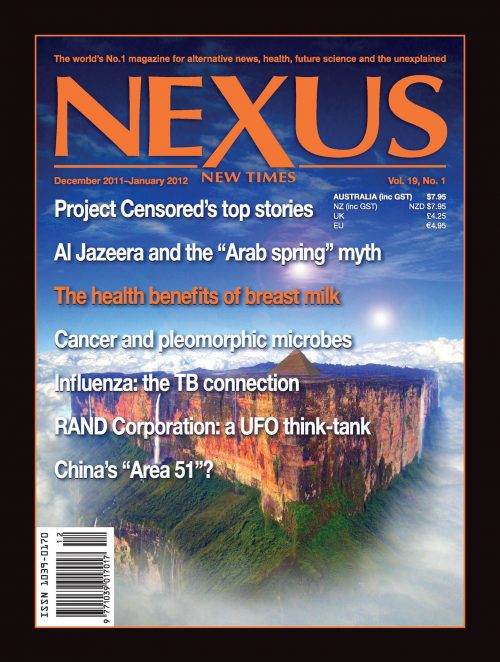 Volume 19, Number 1 – downloadable
$6.60
Volume 19, Number 1 (December 2011-January 2012) complete issue downloadable pdf file.
Description
LETTERS TO THE EDITOR
Readers comment on Australia's carbon tax legislation, Britain's health disgrace, thallium poisoning, a simple treatment for burns, climate geo-engineering, the rejection of thermography for mammography, and more.
GLOBAL NEWS
We report on a proton-based transistor interface, German bishops caught in a pornography publishing scandal, the US-led bid to overturn the ban on cluster bombs, militant opposition in Syria, and more.
AL JAZEERA:  THE TRIUMPH OF TV PROPAGANDA
By Thierry Meyssan.  The Qatari-based Al Jazeera television news network has played a key role in propagating the "Arab spring" myth and in legitimising Arab regimes aligned with the United States and Israel.
AMERICA'S CONQUEST OF AFRICA
By Mahdi Darius Nazemroaya and Julien Teil.  America and its European and Israeli allies are cooperating to disrupt China's newfound influence in Africa while manipulating insurgencies to fit their hidden agendas.
PROJECT CENSORED'S TOP 25 NEWS STORIES
By Project Censored.  The editorial team from Sonoma State University has undergone the exhaustive process of evaluating the most important American and global news stories of 2010–2011 that received scant media attention.
HUMAN MILK:  THE TRUE WHITE GOLD
By Patricia Hatherly.  Human breastmilk provides essential nourishment for the infant, but the skin-to-skin contact of breastfeeding imparts a psychological benefit in helping the child develop to full potential.
THE HIDDEN CAUSE OF CANCER
By Walter Last.  Blood contamination by pleomorphic microbes is the real killer in cancer, AIDS and many autoimmune diseases.  Natural remedies that clean the blood and restore immune system vitality offer a solution.
SCIENCE NEWS
This edition we publish Patrick Huyghe's tribute to William R. Corliss—physicist, writer and investigator of scientific anomalies—who died in July 2011, leaving a vast body of work including his famous Sourcebook Project.
INFLUENZA AND THE TB CONNECTION—Part 2
By Dr Lawrence Broxmeyer.  If the microbe that causes influenza is a form of cell-wall-deficient mycobacterium, such as the one responsible for tuberculosis, then we could end up with no defences against another pandemic.
THE DEEP SECRETS OF A UFO THINK-TANK
By Anthony Bragalia.  Since 1946, RAND has been closely involved in the highly classified study of UFOs for the US government, as confirmed by once-secret reports and exposés by members of the military-industrial complex.
THE TWILIGHT ZONE
We feature an item about Native American trackers and the power of their hair, and Google Earth images of a remote area of China showing secret facilities, strange geometric features and evidence of violent explosions.
REVIEWS—Books
"Overthrowing the Temple" by Martin J. Walker
"The Chief Sea Lion's Inheritance" by Tom Blaney
"The Hidden Geometry of Flowers" by Keith Critchlow
"The Whale Whisperer" by Madeleine Walker
"The Lost Empire of Atlantis" by Gavin Menzies
"The Master Game" by Graham Hancock and Robert Bauval
"Sunscreens – Biohazard" by Elizabeth Plourde, PhD
"The Bond" by Lynne McTaggart
"Deep Truth" by Gregg Braden
"Big Cats of the Australian Wilderness" by Rex and Heather Gilroy
"The Return of the Rebel Angels" by Timothy Wyllie
"How Wall Street Fleeces America" by Stephen Lendman
"Countdown to Coherence" by Hazel Courteney
"The Kahuna Kit" by Joe Potts
REVIEWS—DVDs
"The Complete National Geographic – 2010 Edition" from NGS
"Ancient Aliens" from Prometheus Entertainment
REVIEWS—Music
"Two Voices" by Wouter Kellerman
"Stranger Music" by Suns of Arqa
"…and Love Rages On!" by AOMusic
"Earthsong & Stardance" by Gandalf