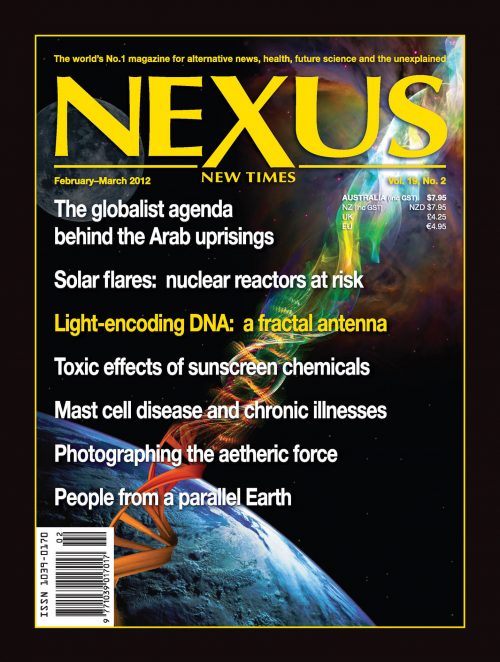 Volume 19, Number 2 – downloadable
$6.60
Volume 19, Number 2 (February-March 2012) complete issue downloadable pdf file.
Description
LETTERS TO THE EDITOR
Readers comment on Technocracy's hijacking, New Zealand's proposed Food Act that threatens farmers' markets, mind control, the Thrive movement, and more.
GLOBAL NEWS
We report on thousands of American deaths linked to Japan's Fukushima fallout, the new US Act that strips citizens of their human rights, fears for India's biometric ID card system, the Climategate scandal reignited, a British town that grows its food communally, and more.
THE "ARAB SPRING" & US GLOBAL HEGEMONY
By Tony Cartalucci.  Wall Street and London corporate-financier-funded NGOs and proxies, along with NATO forces, engineered the 2011 uprisings in the Middle East and elsewhere, and have installed puppet leaders open to their agendas for economic and political control.
GEOMAGNETIC STORMS, EMP & NUCLEAR ARMAGEDDON
By Matthew Stein.  An extreme geomagnetic disturbance is likely to shut down electricity grids for months or even years and trigger nuclear disasters at reactors worldwide.  Protective measures could be implemented now to avert what could be the end of civilisation as we know it.
SUNSCREENS' HEALTH AND ENVIRONMENTAL HAZARDS
By Dr Elizabeth Plourde.  The chemicals in sunscreens not only fail to provide effective protection against all the sun's rays, they also have toxic effects on humans, aquatic life and waterways.  Our best advice is to eliminate sunscreens and adopt an antioxidant-rich diet.
MAST CELL DISEASE:  A COMMON HEALTH PROBLEM
By Dr Steven Rochlitz.  Mast cell disease may be a cause  of chronic, inflammatory or allergy-like illness and can be hard to treat because of hidden syndromes.  Various natural treatments can help overcome these conditions.
MORPHIC RESONANCE & QUANTUM BIOLOGY
By William Brown.  Living organisms are quantum biological systems that interface with the fundamental fabric of reality.  Their DNA acts as a fractal antenna which can receive and transduce zero-point energy, allowing more direct interaction with the Field.
SCIENCE NEWS
This edition, we publish the late Dr Dennis Milner's article on electrophotographic registering of the aetheric force in action.  His spectacular photographs, made possible with a multiple-pulse power source, show the glory of Nature.
FAR JOURNEYS: THE MYSTERY OF LOOSH
By Robert A. Monroe.  In an out-of-body journey, this cosmic explorer observed the cultivation of a substance called Loosh, and was shocked to realise that our emotional energies may support the cosmic food chain.
THE TWILIGHT ZONE
We feature items from the archives on bizarre encounters with tiny ray-gun-wielding humanoids and craft in Malaysia in the 1970s, and strange incidents involving people with experiences in parallel Earth dimensions.
REVIEWS—Books
"Death on a Fork" by Gwynne H. Davies, DSc, ND, DO
"Supercharge Your Heart in Seconds" by Steven Rochlitz, PhD
"Stone Age Farming" by Alanna Moore
"Queen of the Sun" edited by Taggart Siegel and Jon Betz
"Gardening as a Sacred Art" by Jeremy Naydler
"The Giza Prophecy" by Scott Creighton and Gary Osborn
"Saucers, Swastikas and Psyops" by Joseph P. Farrell
"Alien Interface" by Mike Oram and Fran Pickering
"Double Entry" by Jane Gleeson-White
"Wall Street and the Bolshevik Revolution" by Antony C. Sutton
"The Ascent of Media" by Roger Parry
"The Last Circle" by Cheri Seymour
"Vultures' Picnic" by Greg Palast
"Disconnecting the Dots" by Kevin Fenton
REVIEWS—DVDs
"Cancer is Curable Now" by Marcus and Sabrina Freudenmann
"Ancient Technology in Mexico…" with David Hatcher Childress
"Death By Medicine" from Gary Null & Associates Inc.
REVIEWS—Music
"Solis" by Sunsaria/Baz Bardoe
"Follow Your Bliss" by Samjjana
"Fatou" by Fatoumata Diawara
"Relaxing Melodies of Nature" by Kenio Fuke