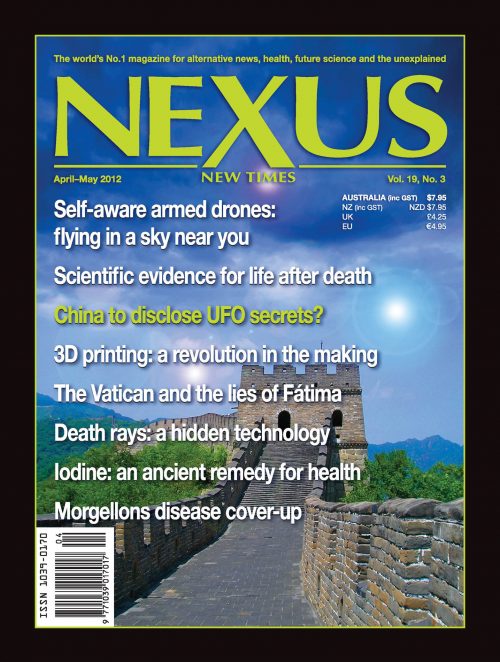 Volume 19, Number 3 – downloadable
$6.60
Volume 19, Number 3 (April-May 2012) complete issue downloadable pdf file.
Description
LETTERS TO THE EDITOR
Readers comment on electrogenesis treatment, mast cell and Ménière's diseases, the backlash against anti-conspiracy activism in the UK, and US world dominance.
GLOBAL NEWS
We cover a new app for reporting "suspicious" activity, the FDA's claims that human stem cells are drugs to be regulated, the WikiLeaks Global Intelligence Files release, DARPA's drone-slaying laser weapon, the crisis in Syria, the Morgellons disease cover-up, and more.
DRONE WARS: A BRIEFING DOCUMENT
By Chris Cole. The use of unmanned aerial vehicles, or drones, in conflict zones is increasing at an alarming rate, and technological advances are producing autonomous, self-aware systems that could be used against us all.
IODINE: THE PERFECT PANACEA
By Elaine Hollingsworth. An essential nutrient, a simple remedy for a range of health conditions and an effective detoxifier and antiseptic, iodine has been demonised for decades by Big Pharma in its quest for power and control.
KEROSENE: A UNIVERSAL HEALER
By Walter Last. Products derived from crude oil and turpentine have a long tradition in folk medicine around the world. Kerosene, a mineral oil distillate, has been shown to be an effective antimicrobial treatment.
THE AFFORDABLE 3D PRINTING REVOLUTION
By David Briddock. Inexpensive 3D desktop printers enable anyone to fabricate objects using digital files, and have the potential to transform product design, medical practices, academic learning and community enterprises.
SCIENTIFIC EVIDENCE FOR LIFE AFTER DEATH
By Dr Mado Martínez & Dr Elaine Vieira. New scientific methods and technologies are being used to research whether life exists after death. Rigorous studies of mediumship, near-death experiences and past-life memories suggest that consciousness indeed survives.
SCIENCE NEWS
This edition, we publish a selection of archival news stories from 1924 to 1940 on death-ray devices, including ones developed by Dr Nikola Tesla and a machine that was destroyed by its inventor for the good of humanity.
DISCLOSURE OF EARTH AND EXTRATERRESTRIAL CONTACT
By Dr C. B. Scott Jones. At a March 2012 virtual conference in Hong Kong, this retired US intelligence officer called on the Chinese to lead the way towards full public disclosure of extraterrestrial contact with Earth and to support efforts to ban weapons in space.
THE VATICAN AND THE SECRET LIES OF FATIMA
By Philip Coppens. Since the Virgin Mary appeared to three children at Fátima, Portugal, in 1917, the Catholic world has been fascinated with the three secrets that she imparted, but the Vatican may have fabricated them to suit its own political and religious agendas.
THE TWILIGHT ZONE
We feature Frank Joseph's interview with nuclear physicist and ufologist Stanton Friedman on the UFO phenomenon and cover-up, interstellar travel, abduction experiences and advanced civilisations that are in contact with Earth.
REVIEWS—Books
"Corporate Wrongdoing and…Accusation" by Robert R. Faulkner
"Neuro Intelligence: The New NLP Guide…" by Laureli Blyth
"2012: Decoding the…Apocalypse" ed. by Joseph Gelfer
"The Venus Eclipse of the Sun 2012" by David Tresemer, PhD
"The Hidden Science of Lost Civilisations" by David Wilcock
"Lost Civilizations…" edited by Michael Pye and Kirsten Dalley
"When Disaster Strikes" by Matthew Stein
"Eyes Only: The Story of…UFO Crash Retrievals" by Clifford Stone
"UFOs over New Mexico: A True History…" by Preston Dennett
"Keep Out! Top Secret Places…" by Nick Redfern
"Innocence Turned Deadly" by Robert Duncan O'Finioan
"Talking With God: The Radioactive Ark…" by Roger D. Isaacs
"The Lost Key: The Supranatural Secrets…" by Robert Lomas
"Inside the Priory of Sion" by Robert Howells
REVIEWS—DVDs
"Burzynski – The Movie" directed by Eric Merola
"The Urzi Case" from The Spirit Culture Preservation Project
"Queen of the Sun" by Taggart Siegel for Collective Eye Films
REVIEWS—Music
"Let It Burn" by Ruthie Foster
"Portico Quartet" by Portico Quartet
"Password" by Deva Premal
"Quiescence: A World of Peace" by Amberfern