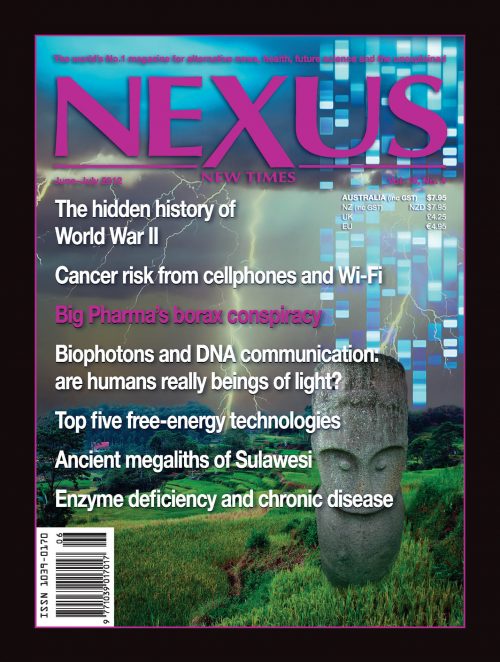 Volume 19, Number 4 – downloadable
$6.60
Volume 19, Number 4 (June-July 2012) complete issue downloadable pdf file.
Description
LETTERS TO THE EDITOR
Readers comment on reversing iodine deficiency, the power of the banks, a photograph of tiny people with Tibetan features, shock over mass tree deaths, Fátima's "miracle of the Sun" and the dangers of DECT phones.
GLOBAL NEWS
We cover the shut-down of nuclear reactors in Japan and the looming disaster with spent fuel rods at Fukushima, the use of intense light to prevent and treat heart attack, India's failed polio eradication program, the corporate network that runs the world, the funding of political unrest in Russia by American NGOs, and more.
THE HIDDEN SIDE OF HISTORY—Part 1
An interview with Douglas Dietrich by Thomas Kirschner.  This former US Department of Defense military librarian and Marine reveals little-known imperial and World War II history, including how Nazi Germany was the first power to develop and deploy the atomic bomb.
BIOLOGICAL EFFECTS OF WEAK EM FIELDS
By Dr Andrew Goldsworthy.  Adverse health effects from exposure to weak electromagnetic fields are the result of calcium ions being removed from the cell membranes, causing leakage into the interior of the cells and possible long-term damage to proper cellular functioning.
THE BORAX CONSPIRACY
By Walter Last.  Borax, a naturally occurring mineral and a source of the essential element boron, is an inexpensive and effective antiseptic, antifungal and insecticidal treatment, but it's now being outlawed by Big Pharma and health authorities worldwide.
THE CRUCIAL CYTOCHROME P450 ENZYMES
By Dr Steven Rochlitz.  The cytochrome P450 enzymes are critical for our metabolic processes, but any defect or deficiency in these enzymes can lead to chronic inflammatory and environmental illnesses, often by causing food reactions and addictions.
DOES DNA EMIT LIGHT?
By Dan Eden.  Living organisms utilise light, or photons, to communicate with each other.  As German biophysicist Dr Fritz-Albert Popp discovered, DNA is an essential source of light emissions, sending biophotons to molecules across a wide range of electromagnetic frequencies.
SCIENCE NEWS
This edition, we highlight the top five exotic free-energy technologies as compiled by Sterling D. Allan of Pure Energy Systems News.  These include a modular heat reactor, an endless electric field generator, and a way to tap cavitation zero-point energy to produce fusion.
ANCIENT MEGALITHS OF CENTRAL SULAWESI
By David Hatcher Childress.  Curious stone sculptures found in Central Sulawesi, Indonesia, could be as much as 5,000 years old and have similarities with megalithic monuments elsewhere, such as in Central America.
THE TWILIGHT ZONE
We feature a recent Irish case of spontaneous human combustion, evidence for highly skilled craftsmanship nearly 10,000 years ago, a report on fear of mermaids in Zimbabwe, and the story of an American who became a genius in geometry after he was mugged 10 years ago.
REVIEWS—Books
"A Momentary Lapse of Reason" by Henryk Behr
"Hiatal Hernia Syndrome/Vagus Nerve…" by Steven Rochlitz, PhD
"The Enigma of Cranial Deformation" by D. Childress & B. Foerster
"The Lost Worlds of Ancient America" edited by Frank Joseph
"Fireballs, Skyquakes and Hums" by Antony Milne
"Hidden Stonehenge" by Gordon R. Freeman
"Atlantis Beneath the Ice" by Rand and Rose Flem-Ath
"The Hidden Geometry of Life" by Karen L. French
"The Velikovsky Heresies" by Laird Scranton
"Psychic Kids:  True Life Stories…" by Sue Bishop
"The View Beyond:  Sir Francis Bacon" edited by Dave Patrick
"Phantoms of the Skies" by J. Allan Danelek and Chuck Davis
"Terror on the Tube:  Behind the Veil of 7/7" by Nick Kollerstrom
"The Truth Agenda" by Andy Thomas
REVIEWS—DVDs
"Why Science?  Bruce DePalma & the N-Machine" by Mark Ward
"Beyond the Infinite:  Kubrick's Odyssey II" by Jay Weidner
"Roswell and the Rising Sun" by Douglas Dietrich
REVIEWS—Music
"Caravana Sereia Bloom" by Céu
"The Tel Aviv Session" by The Touré–Raichel Collective
"Remixed" by Girish
"Fearless Earth" by Madeleine Walker