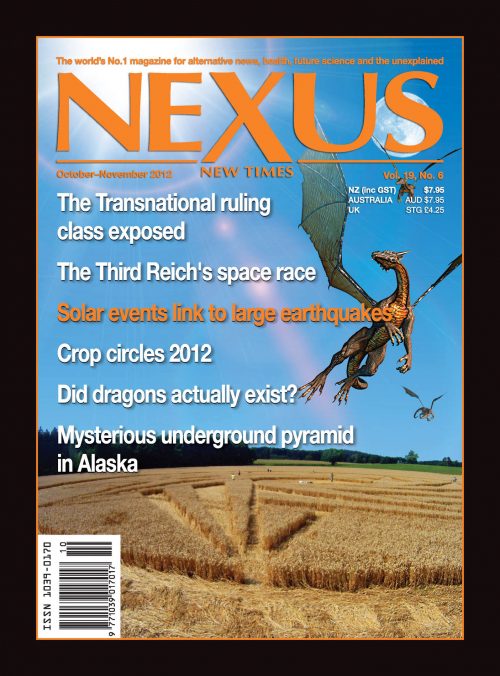 Volume 19, Number 6 – downloadable
$6.60
Volume 19, Number 6 (October-November 2012) complete issue downloadable pdf file.
Description
LETTERS TO THE EDITOR
Readers comment on the hidden history of World War II, Easter Island discoveries, success with an enzyme test, treating complex maladies, state-enforced vaccination in Ireland, and reports of planet Nibiru sightings.
GLOBAL NEWS
We cover a new release of UFO files by the UK's Ministry of Defence, brave new surveillance technologies, possibly the biggest financial scandal in history, Australian intelligence agencies' plans to increase their Big Brother powers, molecular scanners at airports, and more.
DOUGLAS DIETRICH ON THE HIDDEN SIDE OF HISTORY—Part 2
An interview with Douglas Dietrich by Thomas Kirschner.  This former US Department of Defense military librarian and Marine exposes secrets of World War II and beyond, including failed British and American attempts to destroy the Third Reich's base in Antarctica.
TRIGGER POINT THERAPY:  STOPPING PAIN MAY SAVE YOUR LIFE
By Dr Steven Rochlitz.  Muscle knots, or trigger points, can initiate or play a key role in serious and systemic illnesses, including heart and lung conditions, and can be integral to inflammatory diseases.  They can be released via injection or by using particular manual techniques.
WHY STOMACH ACID IS ESSENTIAL FOR OUR HEALTH
By Elaine Hollingsworth.  A lack of stomach acid can cause indigestion, malabsorption, bloating and ultimately degenerative diseases, acute and chronic infections and even cancer.  Fortunately, this deficiency can be overcome with a simple hydrochloric acid treatment.
JUNK DNA: DOORWAY TO TRANSFORMATION
By Brendan D. Murphy.  Far from being non-coding and useless, so-called "junk" DNA can interact with zero-point energy and the morphic field, affecting our consciousness and also responding to changes in our states of mind.  It is even responsible for the emergence of language.
THE MAYAN CALENDAR AND THE 2012 END DATE
By Belinda Doyle.  The end of the fifth Great Cycle of the Mayan Long Count calendar coincides with the solstice of 21 December 2012 at 11:11 am Universal Time, and also with the end point of Terence McKenna's Timewave Zero.  Is humanity on the verge of a new evolutionary cycle?
SCIENCE NEWS
This edition, Hank Mills with Sterling D. Allan of Pure Energy Systems News present 10 suggestions that may help exotic energy inventors avoid common pitfalls in developing and explaining their ideas and technologies.
VITRIFIED STONEWORK OF THE ANCIENT WORLD
By Jan Peter de Jong and Christopher Jordan.  Glazing found on vitrified forts in the northern hemisphere and on stonework in Peru and Bolivia is evidence that the ancients utilised an unknown technology able to melt mineral compounds directly onto rock surfaces.
THE TWILIGHT ZONE
We feature David Hatcher Childress's research into the oldest known photograph of Bigfoot, taken in 1894, which reveals intrigue over the role of the Hudson's Bay Company in suppressing evidence for the sasquatch and suggests a larger conspiracy afoot.
REVIEWS—Books
"The Healing Power of Fever" by Christopher Vasey, ND
"The Hole in the Heart and Blood-Brain Barrier Permeability", by Steven Rochlitz, PhD
"The Neurofeedback Solution" by Stephen Larsen, PhD
"Nature's Power:  The Importance of Minerals…" by Terry Wall
"The Departed among The Living" by Erlendur Haraldsson, PhD
"The Struggle for Your Mind" by Kingsley L. Dennis
"Fluoride Fatigue" by Bruce Spittle
"A Geomantic Guidebook to Water Spirits of the World" by Alanna Moore
"The Secret Land III:  Deeper into the Mystery" by Gary Cook
"Christ on Trial" by Tony Bushby
"Military Response to UFO Activity" by Dr Stephen Cox
"The Pyramids and The Pentagon" by Nick Redfern
"Classified Woman:  The Sibel Edmonds Story" by Sibel Edmonds
"Gladio:  NATO's Dagger at the Heart of Europe" by Richard Cottrell
REVIEWS—DVDs
"Nick Pope:  The Man Who Left the MoD" by Reality Ent. Films
"Hungry for Change" by Food Matters
"May I Be Frank" by Be Love Productions
REVIEWS—Music
"Inhale Slowly" by Tim White and Joe Paulino
"The Rough Guide to the Music of Morocco" by various artists
"Guzo" by Samuel Yirga
"Guitar Meditations Volume 2" by Soulfood and Friends