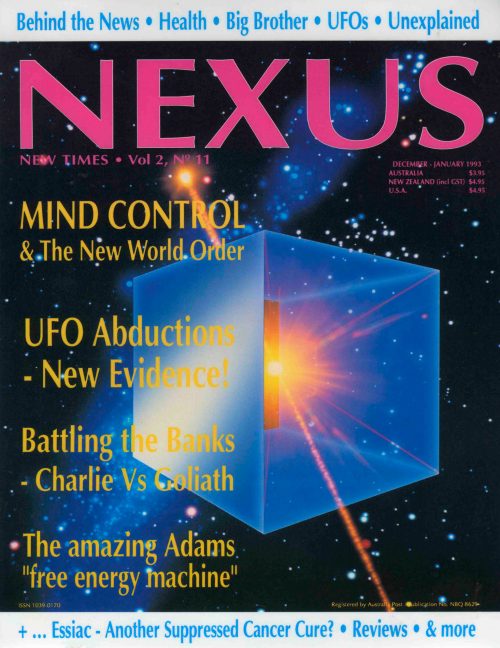 Volume 2, Number 11 – downloadable
$6.60
Volume 2, Number 11 complete issue downloadable pdf file.
Description
NEXUS NEWS
A round up of the news you probably did not see.
IT's ALL HAPPENING – NOW!
By Stan Deyo. A fascinating article on geophysical changes that are potentially on Earth's horizon. Earthquakes, Sunspot activity, asteroid collisions and more.
BATTLING THE BANKS
By Charlie Kerr. A remarkable article on how one farmer decided to tackle the banks and the rorts of credit creation.
ESSIAC – A SUPPRESSED CANCER CURE
This is an amazing story of yet another "cure" for cancer – one that nearly became legally accepted, but was defeated by just three votes.
MIND CONTROL & THE NEW WORLD ORDER – Part 1/2
By Glenn Krawyczk. Part 1 of an astounding piece of research into the use of Mind Control in the New World Order.
THE ADAMS FREE ENERGY MACHINE
Nexus Magazine proudly presents the first step towards developing an independent, self-perpetuating power supply.
GOLD IN THE SAN ANDREAS – Part 2/3
By Ted Smith. Continuing the story of the Spanish conquest of parts of South America, and the mysterious mountain of gold ingots found in New Mexico.
UFO ABDUCTIONS – BUDD HOPKINS
A round-up of the recent UFO Expo talks by Budd Hopkins, author of "Intruders".
SCIENCE NEWS
A round up of interesting news and titbits, from the underground science network. Subjects this issue include the Life Information System Ten (LISTEN), and the Lymphaciser.
THE TWILIGHT ZONE
A collection of strange and bizarre stories from around (and off) the world. Special story in this issue of the massive UFO sighting in Darwin during the early 1950s.
REVIEWS – Books & Videos
"The Golden Seven Plus One" by C. Samuel West
"Two Suns Rising" by Jonathan Star
"Unholy Babylon" by Darwish & Alexander
"The Healing Foods" by Hausman & Benn Hurley
"Symbolic Landscapes" by Paul Devereux
"The Watchers" by Raymond E. Fowler
"Secret Life – Firsthand Accounts of UFO Abductions"
"Confessions of a Medical Heretic" by R. Mendelsohn
"Dissent In Medicine – Nine Doctors Speak Out"
"The Spirit of Nature" by Michael J. Roads