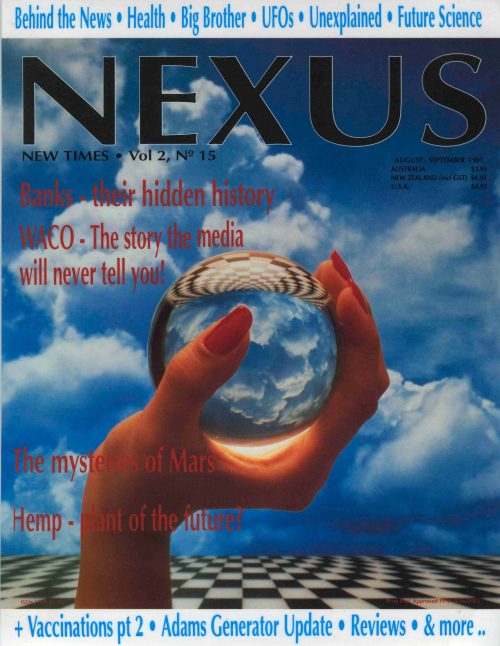 Volume 2, Number 15 – downloadable
$6.60
Volume 2, Number 15 complete issue downloadable pdf file.
Description
LETTERS TO THE EDITOR
GLOBAL NEWS
A round-up of the news you probably did not see.
THE MYSTERIES OF MARS
By Brian Crowley. A fascinating article examining evidence to suggest that an intelligent life-form has left its mark on the red planet.
FIBRE HEMP-PLANT OF THE FUTURE
By Dr Andrew Katalaris. A long overdue look at the plant that almost used to hold the world together-hemp. It may well become the replacement for timber used in paper-making processes.
VACCINATIONS-DO THEY WORK?
By Ian Sinclair. Part 2 of our series of articles which will show you we are being conned as to the safety and effectiveness of vaccinations.
THE HISTORY OF BANKS-Part 1/4
By Richard Kelly Hoskins. This look at the history of banks and banking practices will show you an entirely different view of the history of our world.
THE TRUTH BEHIND WACO?
By Linda Thomson. As usual there always seems to be a story behind the story. Waco was no exception. Be warned – this article will make you pretty angry.
NUCLEAR BRIEFCASE BOMBS?
By Joe Vials. The recent bomb blasts in London, Bombay, and the New York World Trade Center all have the signature of mini-nuclear devices.
ADAMS 'FREE ENERGY MACHINE' UPDATE
By Robert Adams. The final update on Robert Adams' Pulsed Electric Motor Generator, the closest to a 'free energy' device that NEXUS has seen.
SCIENCE NEWS
A round-up of interesting news and titbits from the underground science network. This issue takes a look at the ultimate doomsday weapon, and some new inventions.
THE TWILIGHT ZONE
A collection of strange and bizarre stories from around (and off) the world.
REVIEWS-Books
"Toxic Psychiatry" by Peter Breggin
"Arktos-The Polar Myth" by Joscelyn Godwin
"The School of Macrobiotics Cookbook" by Roger Green
"Voices of the First Day" by Roben Lawlor
"Hitler's War" by David Irving
"The Immaculate Deception" by Russell Bowen
"The Art of Nourishment" by Adrian Emery
"AIDS-The Mystery & The Solution" by Alan Cantwell
"The Cancer Cure That Worked" by Barry Lynes
"Nostradamus Now" byJoseph Roben Jochmans
"Pasteur-Plagiarist Impostor!" by R.B. Pearson
REVIEWS-Videos
"The Search For Truth In History" with David Irving
"UFOs & The Earth Grid System" with Bruce Cathie
REVIEWS-Audio
"Jungle Walk" by Tarshito
"Resonance" by Ray Osborne