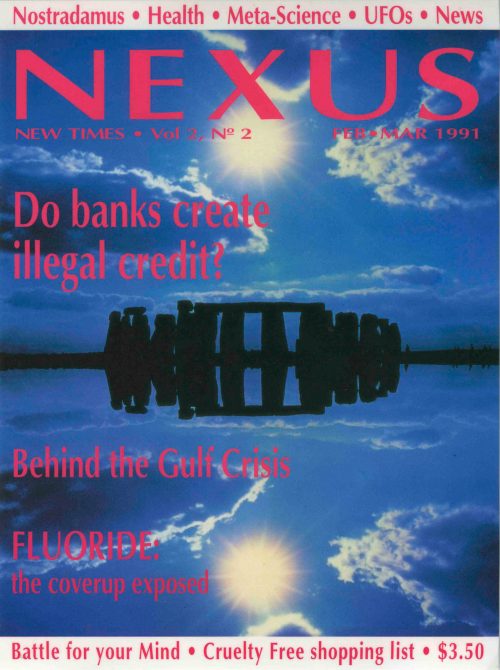 Volume 2, Number 2 – downloadable
$6.60
Volume 2, Number 2 complete issue downloadable pdf file.
Description
NOSTRADAMUS REVISITED
A wry look at our possible future.
THE PHOTON BELT
Is our solar system about to enter a cosmic Š—"photonŠ— cloud?
RUBBISH DISPOSAL
Is it costing us the Earth?
NEXUS GLOBAL NEWS
A round-up of news you probably did not see.
OXYGENATION UPDATE
More news and information including where your nearest contact point for treatment or supply is located.
ETHICAL INVESTMENTS
by Amanda Falconer. An update on ethical investment.
CONSUMER BEWARE!
by Will Evans B.Sc (Chem). A look at the suspicious labelling practices of shampoo and other beauty products.
HERBS & THEIR USES
by Gregory Ah Ket. Featuring Portulaca & Ginger.
FLUORIDE – COVERUP EXPOSED
Dozens of Dentists are suing the US dental association for withholding information on fluoride and amalgam.
TOWERS OF POWER
from the work of Dr Philip Callahan. A study of the Irish Round Towers, and their links to Geomagnetic fields.
MACROBIOTIC RECIPES
Roger GreenŠ—és delicious recipes from the Wattleseed Deli in Sydney
CREDIT OUT OF THIN AIR
Do banks create credit illegally?
TOWARDS BIG BROTHER?
Who runs New Zealand?
US atrocities in Panama.
The Gulf Crisis – what they didnŠ—ét tell you.
BATTLE FOR YOUR MIND – Part 3/4
Dick Sutphen looks at how 'they' can manipulate your thinking.
BUILD YOUR OWN Š—"BIO-PACERŠ—
Peter NielsenŠ—és counter-measure for Electro-Magnetic pollution
UFO's – THE LEAR STATEMENT
From a statement released by John Lear, son of William Lear of Lear Jets, detailing US dealings with aliens.
THE TWILIGHT ZONE
A collection of strange and bizarre stories from around the world.
CRUELTY FREE SHOPPING LIST
Products not tested on animals, or containing animal products.
REVIEWS – Books & Tapes