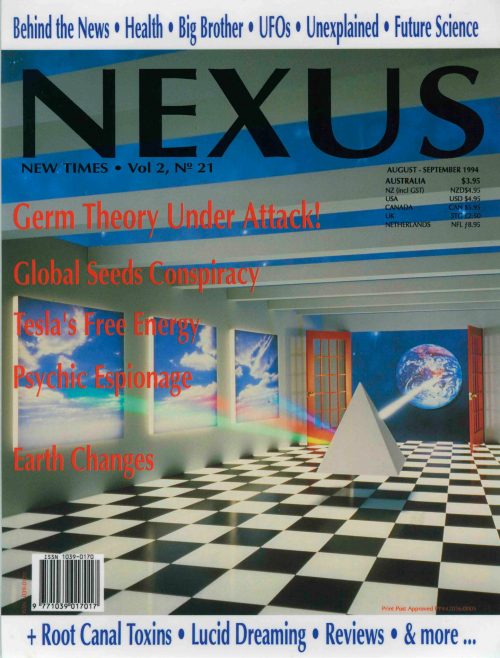 Volume 2, Number 21 – downloadable
$6.60
Volume 2, Number 21 complete issue downloadable pdf file.
Description
LETTERS TO THE EDITOR
GLOBAL NEWS
A round-up of the news you probably did not see.
EARTH CHANGES UPDATE
Compiled by Richard Giles. A summary of major earthquakes, volcanoes, floods and other natural disasters of the first six months of this year.
THE GLOBAL SEEDS CONSPIRACY
By Ken Corbitt. The control of fertile seeds is rapidly passing into the hands of big business. Should we trust these people with our future food sources?
REMOTE VIEWING & PSYCHIC ESPIONAGE
Extracted from a talk given by (retired) Major General Albert N. Stubblebine, III, in 1992. Contains some fascinating insights into the use of the 'out-of-body'state in intelligence-gathering.
THE TERRORIST FACTORY-Part 3/3
By Joe Vial/s. Continues the amazing tale of political manipulation, mind control and the intelligence community. Based on a true story!
HOW ROOT CANALS GENERATE TOXINS
By Hal A. Huggins, D.D.S. Exposes the hazards of dental root-canal fillings, a treatment now damned by a growing number of dentists and doctors.
GERM THEORY UNDER ATTACK!-Part 1/2
By Arthur M. Baker. Begins a series of articles detailing how germs, viruses and bacteria are the result ofdisease, and not the cause.
THE MILITARY LINK TO MODERN MEDICINE
The second and final part of a remarkable interview with Dr Alan S. Levin. Explores the links between the military-industrial complex and modern medicine.
WIRELESS TRANSMISSION OF ENERGY
By Dr Nikola Tesla. A classic article from the pioneer free-energy researcher on his proposed "World System" for wireless energy transmission, originally published in 1927.
SCIENCE NEWS
A round-up of interesting news and titbits from the underground science network. This edition features an article by Peter Nielsen on the mechanics of Lucid Dreaming, and a report on the recent Institute for New Energy symposium.
THE TWILIGHT ZONE
A collection of strange and bizarre stories from around (and off) the world.
REVIEWS-Books
"Atlantis in Spain" by Elena Maria Whishaw
"Poisonous Prescriptions" by Lisa Landymore-Lim
"Australian Spies and Their Secrets" by David McKnight
"Spider's Web" by Alan Friedman
"Cold Fusion Impact in the Enhanced Energy Age" by Hal Fox
"The National DirectOry of Haunted Places" by Dennis W. Hauck
"Myths of the World: A Thematic Encyclopedia" by Michael Jordan
"The Essentials ofSovereign Credit" by Laurence J. Molloy
"Chemical Crisis" by Diana Crumpler
"Exotic Patents" by Conti Associates
"Kombucha-The Miracle Fungus" by Harald W. Tietze
"Kirlian Photography" by Graydon H. Rixon
"Bee Hive Product Bible" by Royden Brown
REVIEWS—-Videos
"Masters of the Stars"
"Australia on the Bloc" with Jeremy Lee
"Coral Sea Dreaming"
"Ancient Secrets – Part 3: The Ancient Harmonic Science"
REVIEWS-Audio
"Animal Tracks" by Tom Quarmby and Hayden Turner
"Luna" by Gabrielle Roth & The Mirrors
"Spinner's Dance" by One Straw