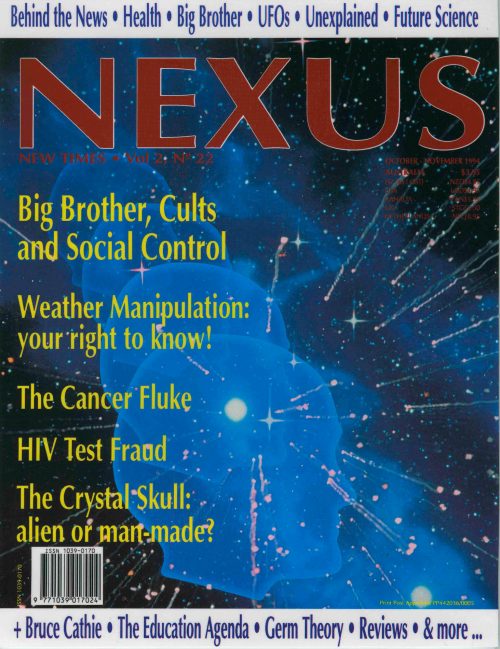 Volume 2, Number 22 – downloadable
$6.60
Volume 2, Number 22 complete issue downloadable pdf file.
Description
LETTERS TO THE EDITOR
GLOBAL NEWS
A round-up of the news you may have missed.
THE HIV INFECTION – TESTED TO DEATH
By Jody Wells and Lynne McTaggart. This special report draws together the disturbing evidence disproving any HIV-AIDS link. It also exposes the inaccurate and fraudulent nature of HIV-testing.
THE NEW INQUISITION – Part 1/2
By Glenn Krawczyk. A startling series revealing how government agency-linked 'cult-busters' tamper with religious freedom, manipulate public opinion, and erode the rights ofthe individual.
EDUCATING FOR THE 'NEW WORLD ORDER'
With Beverly Eakman, Gary Null and Sam Blumenfeld. Big Brother's education agenda specialises in subversion tactics against both students and parents. Citizens be warned.
THE CAUSE OF ALL CANCER?
By Hulda Regehr Clark, Ph.D., N.D. This excerpt from her myth-shattering book identifies the two causal factors common to all cancers-and the simple steps that can quickly combat the suffering.
GERM THEORY UNDER ATTACK – Part 2/2
By Arthur M. Baker, M.A. Concludes our expose on the germ theory fraud, with particular emphasis on the mistaken assumption that 'viruses' are agents which cause disease.
THE HARMONIC CONQUEST OF SPACE
By Bruce Cathie. This illuminating manifesto from the legendary Earth grid code-breaker will change the way you construct your view of life, the Universe and everything.
IONOSPHERIC INTERFERENCE
By Nick Begich, Jr. Exposing HAARP, a secret military experiment using Tesla technology both inside and upon the Earth's ionosphere.
SCIENCE NEWS
A selection of interesting news and titbits from the underground science network. This edition features a treatise by physicist Chris lIIert on matter bubbles in the aether, and an article by Greg Beattie on whooping cough statistics in the USA.
THE MYSTERY OF THE CRYSTAL SKULL
By Richard Giles. Alien artefact or man-made marvel. The Crystal Skull still eludes explanation and exudes surprises despite all the rigours of modem scientific investigation.
THE TWILIGHT ZONE
A collection of strange and bizarre stories from around (and off) the world. This edition features samples ofthe UK's 1994 crop circles harvest.
REVIEWS-Books
"Geneset-Target Earth" by David Wood and Ian Campbell
"The Robots' Rebellion" by David Icke
"The Cure For All Cancers" by Hulda Clark, Ph.D., N.D.
"Deadly Deception" by Robert E. Willner, M.D., Ph.D.
"Beyond Prophecies & Predictions" by Moira Timms
"Survival Guide For The New Millennium" by Byron Kirkwood
"Silver Dental Fillings-The Toxic Time-Bomb" by Sam Ziff
"ElectroGravitics Systems' edited by Thomas Valone, M.A., P.E.
"Close Extraterrestrial Encounters" by Richard I. Boylan
"Awakening Our Self-Healing Body" by Arthur M. Baker, M.A.
"High Society-The Legalisation Of Illicit Drugs" by Joan Kersey
"Alchemy Today-Volume 2" by Chris Illert
"Educating For The New World Order" by Beverly K. Eakman
REVIEWS-Videos
"UFOs: The Best Evidence
"Food Combining"
"Heros: Man's Final Frontier"
"Strange Harvests 1993′ with Linda Moulton Howe
"PTAAH–Communique From The Pleiades"
REVIEWS-Audio
"Fantastic Moments In Science" with Dr Karl Kruszelnicki
"Echoes Of The Heart" by john Salat
"Tempest'by David Pickvance
"Celestial Winds I" by Celestial Winds
"Sounds Of An Ancient Land" by Alex Svencis