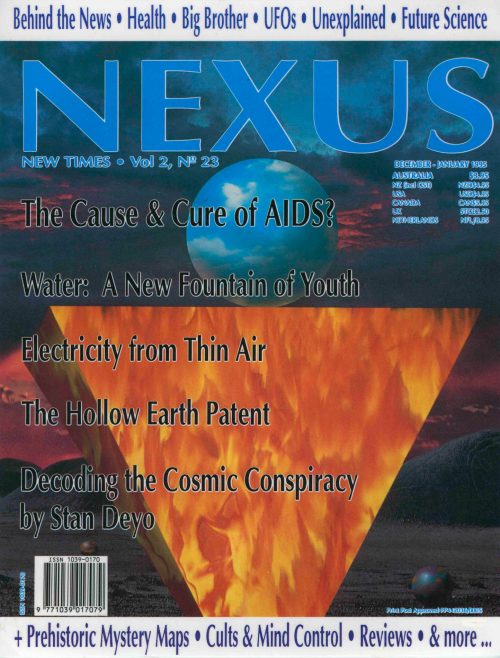 Volume 2, Number 23 – downloadable
$6.60
Volume 2, Number 23 complete issue downloadable pdf file.
Description
LETTERS TO THE EDITOR
GLOBAL NEWS
A round-up of the news you may have missed.
PREHISTORIC MAPS
By Maurice Chatelain. The mediaeval Piri Reis map, based on several from prehistory, is evidence that Earth was visited by an advanced civilisation capable of observing the planet from high altitude.
THE CAUSE AND CURE OF HIV AND AIDS
By Hulda Regehr Clark, Ph.D., N.D. Case studies suggest HIV and AIDS can be cured if two causal factors, human intestinal flukes and benzene, can be removed from the thymus glands of sufferers.
WATER-A NEW FOUNTAIN OF YOUTH
By Patrick and Gael Crystal Flanagan.. Water rich in colloidal minerals and negatively ionised hydrogen atoms may well be the key to a healthier, longer life, according to new research.
THE NEW INQUISITION-Part 2/2
By Glenn Krawczyk. More startling revelations on how government agency-linked 'cult-busters' tamper with religious freedom, manipulate public opinion and erode the rights of the individual.
TRADING WITH THE ENEMY
By The National Insecurity Council. Adolf Hitler might never have been able to wage World War II without huge investment in Nazi Germany's rearmament by certain American industrialists.
THE HOLLOW EARTH THEORY PATENT
By Mark Harp. In 1914, a US patent was awarded for a theory that our Earth is a hollow sphere with polar openings and an internal sun. The evidence for its validity is compelling.
ELECTRICITY OUT OF THIN AIR
By Richard A. Edwards. Can the Sun's photovoltaic effect produce abundant free electrons that could be tapped easily and cheaply? Our energy utopia may be as close by as the space around us.
SCIENCE NEWS
A selection of interesting news and titbits from the underground science network. This edition features a report on gravity drop tests, and experiments in extracting energy from the aether.
PROPHETIC TRANSLATIONS
By Stan Deyo. The cosmic conspiracy is still very much alive. Ancient and modern prophetic texts foresee an alien battle soon to culminate, and warn us that deception can come in many guises.
THE TWILIGHT ZONE
A collection of strange and bizarre stories from around (and off) the world. Here we feature some "Cosmic Top Secret" disclosures from Bob Dean.
REVIEWS-Products
The Hopi Ear-Torch
REVIEWS-Books
"The Cure for HIV and AIDS" by Hulda Regehr Clark, PhD., ND.
"When The Earth Nearly Died" by D. S. Allan & J. B. Delair
"Lucky Be Damned" by John Cumming
"Suppressed Inventions and Other Discoveries" edited by J. Eisen
"Out of the Shadows" by Tony Healy and Paul Cropper
"We, From Mars" by Walter Hain
"Alphabet of the Heart" by Daniel Winter
"Entities" by Dr Samuel Sagan
"Man-Made UFOs, 1944-1994" by R. Vesco & D. H. Childress
"The Altemative" by Dennis Lee and Better World Technology
"More Precious Than Gold" by Ray Pendergraft
"Crystal Mission" by Dr Comelius van Dorp
"The Dream and Lie of Louis Pasteur" by R. B. Pearson
REVIEWS-Videos
"Extraterrestrial Archaeology" with David Hatcher Childress
"A Guide to Feng Shui For Your Home" with Eric Dowselt
"Palmistry-Teaching the People"
"Munich Ledure 1989" with Prof. john R. R. Searl
REVIEWS–Audio
"Of Dreams and Discoveries" by Tony O'Connor
"Drum Songs" by john Orlando
"This Island Earth" by Mark Nine
"The Dream of the Currawong" by Wiffiam Bowden