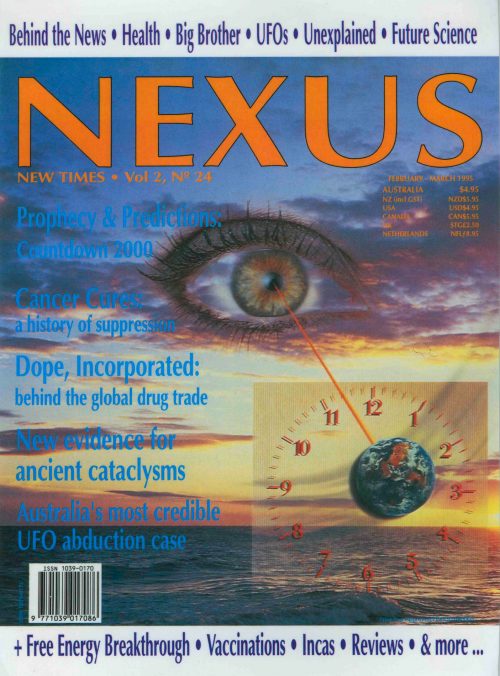 Volume 2, Number 24 – downloadable
$6.60
Volume 2, Number 24 complete issue downloadable pdf file.
Description
LETTERS TO THE EDITOR
GLOBAL NEWS
A round-up of the news you may have missed.
PHAETON's LEGACY
By B. Delair & D. S. Allan. Geological evidence proves Earth has experienced sudden cataclysms through its history. 11,000 years ago, it was almost annihilated by an errant supernova fragment.
THE ASSAULT ON YOUR HEALTH FREEDOM
From Townsend Letter for Doctors. Surprise armed raids by FDA and TGA enforcers on natural health care providers are illegal. These terror tactics put our freedom of choice in health under seige.
CANCER CURES: A HISTORY OF SUPPRESSION
From the Committee for Freedom of Choice in Medicine. This extract, from a 1984 report to the UN, highlights twelve promising cancer treatments that have been suppressed or bypassed this century.
VACCINES: ADVERSE REACTIONS COVERëˆUP
By National Vaccine Information Center. Adverse reactions to vaccines are common, yet medical officials dismiss them as due to other causes. Now, activists are compiling some alarming statistics.
DOPE, INCORPORATED
By the Editors of Executive Intelligence Review. Drawn from the book, Dope, Inc., this introduction gives startling insights into the behind-the-scenes intrigues of the international drug trade.
PROPHECY COUNTDOWN 2000
From the Hopi Elders, Mother Shipton, and Dannion Brinkley's Light Beings. A selection of prophetic visions that have already come to pass, and could well come true in the next five years.
DI ELECTRICS & EARLY DISEASE DETECTION
By Mark Balfour. Based on research that living cells are controlled by information-carrying EM fields, Dr Sergei Barsamian's device detects cellular disturbances before any physical signs appear.
SCIENCE NEWS
A selection of interesting news and titbits from the underground science network. In this issue, we feature the Magnetic Resonance Amplifier; capable of producing over-unity DC power.
AMOST CREDIBLE UFO ABDUCTION CASE
By Kelly Cahill. This abductee's extraordinary UFO experience, with four other witnesses present; is the most credible Australian case we've found. Here, an extract from her gripping story.
THE TWILIGHT ZONE
A collection of strange, bizarre stories from around (and off) the world. This issue looks at secret Inca tunnels and Cuzco's sacred geometry.
REVIEWS-Products
UFO Detector from Star-Tech Systems
REVIEWS-Books
"World War III According To Nostradamus" by jack Manuelian
"Ultimate journey" by Robert A. Monroe
"Mysterious Fires And Lights" by Vincent Gaddis
"Saved By The Light" by Dannion Brinkley with Paul Perry
"Prodigal Genius: The Life of Nikola Tesla" by John J. O'Neill
"Jesus Lived In India" by Holger Kersten
"Turin Shroud: In Whose Image?" by Lynn Picknett and Clive Prince
"The Millennium Book of Prophecy" by john Hogue
"The Ionic Body" by Douglas jesse, DC, DHom.
"The Drugs Myth: Why The Drug Wars Must Stop" by Dr Vernon Coleman
"The AIDS Miragel' by Hiram Catton
"Secret Cipher of The UFOnauts" by Allen H. Greenfield
"The Free-Energy Device Handbook" compiled by David H. Childress
"How To Become Dentally Self-Sufficient" by Robert 0. Nara, DDS
"Jesus Caesar: The Father of Jesus Christ Revealed" by Petra Cadman
REVIEWS-Videos
"Lucky Be Damned" with John Cumming
"Sacred Geometry: The Unified Field" with Dan Winter
REVIEWS-Audio
"Inner Tides" by Ian Cameron Smith
"Mothers of the World" by Jennifer Mason
"Fish Night Moon " by Tim Wheater
"Australia: Twilight of the Dreamtime" by Terry Oldfield
"Pipes of the Minority Peoples" by Liu Hongjun
"Zakir Hussain and the Rhythm Experience" by Zakir Hussain