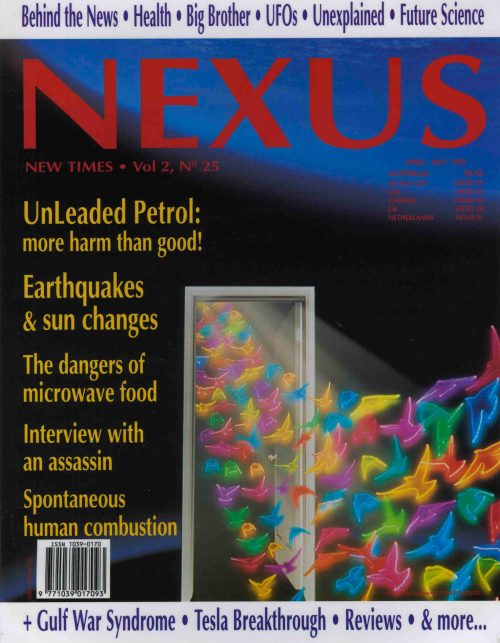 Volume 2, Number 25 – downloadable
$6.60
Volume 2, Number 25 complete issue downloadable pdf file.
Description
LETTERS TO THE EDITOR
GLOBAL NEWS
A round-up of the news you probably did not see.
EARTHQUAKES AND SOLAR CHANGES
By Stan Deyo. New evidence shows a link between earthquakes and the combined effects of solar winds and sunspots. It also suggests we're entering a period of disastrous earthquake activity.
GULF WAR GUINEA PIGS
By Neil Z. Miller. The US military's experimental vaccines are probably to blame for the shocking health symptoms affecting tens of thousands of Gulf War veterans and their families.
HIDDEN HAZARDS OF MICROWAVE COOKING
By Tom Valentine. Recent research shows that eating microwaved food is far more dangerous to health than we've been led to believe. The toxic side-effects warrant urgent follow-up study.
LOVE-COHERENT ENERGY IN REALITY
By Glenn Krawczyk. The energy which drives our reality engines at peak performance is the E-motion called love. When correctly tuned, we can achieve the creative potential that is truly our birthright.
INTERVIEW WITH AN ASSASSIN
By Walter Bowart. Covert intelligence groups have been using mind-control technologies for decades. This chilling interview with an ex-hitman reveals the cryptocracy's hidden motives and methods.
THE LIES OF UNLEADED PETROL-Part 1/3
Compiled by Catherine Simons from material by Peter Sawyer, Graham Allum and Simon Grose. Unleaded petrol was introduced without full disclosure of facts on its environmental and health impacts. Part 1 examines how we were conned.
SCIENCE NEWS
A selection of interesting news and views from the underground science network. This issue, Anthony Hansen details how to repeat Nikola Tesla's famous Colorado electricity generation experiment.
SPONTANEOUS HUMAN COMBUSTION
By Richard Giles. This mysterious self-combustion phenomenon is more common than fire statistics reveal. SHC may defy scientific explanation, but there are some fascinating theories as to its causes.
THE TWILIGHT ZONE
A collection of strange, bizarre stories from around (and off) the world. Here we feature an African crop circle maze and the tale of the green children.
REVIEWS-Books
"The Harmonic Conquest of Space" by Bruce L. Cathie
"Forbidden Science" by Richard Milton
"How to Avoid the Coming Crash" by Laurence F. Hoins
"Nothing In This Book Is True But…" by Bob Frissell
"The Medical Mafia" by Guylaine Lanctot, M. D.
"Universal Laws…Keely's Secrets" edited by Dale Pond
"Immunization Theory vs Reality" by Neil Z. Miller
"The Pied Pipers of Heaven: Who Calls The Tune?" by L. Kin
"Fortean Studies-Volume 1" edited by Steve Moore
"The Allagash Abductions" by Raymond E. Fowler
"Fats That Heal-Fats That Kill" by Udo Erasmus
"Chronic Fatigue Syndrome… " by Suzann Marie Angelus
"Secret and Suppressed" edited by jim Keith
"Pyramids of Montauk" by Preston B. Nichols and Peter Moon
"Black Helicopters Over America" by jim Keith
REVIEWS—Videos
"The Science of Eternity" presented by Alan Pemberton
"Vital Flows" Schauberger lecture with Callum Coats
"The Bruce DePalma N-machine-Theory & Construction"
"The Midway Sightings-Unclassified Footage"
REVIEWS-Audio
"For an Informed Choice" from Immunisation Awareness Society
"Return" by Sophia
"Tools for Self-Discovery-The Brain Tape" by Arden & Jack Wilken
"Wild Honey Dreaming" by Riley Lee & Matthew Doyle
"Inspirations" by Clifford White
"Time Dreams" by Bruce BecVar