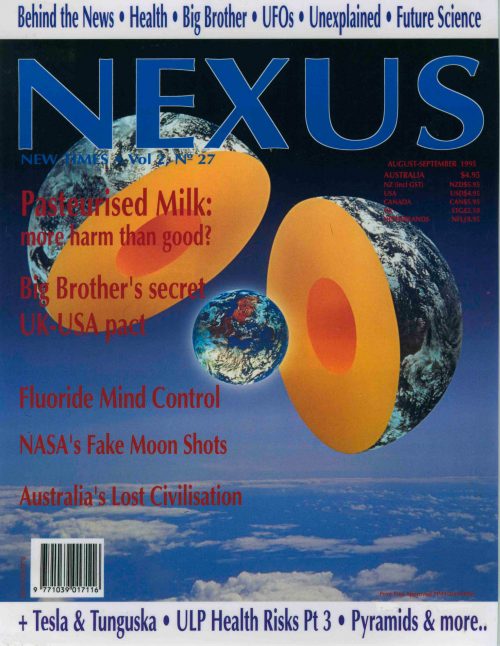 Volume 2, Number 27 – downloadable
$6.60
Volume 2, Number 27 complete issue downloadable pdf file.
Description
LETTERS TO THE EDITOR
GLOBAL NEWS
A round-up of the news you probably did not see.
SILENT PARTNERS: THE UKUSA AGREEMENT
By Susan Bryce. A top-secret 'intelligence-sharing' pact, linking the USA with Australia, Canada, New Zealand, the UK, etc., has serious implications for national sovereignty and democracy.
THE LIES OF UNLEADED PETROL-Part 3/3
Compiled by Catherine Simons. This concludes our expose of ULP technology and the health risks associated with petroleum constituents and catalytic converters.
FLUORIDATION: MASS MIND CONTROL?-Part 1/2
By Ian E. Stephens. The continued use of toxic fluoride compounds in some drinking water and drugs amounts to a contemptuous disregard for the general public's physical and mental health.
AUSTRALIA's LOST CIVILISATION
By Rex Gilroy. Scattered across Australia are the stone monuments and glyphs of an ancient megalithic culture, older than any in Europe or Asia and of non-Aboriginal origin. Pre-history as we know it is due for a major shake-up.
TUNGUSKA: A TESLA CONNECTION?
By Oliver Nichelson. Circumstantial evidence suggests that Nikola Tesla's wireless power transmitter could have triggered the devastating explosion over Tunguska, Siberia, in 1908.
MYSTERIES OF OUR MOON-Part 1/3
NASA's Fake Moon Shots by Rene. Suspicions are growing that NASA's Apollo Moon missions involved massive deception. In view of evidence showing NASA faked the mission photos, these doubts may well be justified.
THE PERILS OF PASTEURISED MILK
By Walene James. Substantial scientific data prove that pasteurisation destroys the germicidal properties of milk, can cause significant health problems and may adversely affect food chain integrity.
SCIENCE NEWS
A selection of interesting news and views from the underground science network. This issue, Adams supermagnets, and evidence that dowsing works.
THE TWILIGHT ZONE
A collection of strange stories from around (and off) the world. Here, more Great Pyramid channelling, plus a UFO/ET encounter at a US military base.
REVIEWS–Books
"Foreign Agent 4221: The Lockerbie Cover-up" by W. C. Chasey
"Ockham's Razor" by N. L. Williams
"Unbroken Promises" by Vance A. Davis with Brian Blashaw
"Sacred Geography of the Ancient Greeks!' by jean Richer
"Disneyland of the Gods" by John A. Keel
"How to Build a Chemical-Free House" by Janet Forster
"UFOs: A Manual for the Millennium" by Phil Cousineau
"Megamedia Shakeout" by Kevin Maney
"The Christian Conspiracy" by Dr L. David Moore
"The Sacred Earth" by Brian Leigh Molyneaux
"NASA Mooned America!" by Rene
"The Big White Lie" by Michael Levine with Laura Kavanau-Levine
"Media, Mania and the Markets" by J. Campbell and W. Bonner
"The New Book of Food Combining" by Jan Dries
"OPC in Practice" by Bert Schwitters with Prof. Jack Masquelier
"At the Gates of the Citadel" by Peter Bros
REVIEWS-Videos
"OPC in Practice" by Bert Schwitters with Prof. Jack Masquelier
"Animated Chakras" with Dan Winter and Ron Holt
REVIEWS-Audio
"Sweet Kafka" by Impromptu
"Saved By The Light" by Dannion Brinkley with Paul Perry
"Vieux Diop" by Vieux Diop
"The Abduction Experience" by Tony Lynn
"Project Earth" by Erik Berglund & Christoph Hausmann
"Under The Pyramid" by James Stewart
"Three Roses" by Dale Nougher
"Material Hallucination Engine" by Bill Laswell
"Songs of the Andes" by Antonio Pantoja