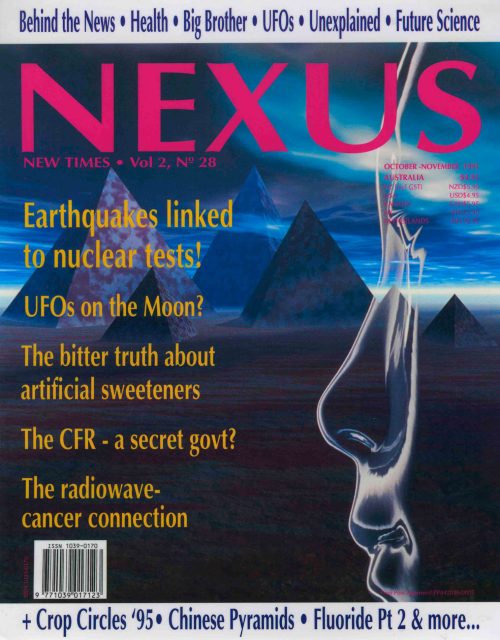 Volume 2, Number 28 – downloadable
$6.60
Volume 2, Number 28 complete issue downloadable pdf file.
Description
LETTERS TO THE EDITOR
GLOBAL NEWS
A round-up of the news you probably did not see.
EARTHQUAKES LINKED TO NUCLEAR TESTS
By Gary T. Whiteford, Ph.D. Statistics show an alarming causal link between nuclear testing and earthquakes, and hint at a hidden agenda.
FLUORIDATION: MASS MIND CONTROL?-Part 2/2
By Ian E. Stephens. The final part of our expose of fluoride as a mind-control tool, with analysis of the toxic health effects of fluorine-based compounds.
THE COUNCIL ON FOREIGN RELATIONS
By Gerald A. Carroll. Drawn from transnational corporations, politics, banking, the media, etc., CFR members have questionable allegiance to democracy. Is the CFR an instrument of the NWO?
BITTER TRUTH ON ARTIFICIAL SWEETENERS-Part 1/2
By Mark D. Gold. Fraudulently approved by the FDA, aspartame sugar substitutes have disastrous side-effects, from cancer to schizophrenia.
UK CROP CIRCLES: THE HARVEST OF 1995
By Duncan Roads. Britain's recent crop circle formations resonate with cosmic design proportions but still defy rational explanation. Here, some personal reflections, plus a pictorial presentation of some of the more spectacular patterns of 1995.
CHINA's GREAT PYRAMIDS CONTROVERSY
By Filip Coppens. Officially ignored or denied, China's ancient stepped pyramid structures challenge those of Egypt and Central America in terms of their age, size and importance.
THE RADIOWAVE-CANCER CONNECTION
By Marjorie Lundquist, Ph.D. With the rise of radio broadcasting in the early 1920s came a rise in childhood brain cancer incidence. Should we allow governments to overload the EM spectrum?
SCIENCE NEWS
A selection of interesting news and views from the underground science network. This issue we explore fuel enhancers, the aura and more.
MYSTERIES OF OUR MOON-Part 2/3
NASA's 'secret' Moon Photos, by Vito Saccheri. Evidence gleaned from NASA photos and transcripts suggests mankind was beaten to the Moon.
THE TWILIGHT ZONE
A collection of strange stories from around (and off) the world. This issue, astronauts, UFOs and aliens.
REVIEWS-Books
"To the Ends of the Earth" by David Yallop
"Alien Contacts & Abductions" by Jenny Randles
"The Original Jesus" by Elmar R. Gruber and Holger Kersten
"UFOs: Psychic Close Encounters" by Albert Budden
"A f300k of Coincidence" by John Martineau
"The Cosmic Connection" by Michael Hesemann
"Enchiridion to the Totality" by J. Fortnum and R. E. Bollard
"Projekt UFO" by W. A. Harbinson
"AIDS" by Peter Duesberg, Ph.D. and John Yiamouyiannis, Ph. D.
"…And The Truth Shall Set You Free" by David Icke
"New World Atlas: Volume 2" by Lori Adaile Toye
"The Book of Magnetic Healing and Treatments" by Noel C. Norris
"Goats Milk: The Natural Alternative" by Tinsley Beck, B.A., M.Ed.
"Oxygen Healing Therapies" by Nathaniel Altman
"Last Call" by James P. Hilton
REVIEWS-Videos
"Hoagland's Mars: Vol. III" with Richard C. Hoagland
"UFOs: Secrets of the Black World"
"Roswell: The Footage"
"Magnets and Health: Don Lorimer's Biomagnetics"
REVIEWS-Audio
"Sound of Dreams" by David Such
"The Snow Tree" by Sweet Rain
"Spirit of Australia" compilation
"Tribal Journey" by Joe Giea and Friends
"Qawwali: The Vocal Art of the Sufis" by Nusrat Fateh Ali Khan
"Where the Earth Touches the Stars" by Ancient Brotherhood
"Hidden Waters/Sacred Ground" by Sophia
"Where Wild Salmon Run" by Native Ground
"Dream" by Upalappa Srinivas and Michael Brook