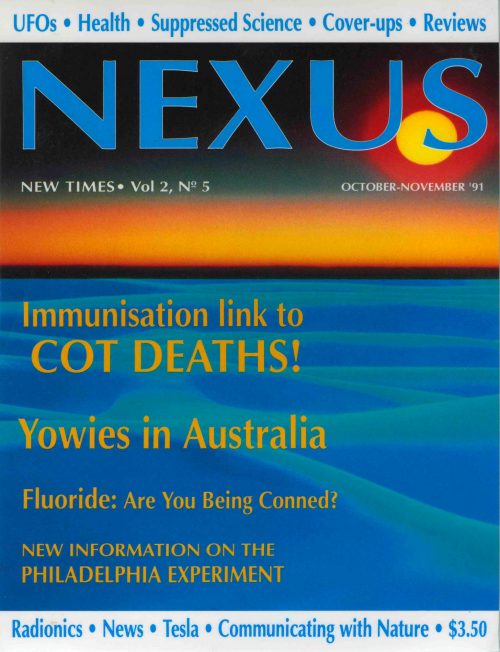 Volume 2, Number 5 – downloadable
$6.60
Volume 2, Number 5 complete issue downloadable pdf file.
Description
NEXUS NEWS
A round up of the news you probably did not see
COT DEATHS & VACCINATIONS
Astounding new evidence indicating a direct causal link between Cot Deaths and vaccine administrations.
THE FLUORIDE HOAX
Prof. Ron Laura examines the reality behind the fluoride hoax, and who benefits from it!
SUN-GLASSES & MELANOMA
A revealing look at the effects of wearing sunglasses and spectacles on our body. By Prof. Ron S. Laura
THE PHILADELPHIA EXPERIMENT
Recent claims by a scientist involved with this mysterious project allege that the experiment involved not only invisibility, but also TIME TRAVEL, contact with UFOs, mind control and more…
MAN APES OF AUSTRALIA – Part 1/2
Part I of an intriguing piece of research on the "Yowie", and other 'Man Apes' which have been reported both in Australia and overseas. By Rex Gilroy
JOURNEY INTO NATURE
A remarkable book that is gaining world attention, it explores our spiritual connection with nature, a connection we have just started to remember.
SECRETS OF RADIONICS – Part 2/4
The second in a series of articles on Radionics, which includes details on construction, use etc. By Peter Nielsen.
UFO's & THE US AIR FORCE – Part 2/2
While denying their existence, the USAF had a whole chapter in their training manuals on UFO's. Fascinating reading.
NEW SCIENCE NEWS
*SCOOP* – Sacred Geometry predicts the existence of five new chemical elements. Written by Chris Illert
NEWS AROUND THE NETWORK
A new section covering local events, news and outright gossip!
THE TWILIGHT ZONE
A collection of strange and bizarre stories from around (and off) the world.
REVIEWS – Books & Tapes
"Vimana Aircraft of Ancient India & Atlantis"
"UFO Crash Secrets at Wright/Patterson Air Force Base"
"Beyond a Pale Horse" by Milton Cooper
"A Dancing Star" by Eileen Campbell
"The Immunisation Decision"
"The Philadelphia Experiment & Other UFO Conspiracies" by Brad Steiger
"The Gods of Eden" by William Bramley
"On The Water Front" by John Archer
"Lost Cities of China, Central Asia & India" by David Hatcher Childress