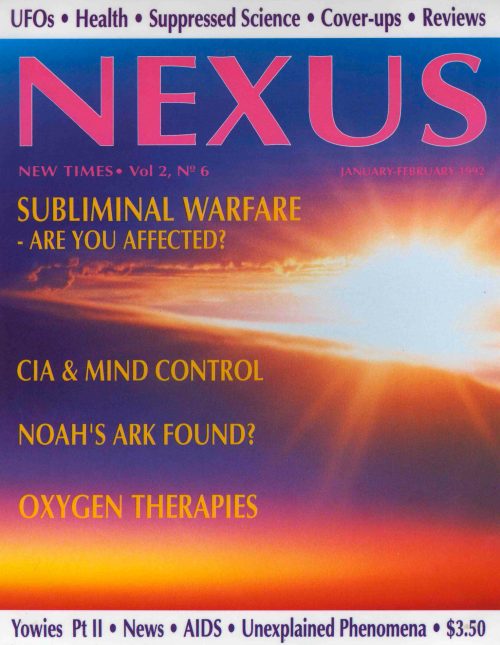 Volume 2, Number 6 – downloadable
$6.60
Volume 2, Number 6 complete issue downloadable pdf file.
Description
NEXUS NEWS
A round up of the news you probably did not see.
SUBLIMINAL WARFARE
A revealing look at mind and mood control using ELF magnetic fields, and its possible uses in warfare.
THE AIDS ENIGMA
A exciting article which challenges the accepted views of AIDS, its origins and how it is spread. By John West.
OXYGEN THERAPIES – INTERVIEW
An interview with Mr Ed McCabe, author of "O2xygen Therapies".

CIA MIND CONTROL EXPERIMENTS
A documented history of secret CIA Mind Control Research, in warfare and in peacetime. By Sid Taylor.
MAN APES OF AUSTRALIA – Part 2/2
Part 2 of an intriguing piece of research on the "Yowie", and other 'Man Apes' which have been reported both in Australia and over seas. By Rex Gilroy.
DISCOVERING NOAH'S ARK
An interview with Dr Allan Roberts, the man kidnapped by Kurds whilst examining the remains of a mystery vessel.
UFOs – THE GRUDGE 13 REPORT
Details the alleged contents of the missing BlueBook Report #13. A report which will change your attitudes towards UFOs. Extracted from an article by John Lear.

THE LADIES HAVE IT
A sample extract from Michael J. Roads' latest book, "Simple Is Powerful" shows that communicating with nature is not too hard.
SCIENCE NEWS
A round up of interesting news and titbits, including a new 'Product Profile ' section. This issue we take a closer look at The Vitalizer, and the ingenious Stress Shields.
NEWS AROUND THE NETWORK
A new section covering local events, news and outright gossip!

THE TWILIGHT ZONE
A collection of strange and bizarre stories from around (and off) the world.
REVIEWS – Books
"Chemical Free Pregnancy & Child Raising"
"Stranger at the Pentagon" by Frank E. Stranges
"Underground Alien Bases" by Commander X
"Land of the Ice King"
"All About Radiation" by L. Ron Hubbard
"Natural Fertility" by Francesca Naish
"The Missing Diary of Admiral Richard E. Byrd"
"Nostradamus: The End of the Millennium"
"The Cancer Industry" by Ralph W. Moss
REVIEWS – Videos
"An Hour With Stan Deyo"
"Secrets of WWII Nazi UFOs"
"DePalma N-Machine Video"
"Oxygen Therapies"
"Fluoridation – Hastings Public Forum