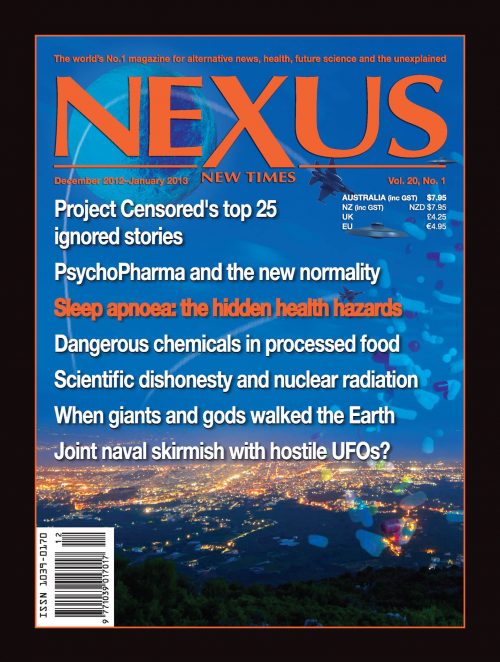 Volume 20, Number 1 – downloadable
$6.60
Volume 20, Number 1 (December 2012-January 2013) complete issue downloadable pdf file.
Description
LETTERS TO THE EDITOR
Readers comment on the quality of magazine articles, borax supply and usage, US military war games, Marxist theory, humanity's interdimensional nature, iodine and animal health, and the Book of Daniel.
GLOBAL NEWS
We present news items on the dangers of smart meters, Julian Assange as an enemy of the state in the US, the break-up of the Indo-Australian tectonic plate, Europe's oldest prehistoric town, the US Department of Homeland Security's massive purchase of bullets, and more.
PROJECT CENSORED'S TOP 25 NEWS STORIES
Edited by Professor Mickey Huff and Project Censored. The Project Censored team has selected and judged the most significant American and international news stories of 2011–2012 which were reported in the alternative media but deserved much more attention in the mainstream.
PSYCHOPHARMA'S 'PRIESTHOOD OF THE MIND'
By Dr James F. Tracy. Previously PsychoPharma relied on persuasion and belief to sell its diagnoses and drugs, but now it's adopting a model of coercion and decree, with help from health regulators and the APA's new DSM edition, to create disorders requiring more medication.
SLEEP APNOEA:  A CAUSE OF HEART DISEASE AND CANCER
By Dr Steven Rochlitz. Sleep apnoea may affect one in four adults. If left untreated, it can play a role in causing heart attack, chronic fatigue, pain syndromes, stroke and cancer. It may be the result of underlying problems such as hiatal hernia and multiple chemical or EMF sensitivity.
THE HIDDEN DANGERS OF PROCESSED FOODS
By Elaine Hollingsworth. One of the best things that you can do for your and your family's health is to avoid consuming processed foods and drinks, as they are full of chemical additives—many of them untested, alone or in combination, and some known to cause cancer.
SCIENTIFIC DISHONESTY AND NUCLEAR RADIATION
By Dr Christopher Busby. Scientific bias and vested interests in expert committees, industry and the military ensure that important evidence is not translated into policy but is suppressed, ignored or even rejected in favour of incorrect evidence, to the detriment of millions.
SCIENCE NEWS
We feature "Quenco", an ultra-thin-film quantum energy converter which extracts heat from air to make electricity, and Sterling D. Allan's report on Irish company Steorn and its latest exotic energy technologies.
WHEN GIANTS WALKED THE EARTH
By Patrick C. Chouinard. Myths of giants are part of the folklore inherited from our ancestors, but archaeological excavations in modern times are also confirming their reality. Did these giants pass on advanced technology and culture to our predecessors in the pre–Flood era?
THE TWILIGHT ZONE
We include a report by Philip Coppens on the so-called "Baltic Sea anomaly", news items on UFOs seen near Ladakh on the Indian–Chinese border and a UFO war being waged off northern California, and George Noory's interview with intelligence insider Gordon Duff on hostile aliens and huge Earth-built interstellar craft.
REVIEWS—Books
"Hands of an Angel" by Helen Parry Jones
"Imagining the World into Existence" by Normandi Ellis
"Forgotten Civilization" by Robert M. Schoch, PhD
"Symbols of Eternity" by Malcolm Stewart
"Revelation of the Devil" by Laurence Gardner
"Breaking the Mirror of Heaven" by R. Bauval and A. Osman
"The World's Weirdest Places" by Nick Redfern
"Ancient Aliens on the Moon" by Mike Bara
"Fallout from Fukushima" by Richard Broinowski
"Killer Fish" by Brian R. Clement, PhD
"JFK: The French Connection" by Peter Kross
"New Brain, New World" by Erik Hoffman
"Currency Wars" by James Rickards
"Paris–London Connection…Princess Diana" by John Morgan
REVIEWS—DVDs
"As The Time Fulfills" by Michael and Amy Horn
"Ancient Alien Question" with Philip Coppens
"Genetic Roulette: The Gamble Of Our Lives" by Jeffrey M. Smith
REVIEWS—Music
"Static in the System" by Alex Cuba
"Tales of a Gypsy" by Johannes Linstead
"Journey into Space" by Terry Oldfield
"My Creole Belle" by Stefan Grossman