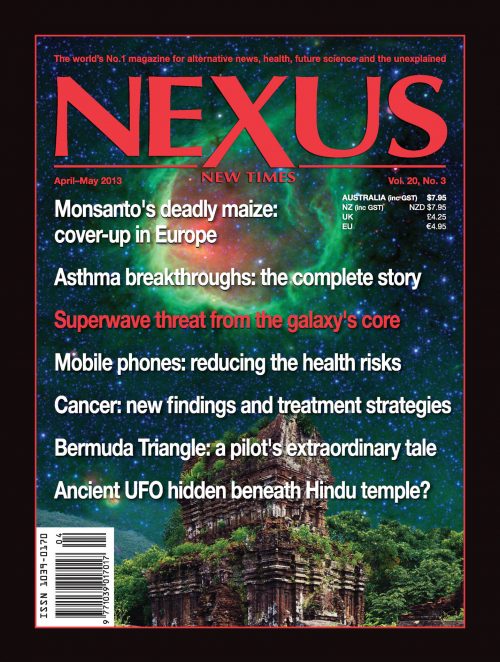 Volume 20, Number 3 – downloadable
$6.60
Volume 20, Number 3 (April-March 2013) complete issue downloadable pdf file.
Description
LETTERS TO THE EDITOR
Readers comment on Lyme disease treatments, smart meters, air ionisation, the Russian meteor explosion, anticancer effects of deuterium depletion, mind control in US prisons, The One People's Public Trust, and more.
GLOBAL NEWS
We present news items on the US meat industry's massive use of antibiotics, the environmental hazards of silver nanoparticles, a revised timeline of human evolution, the US–EU trade deal which may herald a new economic order, false-flag attacks in Syria, the rise in disease and mortality from water fluoridation in Ireland, and more.
THE MONSANTO GMO WHITEWASH
By F. William Engdahl.  A long-term study of rats fed with GM food produced alarming results with tumour growths and deaths, but the European Commission and its food safety authority, working in collusion with the GMO lobby, are refusing to act on these findings.
ASTHMA BREAKTHROUGHS:  THE FULL STORY
By Dr Steven Rochlitz.  Many interconnected factors can be involved in causing or worsening asthma and other related respiratory illnesses, and all of them need to be investigated.  Changes in diet, supplements, lifestyle, breathing and body-balancing may have to be made.
PRECAUTION WITH MOBILE PHONE USE
By Dr Don Maisch.  New evidence of health risks from using mobile and cordless phones highlights the need for urgent action on a precautionary public health policy.  Smartphones, while still being researched, require extra care as they can expose users to higher RF emissions.
THE NEW DIRECTION IN CANCER THERAPY
By Walter Last.  To avoid death from cancer, we need to prevent inflammation by stabilising and then only gradually eliminating tumours with a combination of oral alkalising, antimicrobial treatments, proteolytic enzymes and periods of raw-food fasting.
ADVENTURES IN ALTERNATIVE REALITIES
By Khartika Gunawan.  We've been given the ability to travel multidimensionally, but we could do with advice on how to direct our journeys consciously and interact with beings we may encounter in the lower and higher levels of reality.  Love is the key to reconnecting with the Source.
SCIENCE NEWS
We feature postings by Dr Paul LaViolette on the G2 gas cloud, expected to make its closest approach to our galaxy's centre in July, and the chances that it may trigger a galactic core explosion and a catastrophic superwave.
BERMUDA TRIANGLE CLOSE ENCOUNTERS
By Trish MacGregor and Rob MacGregor.  Few people have experienced the Bermuda Triangle phenomenon and lived to tell the tale.  Pilot Bruce Gernon survived, and he's gone on the record with his extraordinary stories.  The US Navy's AUTEC also has a keen interest in the region.
THE TWILIGHT ZONE
This issue we publish Thomas Ritter's dispatch on the opening of vaults of treasure at Sri Padmanabhaswamy temple in Kerala, South India, and on speculation that a hidden tunnel may house an ancient Vimana aircraft.
REVIEWS—Books
"The Art of Number" by Jain 108
"Wireless Wise Kids" by Lyn McLean
"Darkfield Warriors" by Greg Fredericks
"Crop Circles:  An Open Case" by Elisabeth Zollinger
"Star Shrines…of the Desert Southwest" by Gary A. David
"Ancient Technology in Peru & Bolivia" by David H. Childress
"The Grand Illusion – Book One" by Brendan D. Murphy
"Global Awakening:  New Science…" by Michael Schacker
"Cave and Cosmos:  Shamanic Encounters…" by Michael Harner
"Slave Species of the Gods" by Michael Tellinger
"Towards a World War III Scenario" by Michel Chossudovsky
"Europe's Unfinished Currency" by Thomas Mayer
"Covert Wars and Breakaway Civilizations" by Joseph P. Farrell
"Black 9/11:  Money, Motive and Technology" by Mark H. Gaffney
REVIEWS—DVDs
"Solar Revolution" by Dieter Broers
"The Art of Number" by Jain 108
REVIEWS—Music
"Eclipse 2012" by Danielle Buntman
"Taiga" by Andrew Skeoch and Sarah Koschak
"Drum Drive" by various artists
"Ayahuasca:  Welcome to the Work" by Ben Lee