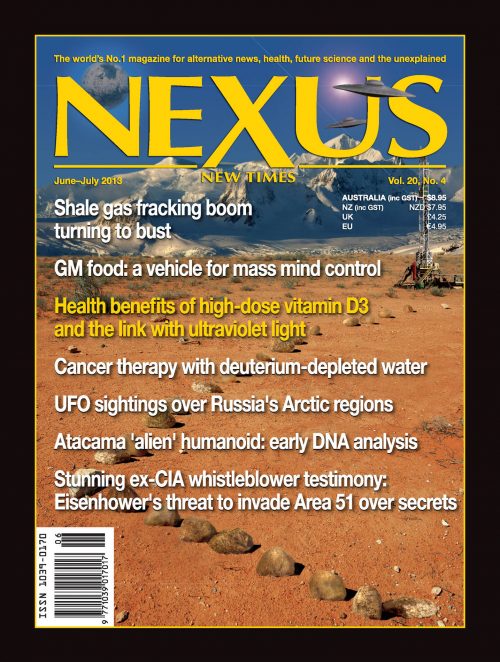 Volume 20, Number 4 – downloadable
$6.60
Volume 20, Number 4 (June-July 2013) complete issue downloadable pdf file.
Description
LETTERS TO THE EDITOR
Readers comment on drugs and gambling in sport, health dangers from smart meters, a medical cannabis petition, choice in vaccination, black holes as empty space, a court hearing into EMF-induced sickness, and more.
GLOBAL NEWS
We present news items on a US poll on conspiracy beliefs, BRICS nations' plan to set up a rival development bank, an alien signal implanted in our genetic code, the WikiLeaks Kissinger Cables, the "Monsanto Protection Act", Europe's new law to regulate plant life, and more.
THE LOOMING SHALE GAS FRACKING DISASTER
By F. William Engdahl. The short-lived US shale gas boom is about to go bust, a victim of a hyped confidence bubble and inflated estimates of recoverable reserves. Meanwhile, communities are being decimated by the environmental hazards of hydraulic fracturing.
CANCER AND DEUTERIUM-DEPLETED WATER
By Dr Krisztina Krempels, Ildikó Somlyai and Dr Gábor Somlyai. Clinical trials with cancer patients have shown that treatment with deuterium-depleted water can lead to tumour regression or elimination and can improve survival rates, even when conventional therapies are used.
THE POWER OF UV LIGHT AND VITAMIN D3
By Jeff T. Bowles. Lack of exposure to sunshine and thus low levels of vitamin D3 are associated with most disease conditions, but Big Pharma and the health authorities are intent on outlawing higher-dose supplements despite scant evidence of any problems with toxicity.
THE NEW DIRECTIONS OF MIND CONTROL
By Dr Richard Alan Miller. Electronic manipulation of our minds and genetic modification of our foods are already techniques of mass social control. The next step for the biotech giants is to modify food crops in order to silence vital human genes and reprogram our "second brain".
SCIENCE NEWS
We feature an extract from "The Fourth Phase of Water", the acclaimed new book by bioengineering professor Dr Gerald H. Pollack. Here, Dr Pollack comments on the social behaviour of water and on observations from nature and lab experiments which defy explanation.
UFOS OVER RUSSIA'S REMOTE ARCTIC REGION
By Paul Stonehill. Sparsely populated areas of Russia's Arctic region have a history of UFO sightings, with reports relayed by a range of reliable witnesses. Is the UFO presence related to the region's vast wealth of minerals, including the world's hardest diamonds?
INVESTIGATION OF THE ATACAMA HUMANOID
By Dr Steven M. Greer. X-ray, CAT scan and preliminary DNA analyses confirm that the mysterious Atacama humanoid is a real organism and is not a hoax. Whether it's an alien or a human hybrid is yet to be determined.
THE TWILIGHT ZONE
This issue we cover Dr Michael E. Salla's report on a former CIA agent who claims that President Eisenhower threatened to invade Area 51, a study of an Aboriginal stone arrangement with astronomical alignments, speculation on a link between the February meteor blast in Russia and Siberia's 'ancient alien defence system', and UFO revelations from a former KGB officer.
REVIEWS—Books
"End Times and 2009" by David Montaigne
"Touchstones for Today" by Alanna Moore
"The Paranormal Equation" by James D. Stein, PhD
"Beyond the Toxic Harvest" by Eve Hillary
"A Brief History of the Incas" by BrienFoerster
"My Science, My Religion" by Michael Cremo
"Minerals for the Genetic Code" by Charles Walters
"Lightseeding" by Tzu Xander
"The Truth about Air Electricity and Health" by Rosalind Tan
"The Biggest Estate on Earth" by Bill Gammage
"Aliens in the Backyard" by Trish and Rob MacGregor
"…The Third Dimension is Going Away?" by J. Self and R. Burnett
"Your Thoughts Are Not Your Own" by Neil Sanders
"Infinite Energy Technologies" edited by Finley Eversole, PhD
REVIEWS—DVDs
"The Economics of Happiness" by Helena Norberg-Hodge
"Sirius: The Movie" with Steven M. Greer, MD
"Visions of a New Earth – Volume 1: Ecovillages…" by Stefan Wolf
REVIEWS—Music
"A Coalescence of Dreams" by Timothy Wenzel
"The Luminous Pearl" by Lia Scallon
"Free Like Me" by Free Like Me
"Circle" by Ganga