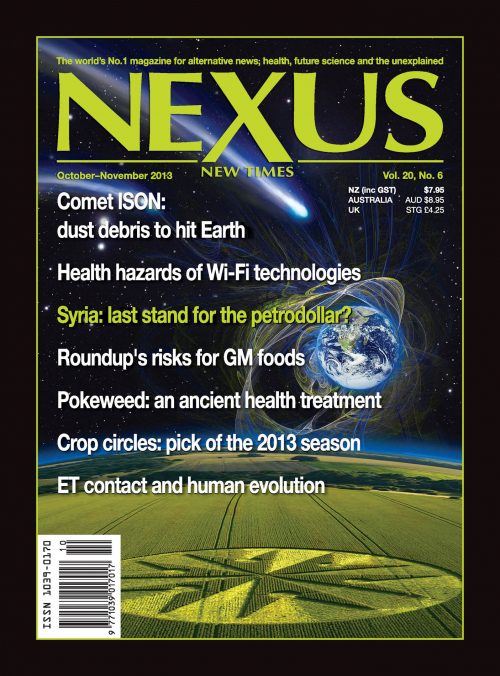 Volume 20, Number 6 – downloadable
$6.60
Volume 20, Number 6 (October-November 2013) complete issue downloadable pdf file.
Description
LETTERS TO THE EDITOR
Readers comment on the global fracking scam, Göbleki Tepe's rewriting of history, the benefits of vitamin D, censorship of esoteric websites in the UK, Epsom salts remedies, chemtrails, and the Pedro Mountains mummy.
GLOBAL NEWS
We report on altruism hard-wired in the brain, the US EPA's increase of limits on allowable levels of glyphosate, adverse effects of GM crops, a girl's ovaries destroyed by Gardasil, brain-to-brain interfacing, the global cooling trend, virtual reality OBEs, Comet ISON, the Fukushima crisis, Syria and the petrodollar's demise, and more.
WI-FI: AN UNCONTROLLED EXPERIMENT
By Dr Marko Markov and Dr Yuri G. Grigoriev. Decades of studies on the hazardous effects of electromagnetic fields provide serious warnings for our use of mobile phone and Wi-Fi technologies, especially considering that harmful radiation can penetrate deeply into brain tissue.
GMOS, GLYPHOSATE AND TOMORROW
An interview with Dr Don Huber by Chris Walters. A recently discovered infectious agent, as small as a virus, is implicated in causing diseases in crops treated with glyphosate as well as significant health problems in animals fed with these contaminated GM products.
HEALING POWERS OF THE POKEWEED PLANT
By Shabari Bird. Modern research has confirmed Native American and folk medicine knowledge about the use of pokeweed berries and roots in treating a range of health problems including cancer, mastitis, rheumatism, arthritis, bone spurs and fungal infections of the skin.
ET CONTACT & THE EMERGING NEW HUMAN
By Mary Rodwell. With an increasing number of accounts coming in from children and adults who have advanced abilities as a result of their contacts with extraterrestrial and multidimensional beings, we have to wonder whether humanity is evolving as a species.
SCIENCE NEWS
We feature an article on Vi-Aqua technology, which uses radiowaves to energise water and increase plant growth; and tributes to mark the deaths of Captain Bruce L. Cathie, who discovered the World Grid system, and Cleve Backster, who found that cells respond to our emotions.
CROP CIRCLES 2013: THE NEW ERA?
By Andy Thomas. It was a slow start to England's crop circle season, perhaps due to a longer-than-normal winter or wider factors, but the fields eventually displayed some impressive and beautiful designs, mostly in Wiltshire, adding to the abundant offerings presented in Europe.
UFO SIGHTINGS OVER KAZAKHSTAN
By Paul Stonehill. Reports compiled during official scientific expeditions and by local researchers suggest that Kazakhstan was a hotbed of UFO activity in the final decades of the Soviet era. Garlands of lights, silvery spheres and black spindles were among the sightings.
THE TWILIGHT ZONE
This issue we cover paranormal researcher Linda Moulton Howe's interview with a woman who claims to have been abducted by a group of tall alien beings. She speaks of a conflict between the Talls and the Tall Controllers over mankind's worth and suitability to be among the One.
REVIEWS—Books
"Arthritis and Marijuana" by Edward R. Cook
"Growing Fruit with a Smile" by Nikolay Kurdyumov
"The Moon Gardener" by Peter Berg
"Ecstatic Healing" by Margaret De Wys
"Entering the Mind of the Tracker" by Tamarack Song
"The Sense of Being Stared At" by Rupert Sheldrake
"The Science of Miracles" by Joe Nickell
"Before Atlantis" by Frank Joseph
"50 Years of Amicizia" by Stefano Breccia, edited by Warren Aston
"UFOs, Area 51, and…Informants" by G. Carman & T. S. Crain
"Monster Files" by Nick Redfern
"Vaccine Epidemic" ed. by Louise K. Habakus and Mary Holland
"The Public Bank Solution" by Ellen Brown
"Diana Inquest: The Untold Story – Part 6" by John Morgan
REVIEWS—DVDs
"$tatin Nation: The Great Cholesterol Cover-up" by Rethink
"Crop Circles of the 21st Century" by Julian Gibsone & Stuart Dike
"The Hidden Hand: Alien Contact…" by James Cameron
REVIEWS—MUSIC
"Music of the Plants" by Damanhur
"The Shimmering Land" by Meg Bowles
"Deep Theta 2.0" by Steven Halpern
"Timeless" by Wouter Kellerman