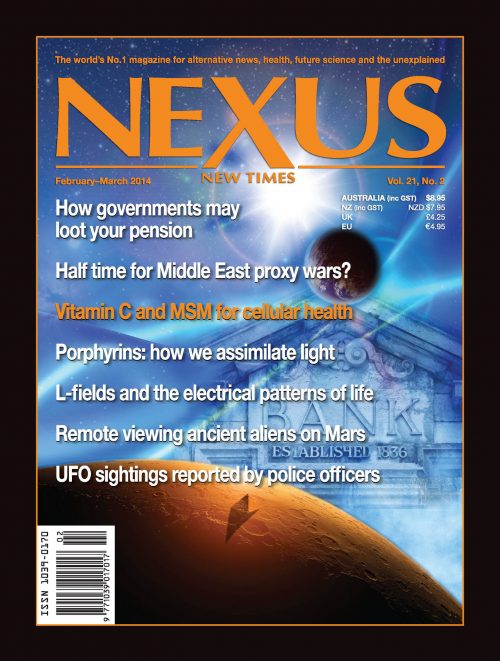 Volume 21, Number 2 – downloadable
$6.60
Volume 21, Number 2 (February-March 2014) complete issue downloadable pdf file.
Description
LETTERS TO THE EDITOR
Readers comment on New Zealand's online ID system, Norse gods and The Urantia Book, employment statistics lies, science papers censorship, Hermod and Hermes, and the Australian mass media's pro-fluoridation stance.
GLOBAL NEWS
We report on a German study predicting a drop in global temperatures, 3D printing of tissue cells, a hidden genetic code, ADHD as a fake disorder, America's "redirection" strategy which risks more conflict in the Middle East, doubts about the science of animal testing, and more.
MORE ENERGY WITH VITAMIN C AND MSM
By Walter Last. Vitamin C, especially as sodium ascorbate, combined with MSM and transdermal DMSO, is a key supplement to take in order to increase metabolic oxygen supply, clean blood vessels, strengthen connective tissue and even restore lost hair colour.
PENSION CONFISCATIONS, BAIL-INS AND LEVIES
By Karen Mutton. As cash-strapped governments face shortfalls in pension funding, they're adopting measures which amount to confiscation of entitlements. To alleviate budget deficits and avert bank defaults, they're considering bank bail-ins and levies on household wealth.
LIGHT ENERGY AND BIOLOGICAL PROCESSES
By Bruce Atkins. Light energy, absorbed and emitted by the porphyrin compounds in our cells, is the missing link in our understanding of how our biological systems work. We already have the technical know-how to use it to diagnose and treat disease.
EVIDENCE FOR NAZI NUCLEAR WEAPONS—Part 2
By Simon Gunson. The Nazis were slow to commence their development of atomic weapons, although they had no shortage of nuclear physicists, but their efforts were kick-started when they were led to believe that the British and French were way ahead of their own advances.
SCIENCE NEWS
We feature a report from the World Research Foundation about the work of Dr Harold S. Burr (1889–1973) on the electrical patterns of life and his identification of L-fields, the basic blueprints of all life on planet Earth. Dr Burr's pioneering studies offer help for humanity today.
MYSTERIOUS AMAZON WOMEN OF EURASIA
By Paul Stonehill. For centuries in antiquity, women and girls in various tribes throughout Eurasia fought against men to keep the independence which they'd inherited from an ancient matriarchal line. These female warriors were often buried with their weapons beside them.
REMOTE VIEWING ANCIENT ALIENS ON MARS
By Trish MacGregor and Rob MacGregor. In 1984, US military–intelligence remote viewer Joe McMoneagle tuned into a series of geographic coordinates on Mars and was astonished by what he saw. Here he reflects on his experiences at the time and other psy-spying sessions.
THE TWILIGHT ZONE
This issue we focus on UFO cases from the database of a former British Transport Police Detective Constable, Gary Heseltine. These reports from trained police observers are both compelling and chilling, and include stationary craft and rotating lights flying in formation.
REVIEWS—Books
"I Believe: When What You Believe Matters!" by Eldon Taylor
"LSD and the Divine Scientist" by Albert Hofmann
"The Lost History of the Little People" by Susan B. Martinez, PhD
"Covert Wars and the Clash of Civilizations" by Joseph P. Farrell
"Earth: An Alien Enterprise" by Timothy Good
"For Nobody's Eyes Only" by Nick Redfern
"Remnants of the Gods" by Erich von Däniken
"Secret Mars: The Alien Connection" by M. J. Craig
"The Synchronicity Highway" by Trish and Rob MacGregor
"Ancient Aliens on Mars" by Mike Bara
"Toxin Toxout" by Bruce Lourie and Rick Smith
"Relief from Snoring and Sleep Apnoea" by Tess Graham
"UpRiver: …the Franklin River Activists" by Alice Hungerford
"Farmageddon" by Philip Lymbery with Isabel Oakeshott
DVDs
"Doctored" by Jeff Hays Films
"September 11: The New Pearl Harbor" by Massimo Mazzucco
"Hitomi and the God Particle" by Dick Allgire
MUSIC
"Dreaming Time" by Forrest Smithson
"Deep Inner Space" by Dream Drone
"Crossing Point" by Jaaleekaay
"Buddha-Bar XV" by Ravin