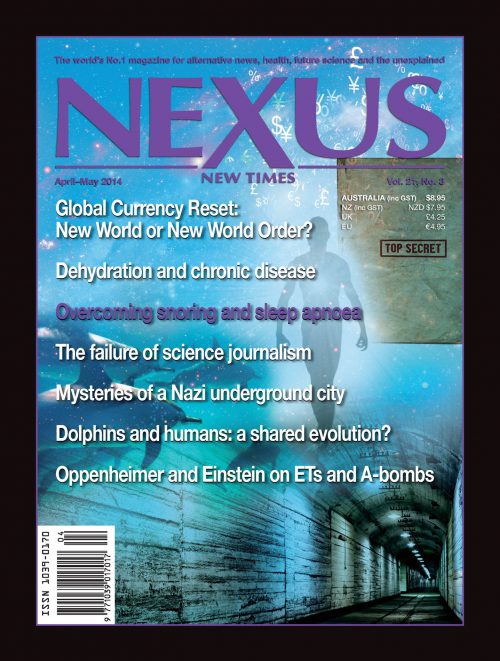 Volume 21, Number 3 – downloadable
$6.60
Volume 21, Number 3 (April-May) complete issue downloadable pdf file.
Description
LETTERS TO THE EDITOR
Readers comment on global warming and The Greens, carbon dioxide disinformation, a borax treatment for lupus, HAARP and the weather, protection from Wi-Fi and EMFs, normalising cancer cells, and more.
GLOBAL NEWS
We report on the prostate cancer testing hoax, central banks' gold manipulation, underground coal gasification, plants as biosensors, a vast trench found under Antarctic ice, glyphosate pollution, Washington's regime change moves, the World Press Freedom Index 2014, and more.
GLOBAL CURRENCY RESET:  A NEW WORLD?
By Karen Mutton.  Many commentators think that the world's currencies will soon be revalued or devalued according to each country's assets.  Some say that it will usher in a new era of prosperity, while others argue that it will strip middle class wealth and bring in the NWO.
DEHYDRATION AND CHRONIC DISEASES—Part 1
By Dr Fereydoon Batmanghelidj.  Water is a life-giving source of energy and regulates the body's metabolic processes.  It is essential in the treatment and prevention of stress.  Without proper intake of water, we are at risk of developing chronic degenerative illnesses.
SNORING, SLEEP APNOEA AND BREATHING
By Tess Graham.  Sleep disorders are a modern epidemic, but medical interventions aren't always successful or well tolerated.  The good news is that there are simple techniques which can be used to restore correct breathing and improve sleep within a few days.
The FAILURE OF SCIENCE JOURNALISM
By Dr Jonathan Latham.  As seen in biotech reporting, science journalists omit to ask hard questions and to include information of intrinsic importance to the public.  This misreporting plays into the hands of corporations intent on boosting their reputations and profits.
SCIENCE NEWS
We feature a report from the September 1960 edition of Electronics magazine, titled "Radio Waves and Life", discussing radio-frequencies and their effects on animals and humans, with a focus on pioneering research from Italian, Dutch, French, Russian and American scientists.
THE ENIGMA OF THE NAZIS' REGENWURMLAGER
By Paul Stonehill.  A vast underground complex built by the Nazis in western Poland was a surprise discovery for invading Red Army troops in late January 1945, but the Russians, who administered the region until 1993, never properly explored the tunnels.  What secrets lie within?
SHARED EVOLUTION OF DOLPHINS & HUMANS
By Frank Joseph.  The deep affinity which humans feel for dolphins could be the result of a shared evolutionary and genetic heritage.  Anatomical studies suggest that early humans underwent aquatic phases and that dolphins were once terrestrial mammals.
THE TWILIGHT ZONE
This issue we reprint a draft paper written in June 1947 by Dr J. Robert Oppenheimer and Professor Albert Einstein, titled "Relationships with Inhabitants of Celestial Bodies", the first document to refer to "extraterrestrial biological entities" and propose a "Law Among Planetary Peoples".
REVIEWS—Books
"Sailors of Stonehenge" by Manuel Vega
"The Northern Enchantment" by Margaret Jonas
"The Sacred Science of Japan" by Avery Morrow
"Vimana:  Flying Machines of the Ancients" by David H. Childress
"Sky Crash – Throughout Time" by Philip Kinsella & Brenda Butler
"Mission:  Mother Earth" by Richard Benishai
"The Only Two Causes of All Diseases" by Toru Abo
"Deadly Medicines and Organised Crime" by Peter C. Gøtzsche
"United Credit" by Jonathon Ray Spinney
"The Failure of Laissez Faire Capitalism" by Paul Craig Roberts
"Return of the Golden Age" by Edward F. Malkowski
"The Ancient Giants Who Ruled America" by Richard J. Dewhurst
"No Goodbyes:  Insights from the Heaven World" by Barry Eaton
"The Wisdom of Near-Death Experiences" by Dr Penny Sartori
REVIEWS—DVDs
"Voices from the Forest" produced by Soul Destiny Productions
"Ancient Aliens:  Season Four" produced by History
"Ancient Aliens:  Season Five" produced by History
REVIEWS—Music
"Resonance" by Adham Shaikh
"Transformation" by Sherry Finzer & Darin Mahoney
"River Serene" by Timothy Wenzel
"Hinterland Harps" by Kim Kirkman