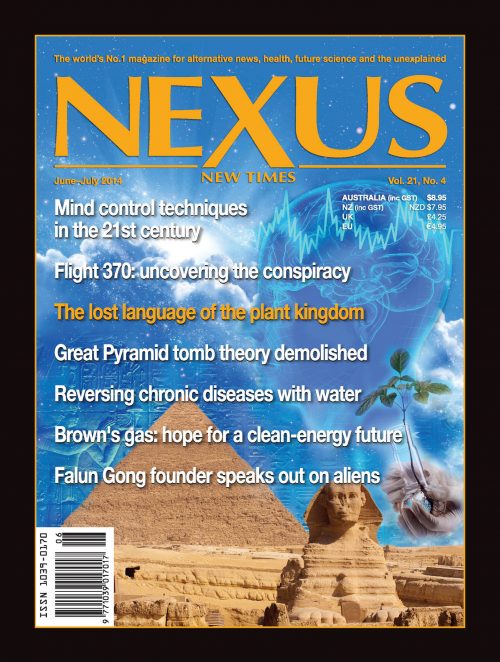 Volume 21, Number 4 – downloadable
$6.60
Volume 21, Number 4 (June-July) complete issue downloadable pdf file.
Description
LETTERS TO THE EDITOR
Readers comment on iron deficiency in athletes, boron and borax use, hope for autism, glaucoma treatment issues, zero-intelligence policing, US interference in foreign nations, dolphin people and Vedic mathematics.
GLOBAL NEWS
We report on mammogram risks, Fukushima melt-outs, hospital equipment hacking, dolphins to a swimmer's rescue, Saturn's polar hexagon, a UK government–GM industry conspiracy, the Gardasil fraud, a new whooping cough superbug, the fate of Flight 370, and more.
MIND CONTROL IN THE 21st CENTURY
By Steven DiBasio. Technologies that can tap into our minds and control our behaviours have become increasingly sophisticated over the decades but are hidden for national security reasons. Some recent advances that have been made public have disturbing implications.
THE LOST LANGUAGE OF PLANTS—Part 1
By Stephen Harrod Buhner. In learning how to reconnect with nature and other life forms, we can discover much wisdom from the plant kingdom. Plant chemistries are intricately interwoven in the lives of all organisms, maintaining and even healing them if they're ill.
DEHYDRATION AND CHRONIC DISEASES—Part 2
By Dr Fereydoon Batmanghelidj. To reverse the diseases caused by dehydration, we need to drink sufficient water and include sea salt and minerals in our diet. People with diabetes, heart disease, rheumatoid pain, migraine and even cancer can benefit from this simple regimen.
THE GREAT PYRAMID FRAUD REVISITED
By Scott Creighton. Analysis of Colonel Richard Howard Vyse's handwritten journal reveals serious, never-before-seen discrepancies in the rendering of hieroglyphs relating to the Egyptian pharaoh Khufu and suggests that a fraud was perpetrated within the Great Pyramid which has shaped mainstream opinion of this monument.
SCIENCE NEWS
We feature a proposition by Christopher Carmody on the barycentre, where the centre of mass is at once a point of zero gravity but also the emanation point for the entire gravitational pull of a body. The barycentric laws demonstrate the truth that all is in one and one is in all.
THE HISTORY AND FUTURE OF BROWN'S GAS
By Drs J. J. Hurtak and Desiree Hurtak. Research into Brown's gas, or oxyhydrogen gas, continues apace around the world, with applications being explored in diverse fields including welding and automotive industries and even in the transmutation of nuclear waste.
SURPRISING ANOMALIES OF SICHUAN PROVINCE
By Paul Stonehill. One of the birthplaces of Chinese civilisation, Sichuan is a region of many secrets including geomagnetic disturbances, UFO activity, paranormal
events, unique ancient artefacts, strange images in the landscape, cryptozoological mysteries and much more.
THE TWILIGHT ZONE
This issue we highlight a 1998 lecture by Falun Gong founder Li Hongzhi and his 1999 TIME interview, on multidimensional realities and the Three Realms and on alien beings and their use of advanced science and technology to control and conquer humanity.
REVIEWS—Books
"One Mind" by Larry Dossey, MD
"Exploring the Crack in the Cosmic Egg" by Joseph Chilton Pearce
"The Power of Acceptance" by Annemarie Postma
"Back to the Afterlife" by Bernie Kastner
"The Ayahuasca Experience" edited by Ralph Metzner, PhD
"Peyote Dreams" by Charles Duits
"For the Good of Mankind?" by Vicki Oransky Wittenstein
"Snake Oil" by Richard Heinberg
"Transevolution" by Daniel Estulin
"Eden: The Truth About Our Origins" by Anton Parks
"Light and Dark" by Dr Trevor J. Hawkeswood
"The Templar Treasure" by Tobias Daniel Wabbel
"The Most Dangerous Book in the World" by S. K. Bain
"The Self-Actualizing Cosmos" by Ervin Laszlo
REVIEWS—DVDs
"And Did They Listen?" by Michael Horn
REVIEWS—Music
"Bliss of Being" by The Pure Heart Ensemble
"Flight 14" by Uwe Gronau
"The Journey" by Kim Kirkman
"Merkaba of Sound" by Jonathan Goldman