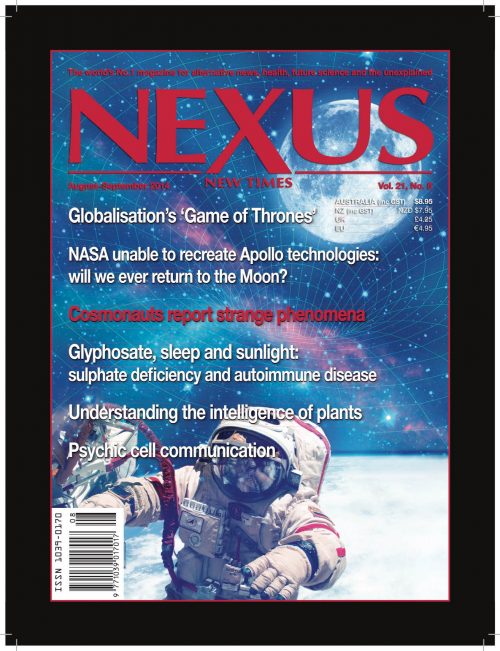 Volume 21, Number 5 – downloadable
$6.60
Volume 21, Number 5 (August-September) complete issue downloadable pdf file.
Description
LETTERS TO THE EDITOR
Readers comment on patients' rights, self-healing powers, climate change, the Mars anomalies cover-up, and more.
GLOBAL NEWS
We report on Google's removal of serious news articles, pesticides' threat to biodiversity, Earth's changing magnetic field, flu vaccine fraud, metadata, jihadism and oil, Europe's glyphosate reassessment scandal, and more.
GLOBALISATION'S "GAME OF THRONES"
By Andrew Gavin Marshall.  The world's super-rich families compete and cooperate for control not just over nations but over entire regions and the planet as a whole.  Globalisation has facilitated the widespread reach of the "family office", the main institution of modern dynasties.
SULPHATE, SLEEP, SUNLIGHT AND GLYPHOSATE
By Dr Claire I. Viadro.  The disturbing rise in autism and diseases like Alzheimer's may be caused by a severe sulphate deficiency in the brain.  The herbicide glyphosate and heavy metals including aluminium and mercury work synergistically to derail the process of sulphate synthesis.
THE LOW FERRITIN EPIDEMIC
By Scott W. Webb.  A low level of ferritin, a protein which stores and releases iron, indicates intestinal and liver imbalances, exacerbated by antibiotics and overgrowth of candida yeasts.  It's a growing social health problem.
THE LOST LANGUAGE OF PLANTS—Part 2
By Stephen Harrod Buhner.  Plants have a chemical language imbued with meaning, intent and intelligence.  They are our teachers and healers, and to reconnect with them we must rekindle our heart perception.
IS THERE ANY HOPE FOR A MOON BASE?
By Phil Kouts.  NASA documents on the now-defunct Constellation Program for a return to the Moon by 2020 reveal startling evidence that the agency is still actually unable to send a manned mission to the Moon.  It's as if nothing has been learned from the Apollo missions.
SCIENCE NEWS
Christopher Carmody speculates on barycentric power versus dark gravity and proposes an experiment to validate his P1 theory.  Dr Mae-Wan Ho discusses psychic communication between cells across a physical barrier.
QUANTUM MECHANICS:  TRAVEL TO THE STARS
By Dr Christopher MacLeod.  The wave function of quantum physics offers better hope than ideas from classical and relativistic physics for achieving faster-than-light travel because it can manifest itself as an object instantaneously in a remote location.
REVELATIONS OF THE COSMONAUTS
By Paul Stonehill.  A number of Russian and Ukrainian cosmonauts have gone on the record about the strange phenomena they've experienced in space, from magnetic anomalies and incredible dream states to supernatural transformations into alien beings.
THE TWILIGHT ZONE
This issue we include two postings from Linda Moulton Howe's Earthfiles.com on a Peruvian resident's UFO sightings, his encounters with a telepathic grey being, and his journeys with a spirit guide to the source of souls.
REVIEWS—Books
"Lost Race of the Giants" by Patrick Chouinard
"Medieval Mysteries" by Karen Ralls, PhD
"Himalayan Sound Revelations" by Frank Perry
"Gateway to the Heavens" by Karen L. French
"Dissolving Illusions" by S. Humphries, MD, and R. Bystrianyk
"You Are the Placebo" by Dr Joe Dispenza
"Stalking the Herd" by Christopher O'Brien
"Defeat Cancer…Like I Did Twice!" by Barry Thomson
"Soul Whispers:  Healing the Family Tree" by Moira Mac
"The Tradition of Household Spirits" by Claude Lecouteux
"The Vatican Heresy" by Robert Bauval and Chiara Hohenzollern
"The Boy Who Died and Came Back" by Robert Moss
"Tales from Langley:  The CIA…Truman to Obama" by Peter Kross
"The Lost City of the Exodus" by Ahmed Osman
REVIEWS—DVDs
"Mobilize" by Kunze Productions
"Song of the New Earth" directed by Ward Serrill
REVIEWS—Music
"Four Great Winds" by Peia
"Kop That!" by The Unusual Suspects
"Groovitalize" by various artists
"Return to Shiva Station" by Jai Uttal