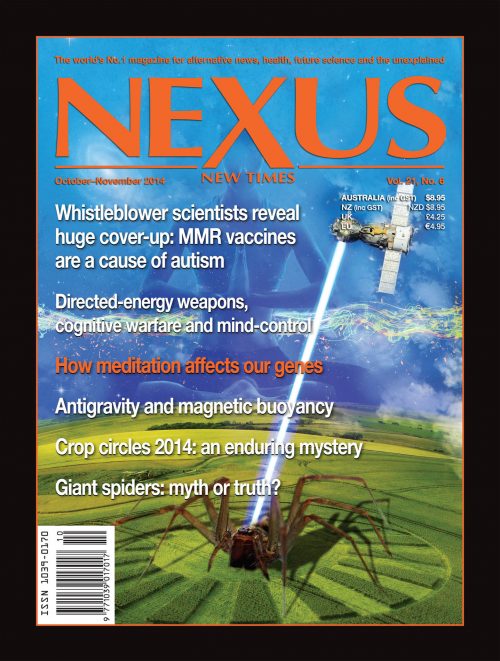 Volume 21, Number 6 – downloadable
$6.60
Volume 21, Number 6 (October-November) complete issue downloadable pdf file.
Description
LETTERS TO THE EDITOR
Readers comment on the link between sunlight, vitamin D and EM radiation, homeopathy and the placebo effect, paranormal science, the MMR vaccine and autism, UFO cover-ups, and cosmonauts and the shamanic journey.
GLOBAL NEWS
We report on electron-eating bacteria, Stonehenge's hidden landscape, IBM's "brain on a chip", cell towers' health dangers, terrorism hysteria, life-forms clinging to the International Space Station, the CDC whistleblower who confessed to MMR vaccine research fraud, the mercury link to autism, GM human organs, and more.
HOW THE MIND CHANGES GENES THROUGH MEDITATION
By Dr Mae-Wan Ho. The mind–body divide has been breached in conventional western medicine, thanks to new research findings in molecular genetics which not only bridge mind and body but also East and West.
SUGAR'S STAGGERING HEALTH CONSEQUENCES
By Dr Gary Null. Consumption of soft drinks and processed foods full of refined sugar is skyrocketing. Numerous studies point to serious health problems, including heart disease, diabetes, obesity, behavioural issues and cancer, caused by excessive sugar intake.
DIRECTED-ENERGY WEAPONS FOR POLITICAL CONTROL
By Elana Freeland. While the military–industrial complex has been creating ever more despicable ways to spy on and control citizens via the electromagnetic environment, we have bought into this nightmare with our increasing reliance on personal communication technology to the detriment of our health and freedom.
THE BENEFITS OF HIGH CHOLESTEROL
By Dr Uffe Ravnskov. Contrary to consensus thinking and propaganda linking low cholesterol with good cardiac health, numerous studies show that high cholesterol protects against cardiovascular disease, reduces susceptibility to infection, and promotes longevity.
SCIENCE NEWS
This edition, former nuclear weapons specialist Jeff Smith discloses now-declassified research on the magnetic buoyancy theory of gravity, explains how the Apollo Lunar Module really worked, and discusses electron disconnect and the antigravity effect of a nuclear fireball.
COSMONAUTS ON UFOS AND STRANGE PHENOMENA
By Paul Stonehill. Soviet and Russian cosmonauts have risked their careers by talking about unusual phenomena in space, ranging from UFOs, anomalous clouds and mysterious sounds to angelic beings, weird whispers that urge them to return to Earth, and an inexplicable scent.
CROP CIRCLES 2014: A MYSTERY HERE TO STAY?
By Andy Thomas. Predictions that crop circles would begin to vanish were not borne out in 2014, although the phenomenon gave Wiltshire, the usual hub of activity, a wide berth at first. As it turned out, another fascinating season of ingenuity ensued in England and beyond.
THE TWILIGHT ZONE
This issue, we feature an article by British cryptozoologist Dr Karl Shuker about giant spiders encountered in remote regions of the world and even in suburban settings.
REVIEWS—Books
"The Complete Earth Chronicles" by Zecharia Sitchin
"Lost Secrets of the Gods" ed. by Michael Pye and Kirsten Dalley
"The Ancient Paths" by Graham Robb
"Sacred Number and the Lords of Time" by Richard Heath
"Ancient Aliens on Mars II" by Mike Bara
"Haunted Skies – 1980" by John Hanson and Dawn Holloway
"Reversing Heart Disease…Without Drugs" by Peter Dingle, PhD
"An Electronic Silent Spring" by Katie Singer
"Chemtrails, HAARP, and…Planet Earth" by Elana Freeland
"Close Encounters of the Fatal Kind" by Nick Redfern
"Thrice Great Hermetica and the Janus Age" by Joseph P. Farrell
"Judas of Nazareth" by Daniel T. Unterbrink
"Ubuntu Contributionism" by Michael Tellinger
"Threats To Our Wealth" by Karen Mutton
REVIEWS—DVDs
"Project Censored The Movie" by Chris Oscar and Doug Hecker
"The Grounded" by Steve Kroschel/Kroschel Films
"The Grounded 2" by Steve Kroschel/Kroschel Films
REVIEWS—Music
"Winds of Samsara" by Wouter Kellerman and Ricky Kej
"New Earth Alchemy" by Maia ShaWoMan
"Last Dance" by Keith Jarrett and Charlie Haden