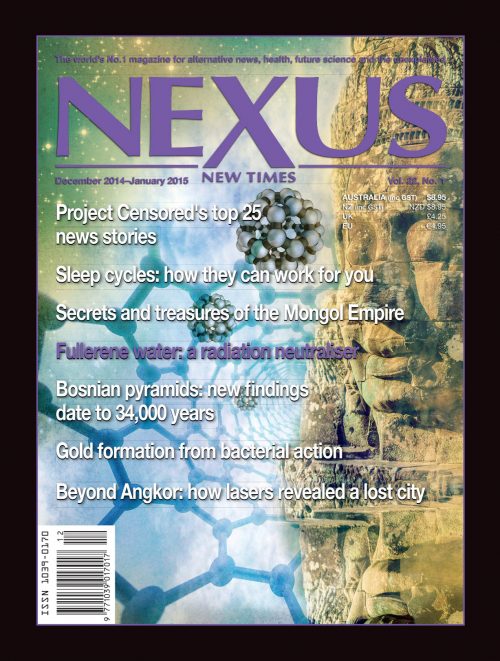 Volume 22, Number 1 – downloadable
$6.60
Volume 22, Number 1 (December 2014 – January 2015) complete issue downloadable pdf file.
Description
LETTERS TO THE EDITOR
Readers comment on Ebola, AIDS and TB, advances in antigravity technology, alternative energy progress, child welfare deception, the Reid-Cell and double quantum dots, corporate terrorism and EMF protection devices.
GLOBAL NEWS
We report on global warming decline in the 18-year trend-line, Google X's nanobot pills, research into near-death experiences, Russian electronic warfare, parallel worlds, ISIS as a US terror instrument, the corporate monopoly of seeds, Vladimir Putin's warning to the West, and more.
PROJECT CENSORED'S TOP 25 NEWS STORIES
By Prof. Mickey Huff and Project Censored.  Continuing a tradition going back to 1976, the Project Censored team has judged the most important American and international news stories of 2013–2014 that should have been given more attention by the US corporate media.
THE DYNAMICS OF ALTERNATIVE SLEEP CYCLES
By Joe Martino.  There are several techniques that we can use to ensure we have the sleep we need without devoting a block of eight hours to the task and wasting so much time.  We include a report on how, before the 1800s, people used to have two separate sleeps at night.
EBOLA…OR AFRICAN STRAINS OF TB?
By Dr Lawrence Broxmeyer.  The Ebola virus ravaging several West African nations has striking similarities with two strains of tuberculosis that are just as deadly and cause Ebola-like symptoms.  Health authorities deny this link and don't consider it in the design of diagnostic tests.
SCIENCE AND PROMISE OF FULLERENE WATER
By Dr Richard Alan Miller.  Water containing fullerenes, or carbon buckyballs, has been shown to have powerful antioxidant and decontaminating properties.  It can also protect against radiation exposure and neutralise waterborne pathogens, heavy metals and pesticides.
SCIENCE NEWS
This edition, we highlight a report on secondary gold created by microbial action and on research into a genetically modified bacterium that extracts gold from its environment as a detoxification mechanism.
SECRETS & TREASURES OF THE MONGOL EMPIRE
By Paul Stonehill.  In the 13th century, united Mongol tribes expanded their lands to create the largest empire the world had ever seen.  Legends tell of an armoured metal cart that no arrow could pierce, and the search for Knights Templar treasure in a Central Asian lake.
FINDINGS AT THE BOSNIAN PYRAMIDS—Part 1
By Dr Paul LaViolette.  Radiocarbon dating of organic material found within the Pyramid of the Sun in Bosnia indicates that the structure may be 34,000 years old.  Ocean sediment flood-debris dates suggest that the pyramids complex survived three catastrophic flood events, the earliest 31,000 years ago.
THE TWILIGHT ZONE
This issue, we feature a report on a ninth-century Khmer city located in the Kulen hills near Angkor in Cambodia.  It was uncovered by lidar remote-sensing technology, which also revealed that the city's water network was once affected by catastrophic flood damage.
REVIEWS—Books
"Medical Myths & Health Lies…" by Peter Dingle, PhD
"Light that Heals:  Energy Medicine…" by Donna Fisher
"The Map of Heaven" by Eben Alexander, MD, with P. Tompkins
"DMT and the Soul of Prophecy" by Rick Strassman, MD
"Beyond Past Lives" by Mira Kelley
"Aleister Crowley:  The Beast in Berlin" by Tobias Churton
"Missing Microbes" by Martin J. Blaser, MD
"Herbal Antibiotics" by Stephen Harrod Buhner
"Poisoned Planet" by Julian Cribb
"AIDS…" by Lawrence Broxmeyer, MD
"Technocreep:  The Surrender of Privacy…" by Thomas P. Keenan
"Narcoland:  The Mexican Drug Lords…" by Anabel Hernández
"Modern Esoteric:  Beyond Our Senses" by Brad Olsen
"Missing 411:  The Devil's in the Detail" by David Paulides
REVIEWS—DVDs
"Microwaves, Science & Lies" by Jean Heches & Nancy de Méritens
"The Voice of Africa" by Drs J. J. and Desiree Hurtak
"The Animal Communicator" with Anna Breytenbach
REVIEWS—Music
"Voices from Heaven" by Runar Halonen and Tron Syversen
"Pavane" by Paul Higgs
"Weightless (Ambient Transmissions Vol. 2)" by Marconi Union
"Nocturnes" by Dan Chadburn