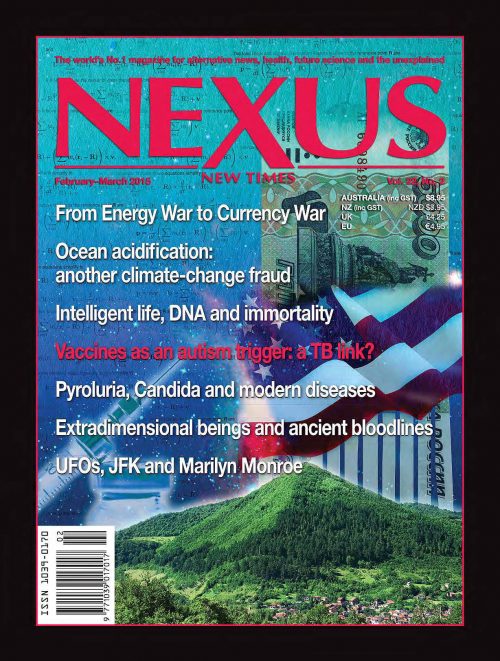 Volume 22, Number 2 – downloadable
$6.60
Volume 22, Number 2 (February – March 2015) complete issue downloadable pdf file.
Description
LETTERS TO THE EDITOR
Readers comment on news censoring, mind control, faked Moon photographs, 9/11 discrepancies, the Port Arthur massacre, editorial opinion, Maralinga madness, and the demise of fraudulent scientist and inventor Dr Fred Bell.
GLOBAL NEWS
We report on the microbiome's link with the brain, sugar as a source of disease, smart grid control and our privacy, Earth's invisible energy shield, vitamin D as a body-clock synchroniser, ocean acidification fraud, the "fracking boom" fallacy, light-capturing plasmene materials, DARPA's autonomous microdrones, and more.
FROM ENERGY WAR TO CURRENCY WAR
By Mahdi Darius Nazemroaya. Washington neocons, not content with just imposing economic sanctions on the Russian Federation, are targeting the ruble for devaluation and the economy for inflation, but Moscow has other strategies up its sleeve to maintain its economic and geopolitical power base.
PYROLURIA, CANDIDA AND MODERN DISEASES
By Walter Last. Pyroluria is a common metabolic condition in which pyrrole is overproduced in the liver. It may be inherited or acquired through liver damage from medical drugs, infections or Candida-caused intestinal dysbiosis. Pyroluria is a prevalent, underlying factor in people who have chronic diseases.
VACCINES AS AN AUTISM TRIGGER: A TB LINK?
By Dr Lawrence Broxmeyer. While it can't be said categorically that vaccines trigger autism, it can't be denied that many vaccines still contain toxic mercury compounds as well as animal and human components which may be contaminated with tuberculosis.
FINDINGS AT THE BOSNIAN PYRAMIDS—Part 2
By Dr Paul LaViolette. A lull in solar cosmic-ray intensity after 34,000 years before present may have given the iceage people of Bosnia time to build pyramids and tunnel networks ahead of the next rise in cosmic radiation and thus ensure their future survival underground.
SCIENCE NEWS
This edition, Christopher J. Carmody and Cordell J. Carmody propose the existence of the supercluster barycentric neural network and its potentiality for endless evolution, aided by the ingredient of intelligent, living, embedded observers—evolving humanity.
SIMON PARKES ON ALIENS AND THE ILLUMINATI
An interview by Franky Ma. Throughout his life, Simon Parkes has had interactions with extradimensional beings as well as with intelligence operatives and Illuminati members because of his ancient bloodline connections.
THE TWILIGHT ZONE
This issue we feature Joe Martino's story about archsceptic Michael Shermer and his weird paranormal experience, and Dr Michael Salla's report on a leaked CIA wiretap document of 3 August 1962 which warned that Marilyn Monroe was planning to reveal her knowledge of JFK's visit to a secret facility to view UFO evidence—a document that was written shortly before she died.
REVIEWS—Books
"The 15-Ounce Pound" by Joseph R. Pietri
"The Immortal Mind" by Ervin Laszlo with Anthony Peake
"Dental Herbalism" by Leslie Alexander and Linda Straub-Bruce
"Good News for People with Bad News" by Nyema Hermiston
"Our Holographic World" by Antony Milne
"Spirit Recovery Medicine…" by Lee McCormick & Mary Faulkner
"Behold a Pale Farce" by Bill Blunden and Violet Cheung
"Strange Electromagnetic Dimensions" by Louis Proud
"The Secret Space Age" by Olav Phillips
"Dr. Mary's Monkey" by Edward T. Haslam
"Operation Gladio" by Paul L. Williams
"Death on Mars" by John E. Brandenburg, PhD
"The Bilderbergers" by Gerhard Wisnewski
"How They Murdered Princess Diana" by John Morgan
REVIEWS—DVDs
"2014 NEXUS Conference" produced by E&E Productions
REVIEWS—Music
"Buddha-Bar Beach: Ibiza" by Buddha-Bar and Radio FG
"Drum Cargo: Rhythms of Earth" by David & Steve Gordon
"Exit" by Luka Lesson
"Gymnosphere: Song of the Rose" by Jordan De La Sierra