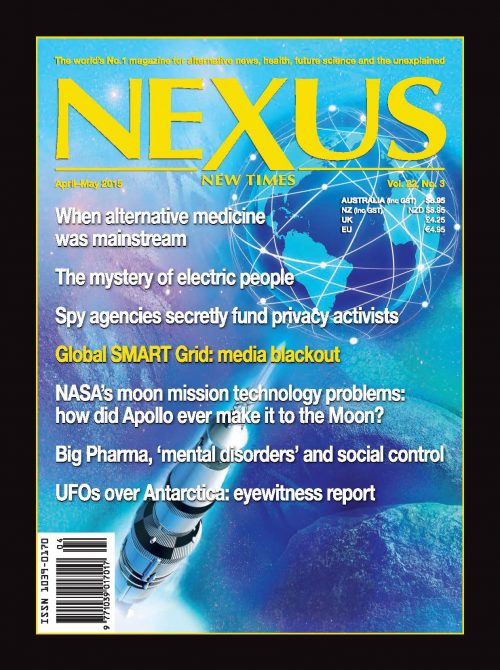 Volume 22, Number 3 – downloadable
$6.60
Volume 22, Number 3 (April – May 2015) complete issue downloadable pdf file.
Description
LETTERS TO THE EDITOR
Readers comment on a new invention that may help with Parkinson's disease, permaculture in sustainable emergency management, not-so-smart meters, evidence for the electronic voice phenomenon, and more.
GLOBAL NEWS
We report on Iraqi claims of coalition weapons drops to terrorists, water fluoridation and hypothyroidism, genes modulated by Mozart's music, CDC research on a vaccines–SIDS link, SIM encryption keys stolen by the NSA and GCHQ, the Smart Grid media blackout, the US agency that funds Internet privacy tools, a retracted paper on antidepressants and suicide, and more.
'ALTERNATIVE' MEDICINE WAS MAINSTREAM
By Dr Paul Lloyd; part 1 of 2. Physicians during and after the Renaissance period were well versed in the ancient science of the humoral body. They knew how to diagnose and correct health imbalances with the right types of foods grown and consumed according to climatic regions and the changing seasons.
'MENTAL DISORDERS' DRIVE BIG PHARMA
By Joachim Hagopian. We live in a sick society when psychiatrists keep inventing new mental disorders that require treatment with yet more toxic drugs developed by the profit-driven pharmaceutical industry. Today, almost everyone can be diagnosed with a mental illness.
DEMENTIA HOPE WITH AGED GARLIC FORMULA
By Maurice Czarniak. With dementia numbers rising alarmingly worldwide and with pharmaceutical drugs offering little help, it's shameful that a novel formula containing aged garlic extract, which anecdotally improves cognitive abilities in a few weeks, is not being taken seriously by the medical community.
THE ELECTRIC PEOPLE PHENOMENON
By Louis Proud. Many cases of high-voltage syndrome, in which sufferers seem to cause electrical devices to fail in their presence, feature paranormal aspects such as psychokinesis. Often the common factor is that these people experienced severe electric shock during childhood.
SCIENCE NEWS
This edition, researcher Roger Anderton discusses the flawed physics and history of Einstein's relativity theories, and filmmaker David de Hilster reveals the difficulties of releasing a film exposé on why Einstein was wrong.
TOWARDS A MOON BASE
By Phil Kouts. Despite its claimed achievements with the Apollo lunar program, NASA is now developing from scratch the technology and systems to enable safe travel to the Moon and back, let alone establish a Moon base. Perhaps it should join an international lunar project.
THE TWILIGHT ZONE
This issue we highlight the US government's de facto acknowledgement of the UFO reality, and the testimony of a retired US Navy Flight Engineer who claims to have seen UFOs over Antarctica and the entrance to an alleged ET–human scientific research base.
REVIEWS—Books
"The Wonder of You" by Lynn Kathleen Russell
"There Are No Goodbyes" by Elizabeth Robinson
"Sky People…Encounters in Mesoamerica" by Ardy Sixkiller Clarke
"Preparing for Contact" by George Michael
"Confessions of a Reluctant Ghost Hunter" by Von Braschler
"Australian Poltergeist" by Tony Healy & Paul Cropper
"The Secret Chamber of Osiris" by Scott Creighton
"The Multidimensional Traveler" by Khartika Goe
"Ley Lines of the UK and USA" by David R. Cowan with Anne Silk
"The Money Mafia: A World in Crisis" by Paul T. Hellyer
"Command and Control" by Eric Schlosser
"Prostituting Science" by Diana Crumpler
"Caught in the Crossfire" by Adam Gorightly
"Ruthless Ambition…Chris Christie" by Louis Michael Manzo
REVIEWS—DVDs
"Frackman" with Daniel Pratzky
"$tatin Nation II" by Justin Smith
"Lasseter's Bones" by Luke Walker
REVIEWS—Music
"Lifeline" by Jai Uttal and Ben Leinbach
"Stories of Love and Regret" by Ruth Roshan & Tango Noir
"Live From Your Heart" by Shanti Ramana
"Healing Birdsong" by Llewellyn