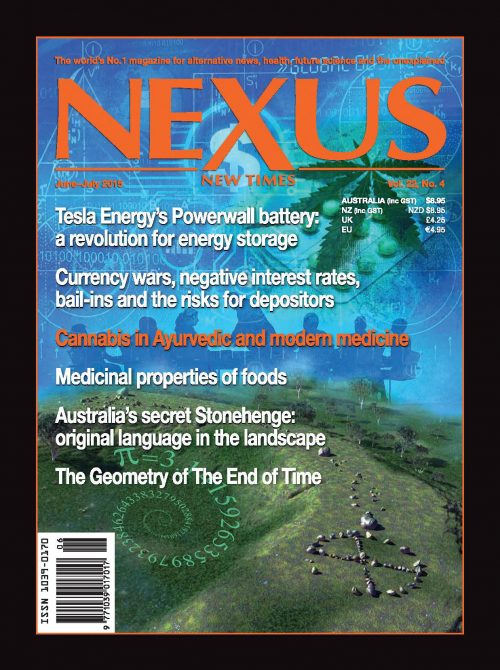 Volume 22, Number 4 – downloadable
$6.60
Volume 22, Number 4 (June – July 2015) complete issue downloadable pdf file.
Description
LETTERS TO THE EDITOR
Readers comment on a medevac mission in Antarctica in 1985, indigenous custodians' rights, bovine TB and badger culling in England, Australia's new immunisation policy, faked Moon landings, and the psychiatry–pharma fraud.
GLOBAL NEWS
We report on Edward Snowden's view on Australia's new metadata law, measles transmitted by the vaccinated, fiddled global warming figures and more, and include a selection of items that are contenders for Project Censored's top 25 news stories of 2014–15.
CANNABIS IN AYURVEDIC & MODERN MEDICINE
By Sameer Ali Sageer and Paul Benhaim. Research confirms that the hemp plant has a wide range of health benefits and practical uses. The traditional Ayurvedic medical system prescribed a variety of cannabis-based preparations to treat a multitude of ailments.
'ALTERNATIVE' MEDICINE WAS MAINSTREAM
By Dr Paul Lloyd; part 2 of 2. In harmony with an ancient science rediscovered during the Renaissance and practised until the mid-17th century, food was regarded as medicine and was prescribed by physicians according to its humoral properties and patients' specific conditions.
TOWARDS AN ECONOMIC RESET IN 2015–16?
By Karen Mutton. As the Super Shemitah year comes to a close, China is preparing to challenge the US dollar with a gold-backed yuan, currency wars are ruining economies while negative interest rates and bail-ins are threatening depositors and bond-holders.
GEOMETRY OF THE END OF TIME DECODED
By Robert Lawlor. The Yuga system of cycles supports astrophysicist Kozyrev's hypothesis about the spiralling geometry of time, but its concept of spin includes the sound emitted by that spin. These energetic processes interface with consciousness in the act of creation.
SCIENCE NEWS
This edition, we present a technology developed by Mexican engineers that can purify seawater and wastewater in minutes, experimental proof of physicist Efimov's law of threes, and Tesla Energy's Powerwall battery that will revolutionise domestic and commercial power systems and reduce electricity prices.
THE NUMERICAL UNIVERSE: ORDER IN CHAOS
By Anthony Morris. Life is the result of an inherent numerical, geometric, musical and cosmological template that has pervaded the Universe since its inception. Ancient metrology systems, megaliths and even DNA have resonance with this template.
GEORGE ADAMSKI'S FORGOTTEN PHOTOGRAPH
By Warren P. Aston. The first contactee of the modern era, George Adamski took a photo of an unidentified craft in the Mojave Desert in November 1952. He didn't see the developed image until it was published in a newspaper, so there's little chance he could have faked it.
THE TWILIGHT ZONE
This issue we feature Steven and Evan Strong's report on Australia's Stonehenge, focusing on researcher Frederic Slater's efforts to decode its Original language before it was destroyed in 1940, and eyewitness testimony about a "flying city" seen by Nigerian villagers in 2012.
REVIEWS—Books
"Transformation…John of God" by Gabriella Francisco
"The Healing Wisdom of Mary Magdalene" by Jack Angelo
"7 Reasons to Believe in the Afterlife" by Jean J. Charbonier, MD
"The Dual Soul Connection" by Suzy Hansen with Dr Rudy Schild
"Temenos Touch…Non-local Healing" by Evelyn M. Brodie
"Consciously Created Cinema" by Brent Marchant
"Natural Treatments for Lyme Coinfections" by Stephen H. Buhner
"The Digestive Health Solution" by Benjamin I. Brown, ND
"Aerotoxic Syndrome: Aviation's Darkest Secret" by John Hoyte
"A Deeper Perspective on Alzheimer's…" by Megan Carnarius, RN
"Altered Genes, Twisted Truth" by Steven M. Druker
"Food and Identity in England, 1540–1640" by Paul S. Lloyd
"Science for Sale" by David L. Lewis, PhD
"The Geometry of the End of Time" by Robert Lawlor
REVIEWS—FILM
"Einstein Wrong-The Miracle Year by David de Hilster
REVIEWS—Music
"The Paris Session" by The Touré–Raichel Collective
"Gandadiko" by Samba Touré
"Fourth World Vol. 1: Possible Musics" by Jon Hassell / Brian Eno
"Focused Attention" by Jeff Strong