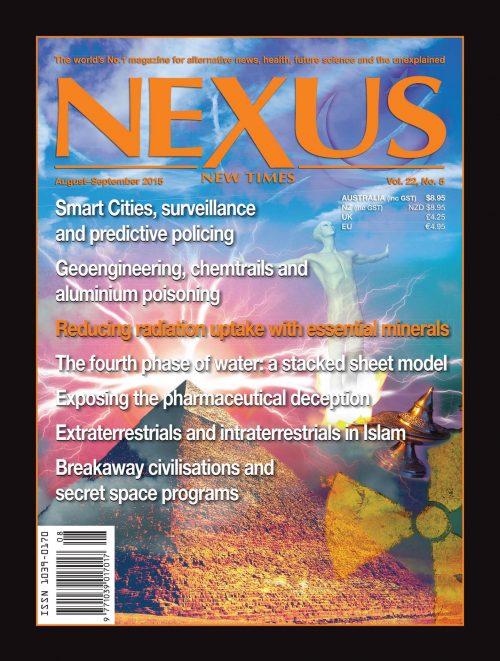 Volume 22, Number 5 – downloadable
$6.60
Volume 22, Number 5 (August – September 2015) complete issue downloadable pdf file.
Description
LETTERS TO THE EDITOR
Readers comment on DNA and duality, faked Moon landings and anomalies with Apollo mission patches, evidence for GM food fears, and unlawful governments.
GLOBAL NEWS
We report on hackers using smart meters to penetrate the US power grid, HPV vaccine dangers, the Vatican's treaty with Palestine, a European Court of Human Rights ruling that makes websites liable for user comments, smart cities and 21st-century surveillance, and more.
SO MUCH MORE THAN NUCLEAR WEAPONS
By Gordon Duff. A secret agency called the DVD, allegedly set up in Germany in the 1920s as a coalition between the US Bush family and the "Hitler Project", has been associated with paedophile networks, nuclear weapons funding, the 9/11 attacks and high-level looting. Does it really exist, and is it sworn to serve evil agendas?
THE PHARMACEUTICAL DECEPTION EXPOSED
By Azita Vind. Good health can be achieved through nutrition and positive lifestyle changes, not reliance on pharmaceutical drugs which don't treat the underlying causes of diseases. Indeed, anticholesterol drugs prevent damaged arterial walls from healing themselves with the very building block they need: cholesterol.
ALUMINIUM POISONING BY GEOENGINEERING
By Dr J. Marvin Herndon. The key ingredient in a covert planetary geoengineering project to counter alleged global warming is coal combustion fly ash. Its dispersal liberates highly mobile aluminium, believed to cause neurological diseases and environmental damage.
HEALTH & SURVIVAL IN A RADIOACTIVE WORLD
By Sara Shannon. Low-level radiation from nuclear power plants, leaks and accidents is implicated in cancer, weakened immunity, infectious diseases, genetic damage and infertility. A healthy diet with essential minerals can help prevent the uptake of radioactive elements.
SCIENCE NEWS
In this edition, Dr Brett I. Cohen presents his approach to analysing residues found in the Queen's Chamber shafts within the Great Pyramid. He suggests that two different chemical mixes could have produced hydrogen gas to create piezoelectric energy for a pyramid power plant.
IS THERE A FOURTH PHASE OF WATER?
By Dr Gerald H. Pollack. Water may have a fourth state, an "exclusion zone", that is more viscous, stable and ordered than bulk water. Inspired by Russian studies of polywater and the well-known crystalline lattice of ice, researchers have developed their stacked-sheet model.
EXTRATERRESTRIALS IN ISLAM
By Nadeem Haque & Zeshan Shahbaz. The Qur'an refers to other worlds and their life-forms including corporeal creatures and exotic energy beings. A new unified view of physics, informed by quranic study, explains this diversity in terms of indivisible particles called "microbits".
THE TWILIGHT ZONE
This issue we feature Dr Michael E. Salla's report on a whistleblower, Corey Goode, who claims to have worked on ultra-secret space programs. Multiple multinational and extraterrestrial operations are discussed, as well as Goode's contacts with the Sphere Alliance that wants to help us break free from the money–slavery system.
REVIEWS—Books
"Hold the Phone: How to Protect Your Health…" by Alison Wilson
"The Ten Top Things Dead People…Tell You" by Mike Dooley
"Biohistory: Decline and Fall of the West" by Jim Penman
"The Lost Art of Resurrection: Initiation…" by Freddy Silva
"God's Blueprint: Scientific Evidence…" by Christopher Knight
"Vortices and Spirals: Unlocking the Mystery…" by Madis Senner
"Get the Picture?! Conscious Creation…" by Brent Marchant
"Ancient Aliens and Secret Societies" by Mike Bara
"In Search of Lake Monsters" by Peter Costello
"Swallow This" by Joanna Blythman
"As Reality Dissolves" by Gareth J. Owen
"The Historical Jesus Found" by Barry Page
"Tesla: Inventor of the Electrical Age" by W. Bernard Carlson
"Spyhunter: The Secret History…" by Michael Shrimpton
REVIEW—DVDs
"Bought: The Truth Behind Vaccines…& Your Food" by Jeff Hays
"Desperately Seeking White Zone" by Marc Khanne
REVIEWS—Music
"Light" by Midival Punditz
"Kutumba" by Sacred Earth
"Shakuhachi Sleep Music" by Riley Lee
"Etheria" by Peter Kater