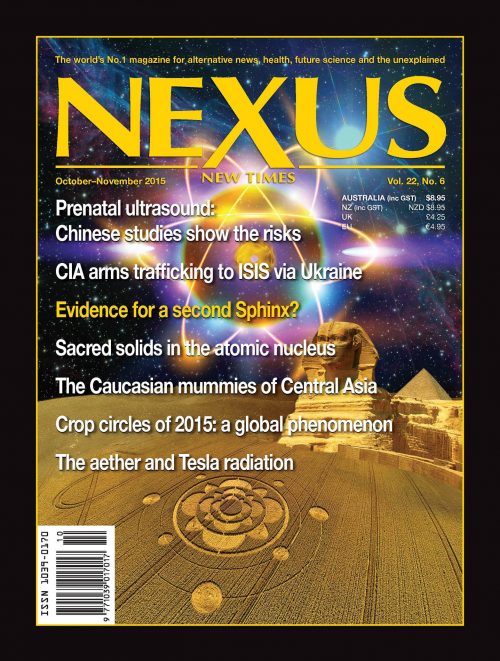 Volume 22, Number 6 – downloadable
$6.60
Volume 22, Number 6 (October – November 2015) complete issue downloadable pdf file.
Description
LETTERS TO THE EDITOR
Readers comment on chemical fallout analysis, a recipe for healthy arteries, dangers of blue-spectrum light, and revelations about Germany's secret spy agency, the DVD.
GLOBAL NEWS
We report on NASA's smart air traffic control for drones, privacy concerns with Australia's new facial recognition system, wireless devices linked to health risks, throat microbiomes and the schizophrenia connection, evidence for the earlier origin of humans, an alleged CIA–Ukraine covert deal to supply TOW missiles to ISIS, and more.
EXTREME RISKS OF PRENATAL ULTRASOUND
By Jim West. Western scientific and medical professionals don't seem to be aware of the many human studies that have been conducted in China which clearly indicate damage from the use of diagnostic ultrasound. It's time that they examined the research.
RISING AUTISM AND THE EPIGENETICS LINK
By Dr Brett I. Cohen. Autism rates are rising alarmingly and may be linked to a transgenerational response to environmental factors, such as nuclear fallout, that switch off key genes. High plasma GABA levels, resulting in abnormal axonal development, are implicated in autism.
SHADOW OF NEMESIS—Part 1
By Jack Heart. Independent researchers in the 1980s to 1990s were stymied in their efforts to redate the Sphinx and investigate the Great Pyramid's shafts by antiquities chief Dr Zahi Hawass, who seems to have a long-term agenda for studying the Giza Plateau.
SACRED SOLIDS IN THE ATOMIC NUCLEUS—Part 1
By Jordi Solà-Soler. The periodic table of the elements can be reorganised into a tetrahedral structure, but it's unclear if electrons can fit into such a pattern. However, a geometric model utilising the Platonic solids suggests how protons in the atomic nucleus may be arranged.
SCIENCE NEWS
In this edition, we present a compilation on the basic concepts of aetherometry, referring to the work of Dr Paulo Correa and Alexandra Correa in defining the dynamic aether as primary mass-free energy in electric (ambipolar) and nonelectric (latent heat) forms.
THE CAUCASIAN MUMMIES OF CENTRAL ASIA
By Patrick Chouinard. The revelation in the early 1990s of Caucasian mummies unearthed in the Tarim Basin in Xinjiang, China, has rewritten the history of migrations between West and East. Genetic testing confirms that the original people were not of Mongoloid origin.
CROP CIRCLES OF 2015: A PERSISTENT INTRIGUE
By Andy Thomas. The crop circles continued their tenacious march onwards this year, and succeeded in surprising, fascinating and confounding in equal measure. With an expanding global reach, they still made their mark in their key centre, the fields of England.
THE TWILIGHT ZONE
This issue we feature Gerry Cannon's hypothesis that a Second Sphinx may be buried in a mound on the Giza Plateau, north of the existing monument. So far, Egypt's antiquities authorities are unwilling to take this possibility seriously and the mound is yet to be investigated.
REVIEWS—Books
"Taken: Inside the…Abduction Agenda" by Karla Turner, PhD
"Entwining of Souls" by Judy Roach
"The End of Days: Armageddon…" by Zecharia Sitchin
"Bloodline of the Gods…the Aliens Among Us" by Nick Redfern
"Tesla Technology" by George Trinkaus
"Astrology in Ancient Mesopotamia" by Michael Baigent
"Restoring the Soul of the World" by David Fideler
"Fractals of God" by Kathy J. Forti, PhD
"A Future World Vision" by Richard Smith
"50 Human Studies: A New Ultrasound Bibliography" by Jim West
"Quantum Consciousness" by Peter Smith
"Unhealthy Betrayal" by Andrew Burgoyne
"The Presidents and UFOs: A Secret History…" by Larry Holcombe
"The Third Way" by Joseph P. Farrell
REVIEW—DVDs
"2015 NEXUS Conference" produced by E&E Productions
REVIEWS—Music
"Tambolero" by Totó La Momposina y sus Tambores
"Melting Pot" by Sol Nation
"Joi Sound System" by Joi
"La Rumba SoYo" by Ricardo Lemvo & Makina Loca