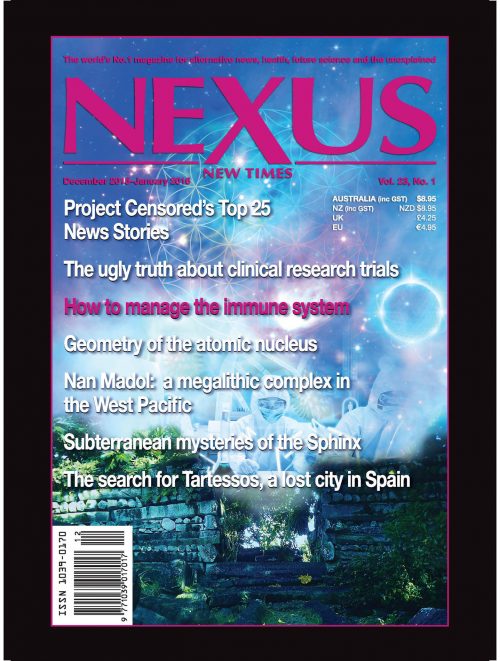 Volume 23, Number 1 – downloadable
$6.60
Volume 23, Number 1 (December 2015 – January 2016) complete issue downloadable pdf file.
Description
LETTERS TO THE EDITOR
Readers comment on the US secret space program and NASA's disinformation, taking action to stop pollution, Russian awareness in 1957 of cosmic radiation dangers, Tesla's critics, and crop circles as mechanical blueprints.
GLOBAL NEWS
We report on UN plans for universal biometric ID by 2030, China's yuan to join the SDR reserve currencies, fungi found in the brains of Alzheimer's disease victims, evidence that Tony Blair and George W. Bush had a "deal in blood" a year before the Iraq invasion, and the rising cancer rate in Japan since the Fukushima nuclear disaster.
PROJECT CENSORED'S TOP 25 NEWS STORIES
By Prof. Mickey Huff and Project Censored. Continuing an initiative going back to 1976, the Project Censored team has selected and judged the most important American and international news stories of 2014–2015 that were underreported by the US corporate media.
TRIALS & TRIBULATIONS: CLINICAL RESEARCH
By Leon Horton. Many people willingly participate in clinical trials that test products and treatments, but few are inclined to volunteer for pharmaceutical drug trials. Even though strict guidelines are mandated, testing on humans can have unforeseen consequences.
HOW TO MANAGE THE IMMUNE SYSTEM
By Walter Last. The immune system tries hard to eliminate pathogens and clean up metabolic waste, but this process can cause inflammations characteristic of chronic diseases. We need to strengthen and control the immune functions in order to revitalise the body.
SACRED SOLIDS IN THE ATOMIC NUCLEUS—Part 2
By Jordi Solà-Soler. Dr Robert Moon's model of the Platonic solids, which proposes how protons in the atomic nucleus may be arranged, is taken a step further with an alternative reordering that allows the free spin of proton shells within each geometric structure.
SCIENCE NEWS
In this edition, we present an extract from a rare 1951 US Navy manual about magnetic amplifiers, now freely available with a foreword by editor George Trinkaus on this "lost technology" and its multiple capabilities in electrical and electronics engineering.
NAN MADOL, CITY OF SPIRITS
By Alistair Coombs. The West Pacific megalithic complex of Nan Madol, with its constructions of prismatic basalt columns linked by waterways, served as a spiritual centre for the Pohnpeian ancestors and reflected a sunken cultural heritage connected with the Pleiades star cluster.
SHADOW OF NEMESIS—Part 2
By Jack Heart and Orage. In explorations of the Sphinx and pyramids at Giza, key players have included members of the Edgar Cayce Foundation, keen to locate the so-called Hall of Records, and personnel linked with the US military–industrial complex since World War II.
THE TWILIGHT ZONE
We feature an article by Steven A. Arts on the search for the lost city of Tartessos, known to the ancient Greeks, Romans and Hebrews and believed to be buried near the mouth of the Guadalquivir River in southwestern Spain. Scientific studies have uncovered promising finds.
REVIEWS—Books
"Father Earth" by Olof Smit
"Primal Nutrition" by Ron Schmid, ND
"They Exist: A Review of Key Literature…" by Piers Morris
"Secret History: Conspiracies…" by Nick Redfern
"When the Gods Return" by Jack Barranger
"The Soul of Ancient Egypt" by Robert Bauval and Ahmed Osman
"Engaging the Extraterrestrials" by Noel Huntley
"Surviving AI" by Calum Chace
"Genesis for the Space Race" by John B. Leith via Robyn Andrews
"Hybrids: So You Think You Are Human" by Tanis Helliwell
"Playing God" by Benjamin Nowland
"The Globalization of War" by Michel Chossudovsky
"Population Control" by Jim Marrs
"The EU: A Corporatist Racket" by David Barnby
REVIEW—DVD
"Packing for Mars" by Jacobmedia/Screen Addiction
REVIEWS—Music
"Fatteliku" by Youssou N'Dour et le Super Etoile de Dakar
"Amanecer Andino (Andean Sunrise)" by Inkuyo
"Celebration of a Legend" by George Telek
"Zoy Zoy" by Tal National