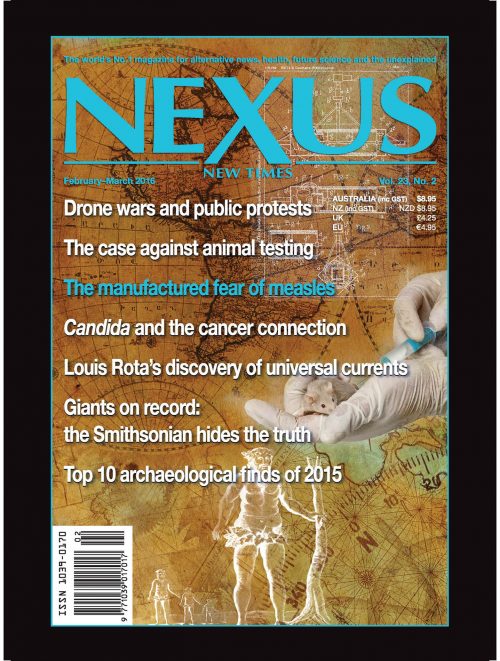 Volume 23, Number 2- downloadable
$6.60
Volume 23, Number 2 (February – March 2016) complete issue downloadable pdf file.
Description
LETTERS TO THE EDITOR
Readers comment on Moon landings fraud, author John Morgan's passing, the flat Earth theory, Fukushima fallout fears, confusion over garlic, a fever cure for cancer, and concerns about electrosensitivity.
GLOBAL NEWS
We report on toxins found in fracking fluids, mind-reading technology, an inquiry into Monsanto's ecocide, Rupert Murdoch's oil interests, Syrian propaganda, gut bacteria and lymphoma, France's Colonial Pact in Africa, negative interest rates and the war on cash, and more.
AN A TO Z OF DRONES IN THE NEWS IN 2015
By Chris Cole. The use of drones is increasing rapidly worldwide, and drone targeted-killings are also on the rise. Protests at drone bases and factories are becoming more common, while the public is being given scant information by politicians and military officials.
ANIMAL PHARMACY: CASE AGAINST TESTING
By Leon Horton. The use of animals in product testing, medical research, pain analysis and other studies is scientifically questionable. While bans on testing in the cosmetics industry are in force in many countries, there's some way to go in other fields.
THE MANUFACTURED FEAR OF MEASLES
By Wendy Lydall. Measles is a highly contagious, self-resolving disease that can develop complications when wrongly managed or when a patient has a pre-existing condition. The vaccine can cause severe life-spoiling reactions, but the vaccine establishment discounts these adverse effects as merely coincidental.
IS INVASIVE CANCER A HYPHAL FUNGUS?
By Walter Last. Cancer cells and yeast cells have a similar anaerobic energy metabolism. As a result of stress, they change into aggressive and invasive hyphal forms that behave the same way and look remarkably alike. Medical researchers and practitioners need to take note.
THE DISCOVERIES AND WORK OF LOUIS ROTA
By Michael Watson. A French–Italian pioneer in aviation and antigravity, Louis Rota detected what he called "the universal current", source of all physical phenomena. He found out how to tap the energy, using it to heal and also to locate distant military facilities during World War II.
SCIENCE NEWS
Dr Mae-Wan Ho questions the validity of the Big Bang theory and argues for the Electric Plasma Universe cosmology proposed by leading lights such as Hannes Alfvén, Anthony Peratt and The Thunderbolts Project.
GIANTS: HIDDEN HISTORY OF THE AMERICAS
By Jim Vieira and Hugh Newman. Reports of living giants and tall skeletons are part of the historical record of North and South America. The Smithsonian Institution received evidence but covered up an inconvenient truth.
KASSKARA, LAND OF THE HOPI ANCESTORS
By Shawn Hamilton. White Bear, a Hopi elder of the Bear Clan, recorded his tribe's stories about their origins as well as cycles of destruction and migration. He warned about the demise of the present Fourth World.
THE TWILIGHT ZONE
We feature a compilation from Ancient Origins of the top 10 historical and archaeological discoveries of 2015. These include an Etruscan tomb in Italy, and megalithic stones beneath Durrington Walls near Stonehenge in the UK.
REVIEWS—Books
"Highly Intuitive People" by Heidi Sawyer
"Future Sense" by Malcolm Parlett, PhD
"How to Talk to an Alien" by Nancy du Tertre
"Return to Magonia" by Chris Aubeck and Martin Shough
"ADHD and the Edison Gene" by Thom Hartmann
"Health Revelations from Heaven…" by T. Rosa and Dr S. Sinatra
"Swiped: How to Protect Yourself…" by Adam Levin
"The Lukewarmer's Way" by Thomas W. Fuller
"Giants on Record" by Jim Vieira and Hugh Newman
"Statins Toxic Side Effects" by David Evans
"The Omniverse" by Alfred Lambremont Webre
"Magicians of the Gods" by Graham Hancock
"Ark of God" by David Hatcher Childress
"A Sorcerer's Apprentice: A Skeptic's Journey…" by John Herlosky
REVIEW—DVD
"We Don't Vaccinate" by Michael Leitner
REVIEWS—Music
"Rise and Shine" by Juzzie Smith
"Rima" by Moana & The Tribe
"Rwanda Is My Home" by The Good Ones
"Gaearth Dreaming" by Kimba